Move Over, Marie Antoinette: Rihanna Is All About Japanese Street Style Now
Fashion illustrator Bijou Karman reimagines the singer and designer in looks inspired by traditional Japanese geisha garb for her new Stance collection.
---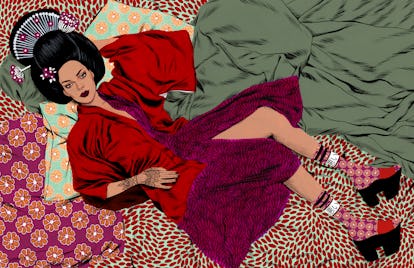 Courtesy Stance
About three months ago, Rihanna's brain trust at Fenty Corp contacted Los Angeles-based illustrator Bijou Karman with a proposal. Rihanna was working on a new collection of socks for her collaboration with Stance, would Karman illustrate the campaign?
Needless to say, Karman accepted the assignment. Inspired by Japanese street style, the Stance collection made its debut last week, accompanied by a series of Karman's illustrations of a geisha-fied Rihanna in repose, wearing the socks from her collection. Karman pulled the lush color palette of deep plum, mint green, sherbet orange, and sage from the socks themselves, incorporating their floral motifs into kimonos and background details.
"Female musicians often have such a strength about them," Karman said. In addition to these images of Rihanna, she also frequently paints musicians from the '60s like Joni Mitchell, Joan Baez, and Nico. "They're such personalities," she explained. "There's just so much to work with."
Nor was the street style angle too much of a stretch for the illustrator; Karman was already a fan of the Harajuku street style zine Fruits and the work of contemporary designers like Rei Kawakubo at Comme Des Garçons and Junya Watanabe. She pulled historical reference imagery and consulted the work of Japanese designers to inform her illustrations, right down to kimono silhouettes and shoe design.
"I didn't want to do anything that was culturally insensitive," she said. "I wanted to make sure it was true to Japan." The resulting paintings merge traditional elements and a bit of a contemporary update.
The Stance campaign was the most recent development in a lifelong interest in fashion for Karman. The 24-year-old illustrator — and prolific zine artist — once envisioned herself as a designer, but fell in to illustration after entering Pasadena's Art Center College of Design.
"Fashion was always my number-one interest," she explained. "I realized I'm more a kind of person who needs to be in their studio working alone instead of on a set or something." Illustration has allowed her to merge the two worlds, painting and fashion design: Her clients have included international fashion magazines and brands like Converse; while still in school, she designed a display for the opening of Italian brand Peuterey's first Parisian flagship; and in her spare time, she illustrates models in recent collections by the likes of Gucci, Simone Rocha, and J.W.Anderson.
Karman is still riding out the wave of attention her collaboration with Stance has brought, but she's also onto the next project. The consummate collaborator, she's preparing for a Los Angeles-themed group show at the city's Co-LAb gallery and a t-shirt design with Silver Lake boutique Hemingway and Sons.
Though she's most at home alone in the studio, she still recognizes what collaborators offer. "It's always a new challenge working with other people," she said. "It just brings something out of left field that I wouldn't usually think to do."