Rihanna Mercilessly Shades Diplo During a Session with Future and The Weeknd, Speaks for All of Us
An ego check for the DJ who "never wanted to be part of the DJ world."
---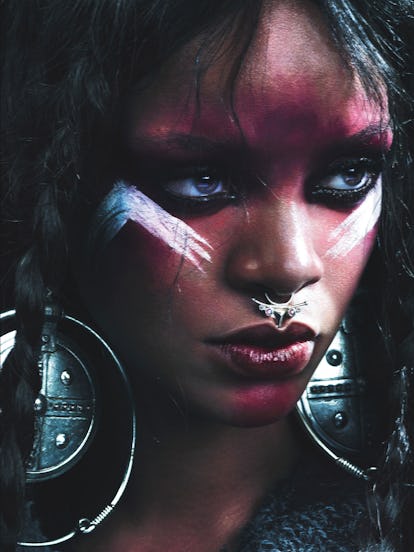 There are a lot of extremely Diplo moments in the über-DJ's new interview with GQ Style. Take, for example, his avowal that he "never wanted to be part of the DJ world" but found himself wrapped up in it anyways. Or his admission that "I'm not good at anything specifically"—that is, instead of sitting at a computer working on a track, he's better suited to bringing in collaborators like Skrillex, with whom he made an entire album under the name Jack Ü, or Nigerian producer Mr Eazi.
One collaborator Diplo, né Thomas Wesley Pentz, will likely not be bringing into the studio soon: Rihanna. The producer admitted Rihanna is "the one artist we can't ever get," adding, "I think before we're all done, she'll be on a song of ours. Hopefully," he said. "But if not, I don't really care."
They haven't managed yet, though not for lack of trying: He once played the Major Lazer song "Lean On," a collaboration with DJ Snake and MØ, for Rihanna, and she told him she does not do house music. (Lest we forget, "Lean On" is the same song Diplo once said was "bigger than any of her songs around the world"—at the same time as he was still trying to convince her to guest on a track.) (And never mind the fact that Rihanna does, in fact, occasionally do house music; she collaborated on Calvin Harris's "This Is What You Came For" in 2016. They went on to win the MTV Video Music Award for Best Male Video.) (Also, a good strategy for recruiting Rihanna is probably not to play a song in which she'd fill the same role as MØ.) Diplo's biting comeback: "I face-palmed so hard."
So, score one for Rihanna.
According to the same GQ interview, on a separate occasion, she arrived at a Major Lazer session where Future, The Weeknd, and producer Metro Boomin were also in attendance. After Future played what Diplo estimated to be "like, 700 songs," Diplo demanded an audience with Queen Rih. He played her a song, and Rihanna was unimpressed: "This sounds like a reggae song at an airport," she said, ever savage. (We were all thinking it. Future was probably thinking it.) To this, the producer responded, "I'm gonna go kill myself." But, you know, if Major Lazer never nabs a Rihanna collaboration, Diplo doesn't care that much. Really.
Anyways, if it's any consolation, Diplo is currently working on a collaborative project, something disco-ish, with Mark Ronson. Basically the same thing.
Rihanna at Crop Over Festival: See Her Most Feathered, Glittery, and Skin-Baring Ensembles Over the Years
Rihanna attends the Kadooment Parade at the Crop Over Festival in Barbados in August 2013.

Instagram
Rihanna attends the Kadooment Parade at the Crop Over Festival in Barbados in August 2013.

Instagram
Rihanna attends the Kadooment Parade at the Crop Over Festival in Barbados in August 2013.

Instagram
Rihanna attends the Kadooment Parade at the Crop Over Festival in Barbados in August 2013.

Instagram
Rihanna attends the Kadooment Parade at the Crop Over Festival in Barbados in August 2013.

Instagram
Rihanna attends the Kadooment Parade at the Crop Over Festival in Barbados in August 2013.

Instagram
Rihanna attends the Kadooment Parade at the Crop Over Festival in Barbados in August 2013.

Instagram
Rihanna attends the Kadooment Parade at the Crop Over Festival in Barbados in August 2013.

Instagram
Rihanna attends the Kadooment Parade at the Crop Over Festival in Barbados in August 2013.

Instagram
Rihanna attends the Kadooment Parade at the Crop Over Festival in Barbados in August 2013.

Instagram
Rihanna attends the Kadooment Parade at the Crop Over Festival in Barbados in August 2015.

Instagram
Rihanna attends the Kadooment Parade at the Crop Over Festival in Barbados in August 2015.

Instagram
Rihanna attends the Kadooment Parade at the Crop Over Festival in Barbados in August 2015.

Instagram
Rihanna attends the Kadooment Parade at the Crop Over Festival in Barbados in August 2015.

Instagram
Rihanna attends the Kadooment Parade at the Crop Over Festival in Barbados in August 2015.

Instagram
Rihanna attends the Kadooment Parade at the Crop Over Festival in Barbados in August 2015.

Instagram
Rihanna attends the Kadooment Parade at the Crop Over Festival in Barbados in August 2015.

Instagram
Rihanna attends the Kadooment Parade at the Crop Over Festival in Barbados in August 2015.

Instagram
Rihanna attends the Kadooment Parade at the Crop Over Festival in Barbados in August 2015.

Instagram
Rihanna attends the Kadooment Parade at the Crop Over Festival in Barbados in August 2015.

Instagram
Rihanna attends the Kadooment Parade at the Crop Over Festival in Barbados in August 2015.

Instagram
Rihanna attends the Kadooment Parade at the Crop Over Festival in Barbados in August 2015.

Instagram
Rihanna attends the Kadooment Parade at the Crop Over Festival in Barbados in August 2017.

Getty
Rihanna attends the Kadooment Parade at the Crop Over Festival in Barbados in August 2017.

Getty
Petra Collins dreams of sleeping in a room that is just one giant bed, with Rihanna if possible: