Canadian Model Hannah Donker Opens Up About Being the Star of The Weeknd's "Secrets" Video
There was a really long on-camera hug involved.
---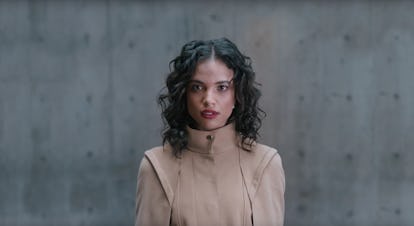 A video still from "Secrets," directed by Pedro Martín Calero.
On Sunday at midnight, Abel Tesfaye, better known as The Weeknd, released a new music video for "Secrets," one of the singles off his Starboy album that dropped last year. Directed by Pedro Martín Calero, it stars Tesfaye and the model Hannah Donker as his love interest, whose secrets he can hear when she's "talking in [her] sleep." The big secret, in this case, being with another man.
This love-triangle drama plays out in a surreal, Twin Peaks-esque dream sequence filmed in the stunning Toronto Reference Library in Canada. Donker lies on a bed in the middle of the space tossing and turning, fantasizing of a man other than Tesfaye, while Tesfaye stares at her with a stern, knowing look.
While Tesfaye may be known for his brooding music, on set Donker says he was easygoing and friendly, calming her nerves since this was her first big gig. They also bonded as two creative Canadians, making art on their home turf.
Hannah Donker, 25, has been modeling for the past three years and was first discovered on Facebook in her hometown of Calgary, Alberta. She's currently signed to Wilhelmina, and can be found most days in New York City rocking Opening Ceremony and a Valentino cross-body bag.
She's no Selena Gomez (Tesfaye's real-life girlfriend), but she's certainly on her way to both a career in the public eye and sizable Instagram following.
What has the response been like from the video? Your phone must be blowing up.
It's been amazing! I have family in England calling me, friends from high school, everybody. My phone is kinda glitching right now. It's funny, though, because I feel like I was the last to know.
Wait, you didn't know the video was dropping last night?
No! It's been in the works for a while, but I had no idea what day it was going to come out at midnight last night. I'd just come back from a job in Canada, so I was resting when it happened.
Are you from Canada? What's your background?
I'm British-Jamaican and I moved to Canada when I was about 10-years-old. I've spent the rest of my life in Calgary, Alberta, save for the two years I've been in New York modeling.
The video was filmed at the Toronto Reference Library. What was it like being in that space?
It's a really cool structure, and we also did other parts of it on the University of Toronto campus as well.
Was this your first acting experience?
I've done print and commercials before, but it was a whole new thing being on camera with someone like Abel and interacting with so many crew members. It's not like you can stop in-between shots and collect yourself; you gotta bring it every time!
Was it hard to keep a straight face when Abel was staring at you like that?
[Laughs] Yeah it was surreal, honestly. For that scene where we hug each other, it took a while to get the shot, so we ended up holding each other for a good, like, minute. He's a really, really cool person. It was also just great to work with Canadian talent. He's such a humble person and made me feel really comfortable on set. I was totally nervous, but he treated it like a normal work day, which made me not get too flustered.
Are you a fan of The Weeknd before?
I mean, he's Canadian, so yeah! We keep up with the fam [laughs]. It's crazy though because "Secrets" is one of my favorite songs on the album.
The song is about the secrets a woman tells in her sleep. Do you, in fact, talk in your sleep?
[Laughs] Uh, I hope not!
Related: The Weeknd Has Mastered the Creepy, Dead-Eyed Stare in Dizzying "Secrets" Music Video
Watch the full music video for "Secrets" below.