The Weeknd Has Mastered the Creepy, Dead-Eyed Stare in Dizzying "Secrets" Music Video
A new level of stalking your ex.
---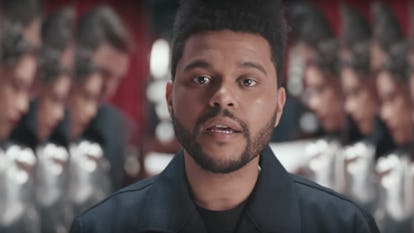 TheWeekndVEVO/Youtube
In new Pedro Martín Calero-directed music video for The Weeknd's track "Secrets," the musician embraces his moody side. The video shows The Weeknd, aka Abel Tesfay, sitting in a sparse, geometrically inclined building, looking on as his video love interest is ogled by a cadre of suit-clad strangers. The Weeknd doesn't dare turn away, though, instead opting to full-on creepy stare as he watches his love interest get it on with another guy, prompting him to literally spiral (seriously, the camera effects are not friendly to those prone to motion sickness). It's not clear whether the woman was into Tesfay or running away from him at the video's conclusion. What we do know is that The Weeknd ends up outside the strange compound in the snow staring at a giant levitating cross. It doesn't get clearer than that.
But don't go feeling bad for the jilted artist. The Weeknd most recently appeared in a music video alongside Lana Del Rey for their collaboration, "Lust for Life," the title track of Del Rey's latest album. Plus, The Weeknd has real-life girlfriend Selena Gomez to assuage any lingering fictional jealousy.
"Secrets" comes off The Weeknd's latest album Starboy, released in November 2016. Pitchfork reports that this is the fifth track on the album to be visually interpreted, after "I Feel It Coming" (featuring Daft Punk), "Reminder," "Party Monster," and "Starboy," not to mention the 12-minute short film, "Mania," featuring several songs off the album.
Related: Lana Del Rey and The Weeknd Dance on the H of the Hollywood Sign in "Lust for Life" Music Video
See What's Trending in W Video: