Lana Del Rey and The Weeknd Dance on the H of the Hollywood Sign in "Lust for Life" Music Video
No one takes off their clothes, though.
---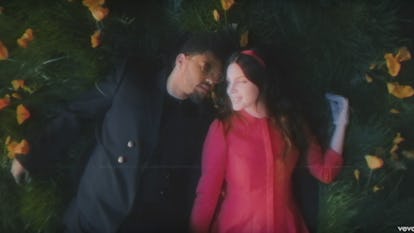 LanaDelReyVEVO/Youtube
Lana Del Rey and The Weeknd are certainly feeling something like lust — for life or otherwise — in their new music video for Del Rey's title track off her new album, Lust for Life.
In the video, which starts off with a short journey through space where we last saw in her "Love" clip, the witchy songstress dances and sings in retro fashion at what looks to be a TV studio before she runs off the set and climbs up a mysterious ladder. It just so happens to lead to the top of the H of the famed Hollywood sign (a nod to the song's lyric climbing up and dancing on the mammoth consonant) and a waiting The Weeknd. The two frolic atop the sign, trading verses about how their lust for life keeps them alive and imploring each other to take off their clothes — all attire stays put, by the way, save for one red ribbon adorning Del Rey — before Lana slides off the end of the sign's D, miraculously landing in field with The Weeknd by her side.
The ethereal video is just Del Rey's latest in the wake of her celestial-themed comeback: In February, she released the music video for her first single from Lust for Life, "Love," which also involved scenes of floating through strange galaxies. Though the album still has no official release date, we do know that The Weeknd isn't the only high-profile collaboration that it will feature. Stevie Nicks and Sean Ono Lennon can reportedly be heard on a pair of yet-to-be-released songs.
"I made my first four albums for me, but this one is for my fans and about where I hope we are all headed," Del Rey said in March in a video announcing the new album. To be honest, we wouldn't hate being transported to whichever meadow Del Rey and The Weeknd end up in in this latest release.
Related: Lana Del Rey Has a Stevie Nicks Collaboration on Lust for Life
See What's Trending in W Video:
Lana Del Rey's Style Evolution, From California Pop Star to Bewitching Songstress
Sporting her original blonde locks at concert in 2010, where she performed as Lizzy Grant.

Getty
Del Rey in a Prabal Gurung dress at the Q Awards in 2011 where she won the "Next Big Thing" award.

Getty
Leaving a hotel in Paris wearing a saffron colored dress and single white rose in her hair.

Getty
After a Cannes red carpet wearing jeans, loafers, and a Ferrari racing jacket.

Getty
Out and about in New York, wearing a simple white dress and nude pump.

Getty
At an event for fashion brand Mulberry, in a gown by the house.

Getty
Classic Hollywood siren in a dramatic black gown on the Cannes red carpet.

Getty
As the song goes, blue jeans, white shirt; at an event for her album "Born to Die."

Getty
At the Echo Awards wearing a gown by Versace.

Getty
On the Met Gala red carpet in a gown and cape by Altuzarra, sporting a vampy lip.

Getty
At the UCLA Institute Of The Environment And Sustainability Presents An Evening Of Envrionmental Excellence wearing a fur coat with jeans and converse.

Getty
At the EMA awards in an elegant navy dress made for her by a friend.

Getty
At the Cannes Film Festival premiere of Baz Luhrman's The Great Gatsby in a dramatic black and white gown.

Getty
Front row at the Versace Fall 2013 show wearing a full look by the house.

Getty
At an event for Nylon Magazine looking biker-girl chic

Getty
At an Academy Award party hosted by the Weinstein Company in all-white.

Getty
At the amfAR's 21st Cinema Against AIDS gala with Justin Bieber in a canary yellow ball gown.

Getty
At the 2014 British Fashion Awards in an emerald green dress and shawl.

Getty
Casual cool and glossy-haired at LAX airport in a navy cardigan.

Getty
In a floral-tiered frock on the red carpet for the Breakthrough Prize Ceremony.

Getty
Nautical-chic in a navy blazer and white trouser suit at the 5th Annual Sean Penn & Friends HELP HAITI HOME Gala.

Getty
Lana Del Rey attends 2016 Billboard Power 100 Celebration at Bouchon Beverly Hills in a white blouse and belted safari pants.

Getty
Del Rey at a 2016 pre-Grammy Gala wearing a stripped ruffle top and black satin skirt with a radical up-do.

Getty
In an elegant, all-over floral print caftan on the 2016 Brit Awards red carpet.

Getty
Every inch a 50's beauty queen in a shimmer gown at the 2016 Vanity Fair Oscar party.

Getty
Mermaid cool in a pleated turquoise gown on the red carpet for the Golden Globes.

Getty
Lana Del Ray attends the Gucci Bloom Fragrance Launch at MoMA PS.1 on May 2, 2017 in New York City.

Getty
Lana Del Rey performs during BBC Radio 1's Big Weekend at Burton Constable Hall, Burton Constable, Skirlaugh in Hull.

Getty