From Kylie Jenner to Alice Glass: A Guide to the 23 Faces of Alexander Wang's Fall Campaign.
The #WangSquad this season features everyone from Kylie Jenner to Wang's model muses.
---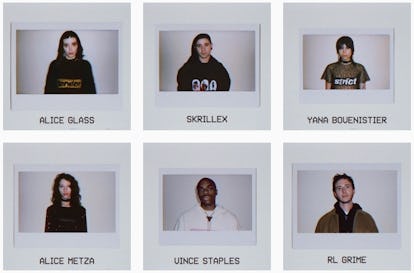 Image via @WangSquad instagram
When you're a designer of a certain stature you don't have to choose between quality and quantity when it comes to stars for your advertising campaign. In fact, the thing to do at the moment is stick as many famous and buzzworthy faces in your promo materials as possible. Calvin Klein's Fall campaign features an astounding 29 separate faces ranging from icon Kate Moss to a Spanish rapper named Yung Beef. Marc Jacob's menagerie of campaign stars includes everyone from Missy Elliot to Sissy Spacek this season.
Not to be outdone, Alexander Wang unveiled the 23 different faces who will make up his own Fall campaign on the @WangSquad Instagram today. It's a list chock full of models of the moment and Wang muses (Binx Walton, Katie Moore), people who require special characters to properly spell their name (Zoë Kravitz, MØ, A$AP Ferg), all types of musicians (From up-and-coming rapper Vince Staples to EDM kingpin Skrillex), and the world's most gossiped about couple (Kylie Jenner and Tyga). Clearly, Wang has got quite a Rolodex to flex.
Some are hangovers from the Spring/Summer edition of the #WangSquad. Others are new to the circle.
Casting a wide net seems to work for designers. In a world where any semblance of a monoculture is disappearing, filling your campaign with a range of celebs that span from tabloid fixtures to niche superstars ensures you'll connect with as wide a range of people on here.
Which means just about everyone who would wear Wang is surely familiar with at least someone on this list, but that also means many might be not so notable. Here's your quick guide to all 23 faces.
Kylie Jenner Lip Kit mogul and taker of what was perhaps one of the summer's most Instagram-worthy vacations.
Tyga Rapper and boyfriend of aforementioned lip kit mogul
Anna Ewers German supermodel, one of Wang's main muses, and artsy Instagrammer.
Hanne Gaby Belgian model and newlywed (Wang designed her dress, naturally).
Issa Lish Mexican model, noted Wang favorite, and lover of eyeliner.
Lucien Smith Painter and current art-world wunderkind whose openings attract the most V of VIPs.
Lexi Boling Another Wang-favored model and avid snowboarder.
Black Atlass A Fool's Gold signed singer/songwriter who is one of fashion's favorite crooners at the moment.
Binx Walton Model and "Instagram's best bad girl."
Curren Caples Skateboarder and X-Games gold medal winner.
Katie Moore Another Wang muse who currently has some of the best hair in fashion.
Alice Glass Musician, and formerly the lead singer of Crystal Castles.
Skrillex DJ, frequent Justin Bieber collaborator, and also the owner of an interesting haircut.
Yana Bovenistier Belgium model who was one of the breakout stars of the most recent New York Fashion Week.
Alice Metza LA-based Artist and Model
Vince Staples Rapper who recently told W that he's "not really that famous," though that may not remain true for much longer.
RL Grime 25-year-old Trap music produce also signed to Fool's Gold.
A$AP Ferg Rapper and A$AP Mob member.
MØ Danish singer best known for her collaborations with Major Lazer
Metro Boomin Record producer whose worked with Kanye and Future.
Tinashe British R&B singer who always looks great in Wang.
Big Sean Rapper
Zoë Kravitz Actress, frequent fashion campaign star, and holder of an It Girl status that knows no bounds.