How Rihanna Became Pop's Many-Faced Goddess
In a pop universe dominated by immutable, on-message superstars like Beyoncé and Taylor Swift, Rihanna has won by being anything and everything to everyone.
---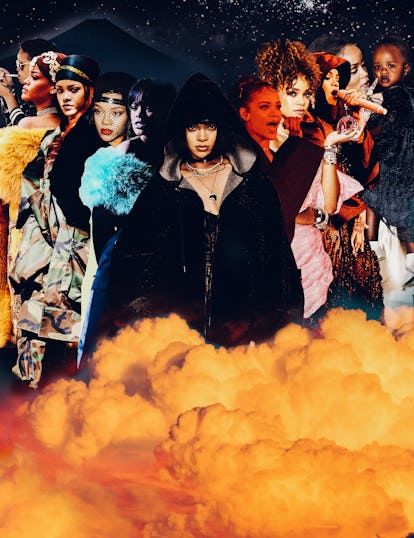 Collage by Biel Parklee.
Pop stars today are fixed in the public consciousness. They work hard to cement an image and then fiercely protect it with the message-control of political campaigns. Beyoncé is Queen Bey, a peerless diva who demands total fealty from her subjects, the media included. Adele is The Voice, the scandal-free broad whose gift is beyond reproach. Taylor Swift is Pop's Princess, a canny queen-in-waiting carefully tending to her picture-perfect profile. Cooly strolling past all of them is Rihanna, who has taken a strictly 'can't be bothered' approach to her celebrity. Whereas she could once be counted on to deliver a new album a year, she couldn't be bothered to deliver her eighth album on time. She can't be bothered to maintain a curated social media profile. She can't be bothered to date professionally-advantageous men — or, anyway, stage paparazzo photo-ops next to strategically placed piles of rocks. In fact, she can't be bothered to play by the rules at all. Where other pop stars commit to one plotline, Rihanna is constantly toggling B and C stories — athleisure designer one day, budding actress another, Dior ambassador by day, tabloid fixture by night. Even as the living embodiment of DGAF, it seems the pose has become her message, the lifeblood sustaining her main product — her lifestyle brand. And, what's more, she's adored for it. She is a meme generator nonpareil who can reorient the axis of the celebrity industrial complex and do so while setting music records ablaze, like she has for "Anti," an album that, conventional wisdom has it, "underwhelmed." As she sings in "Consideration," "I got to do things my own way, darling." Here, 14 writers take on pop's many-faced goddess.
Rihanna, the Defining Face of our Digital Era
Mike Albo: A couple years ago, my friend was shopping on Broadway in one of those skateboard/sneaker freak stores when Rihanna, in her third of five career peaks (for now), walked in surrounded by bodyguards. There was construction scaffolding outside the entrance, and suddenly dozens of people crowded around the entrance, climbing the metal bars to catch a glimpse. The crowd grew more numerous and rowdy. And as the energy became dangerously mobbish, Rihanna walked right up to my friend, and stood there, a couple feet away, motionless, looking through him as if he were a window, with a glazed, expressionless face. My friend didn't know what to do. Say hello? Dance? Talk about her breathtaking performance of "Stay" on "Saturday Night Live"? Then he quickly realized the pop goddess was using him as a prop, pretending to be in conversation with him while her entourage figured out an escape route. When they did, she slipped away. That non-look is Rihanna's unmistakeable trademark. In photos and performances she often looks like this, the defining face of our digital era — far-off, browsing through life, like she is just staring at her phone like we all we do now 18 hours a day. In a culture of desperate duck-faced Instagram victims and overly-ebullient celebrity wannabes, her indifference is not only refreshing, it's essential to our tired eyes. It's not easy to be that effortless. But without strain, Rihanna continues to be the coolest, most unenthusiastically famous pop star of our time.
Rihanna, the Live Performer with No Fucks Left to Give
Maura Johnston: When Rihanna's "Anti" tour stopped in Boston this spring, the set-list took something of an unexpected first step: Rih opened with "Stay," the wounded ballad from 2012's "Unapologetic" that soundtracked a lot of moody winter moments in early 2013. The decision was perverse on multiple fronts—even though Rihanna was late, few if any people in the audience were thinking of leaving. She sang the track while hovering above the arena's bowl, forcing those in attendance to swivel their gaze away from the stage and drawing them in through the power of emotion—not banger-driven spectacle—a move usually left to the biggest belters out there. But Rihanna has evolved into a performer who's willing to tug at the boundaries of what a big arena extravaganza should be. While her earlier tours either focused on salacious set pieces or outdated notions of what a "rock star" should be, Rihanna's "Anti­" tour shows how she's become comfortable enough to dictate her own terms, to show how she's become the calm eye at the center of pop's current maelstrom. (Look no further than the top of the charts; Sia's "Cheap Thrills," the current Hot 100 No. 1, was written with Rih in mind.) Her breezy persona might still be the stuff of bloggers' dreams, but it masks the fact that Rihanna has fully grown into her pop stardom. "Anti" is one of the year's best pop albums in large part because of the way Rihanna's learned to fully lean into her voice's rasp and swagger; she can bust out torch songs like the fiery "Anti" track "Love on the Brain" and then turn around and spit acid on the taunting "Needed Me." The huge hits Rihanna has put out over the decade-plus since "Pon de Replay" were always catchy—sometimes, to a fault—but the growth she's shown is a hint of records to come where she'll veer off into uncharted, exciting territory, with her hand firmly on the steering wheel.
Rihanna, Portrait of the Diva as a Young Woman
Horacio Silva: Less haughty and more willing to share the stage than her contemporaries, Rihanna is a special kind of diva. Her standing in the pantheon of pop goddesses relies less on her prima donna demands (she has hot Cheetos on her rider!) and more on her simply not giving two phucks, to borrow the homophone she popularized. Whether it's her habit of walking out of restaurants with her wine glass or wearing fur in summer, the internet worships her devil-may-care attitude. But that wasn't always the case. Back in June 2006, I was seated next to a teenaged Rihanna at the CFDA Awards. As Jay-Z's protege, she was a name to watch and to drop, but her huge breakout single, "Umbrella," had yet to be released and her star power at the time was, well, she was sitting next to me at the Max Azria for BCBG table. (Also at our table were a pre-meltdown Amanda Bynes and Amerie, whom Rihanna was not having and whose single, "1 Thing," she mocked with ease and loud enough for Amerie to hear.) Many long speeches and a few bottles of wine into the night, Rihanna shared how the long hours in the studio and doing press rounds were taking their toll on her. She estimated that she was averaging four hours of sleep a night and one proper meal a day. She played with her rubber chicken for a bit, and lamented that it was nearly impossible to find her beloved "island food" in New York. In a city of fancy dining, she did, however, have a soft spot for the pea and sausage pasta at Da Silvano. She was pleasantly surprised that I knew the restaurant and the dish. Rihanna seemed even more taken aback at my suggestion to text her manager to have the tagliatelle contadini delivered to her. "I can do that?" she asked incredulously. It didn't take too much persuasion for her to get out her Sidekick and call for supplies. About an hour later, she politely excused herself from the table and said she had an important call to take in her car. By the time Rihanna slinked back in her navy gown she was a star in the making and a diva in training heels.
Rihanna, My Single Girl Icon
Emilia Petrarca: In October 2014, a reporter asked Rihanna what she was looking for in a man and she responded with a scolding finger wag: "I'm not looking for a man. Let's start there." To be fair, the occasion was the launch of Rihanna's fragrance for men, "Rogue," but the singer made it clear that under no circumstance will her relationship with men define her. In this way, Rihanna is the single person icon. Since splitting with Chris Brown in 2013, she's never been in a serious public relationship. (Sorry Drake, I refuse to believe that ever happened/will happen.) And while her reasons for this are possibly complicated and should remain her private business, it's the way that she handles being single that gets me. There is confidence in Rihanna's solitude; she can hold herself up. She can please herself intellectually, emotionally, and sexually. And not only does she not need a man, she simply doesn't want one. "You will never own me," went one of the phrases she had bedazzled into a dress some time last year. As a fan who is also single, it feels like Rihanna's most satisfying relationship right now is with herself. And therefore my relationship is with Rihanna is the most satisfying. We're good on our own, that's the way it was, still is, and at this rate, might always be.
Rihanna, the First Post-Verbal Pop Star Brian Moylan: On her single "Work," Rihanna sounds like Charlie Brown's teacher or a duck trapped in your neighbor's apartment. She doesn't make sense as much as she makes noise, commuting a story not through words, but phonetic shapings that sound something like words left out in the rain, their definition bleeding out into each other until there is nothing but a string of guttural utterances set to a pulsating beat. It's even more pronounced on other tracks on her album "Anti," like "Desperado" and "Woo," where one sound elides into the next and the listener has no idea what Rihanna is talking about. Is she too lazy to enunciate? Too emotionally bereft to elucidate? Or too far out that she's speaking some sort of alien tongue that she's making up as she goes along, like Björk or Khaleesi? But Rihanna doesn't need you to understand her, she just needs you to feel her, and her very distinct lyric phrasing lends itself more to raw emotion than it does to the vagaries of the English language. Ever since rap and hip-hop took over pop music, lyrics have been more important that ever — the rhythm is in the rhyme and the thrust of the song is about listeners going on a journey syllable by syllable. We're in a moment where Beyoncé peppers the breaks of her visual album "Lemonade" with poetry and the line "Becky with the good hair" ruins multiple Instagram accounts. Taylor Swift sings with crisp pronunciation, just so you know which of her exes she's dissing at any given time. And Katy Perry's words provide more inspiration than all of the Minion macros that your aunt posts on Facebook. All of these artists are taking a picture, but Rihanna is making a painting, and an impressionistic one at that. If Beyoncé is Rembrandt then Rihanna is Basquiat, a splattering of chaos that makes sense. She's not without words, she is just beyond them.
Rihanna, Fashion's Pied Piper
Erik Maza: Before she ever showed her first ready to wear collection, Rihanna announced her arrival as a fashion heavy-hitter with a splashy party smack in the middle of New York Fashion Week. By then, Rihanna was already manna to the fashion crowd – a walking billboard who could draw gobs of press with her mere appearance in a front row; she'd picked up the CFDA's Fashion Icon Award just a year earlier. Now, she wanted to be seen as much more than a clotheshorse, she wanted to show she meant business. It was September and I was an editor at Women's Wear Daily, summoned to the brand-new Edition hotel by Madison Square Park for what was described as "an intimate dinner" but was really an opportunity to gawk at Our Lady of the Perpetual Spotlight in all her glory. Naturally, the dinner was far from intimate — the hotel was surrounded by fans and photographers lapping each other to get a picture, or a glance. Rihanna's was the last big shindig following a full day of spring shows and parties thrown by others who couldn't have possibly competed with her star power, including Ciara, Nicole Richie (ha!) and Moncler. Still, everybody came — Kanye West and Kim Kardashian, then-couple Gigi Hadid and Joe Jonas, Wiz Khalifa and Daphne Guinness — only in Rihanna's orbit… Though the night was memorable for personal reasons — incredibly, Justin Timberlake chased and screamed at my photographer — what I remember most was Rihanna, the very picture of zen in the middle of all that chaos, as if, as Jeremy Scott put it, the solar system revolved around her glow. "Best shit ever," she told me as she swept past, trailed by a rowdy caravan of groupies and flunkies.
Rihanna, the Accidental Fashion Designer
Gillian Sagansky: "I'd rather be smoking weed," declares Rihanna in "James Joint," off her "Anti" album, but she might as well have been speaking about her Fenty collection for Puma, which she opened in February — a week after her eighth album dropped — by sending a series of models through a cloud of smoke. One thing we know about Rih is that she loves her pot humor. Rihanna has been a fashion style-setter for a short window — it wasn't until she started working with the stylist Mel Ottenberg in 2011 for her "Loud" tour that she gained approval from designers, obscure and well-known. But, she has been a quick study, becoming ubiquitous on the fashion week circuit and signing deals and partnerships left and right — with Dior to be its face and create a sunglasses collaboration; with Manolo Blahnik to create denim boots; with Stance to make socks (!!); and myriad fragrances. (Most of these, by the way, are available to buy at her pop-up at Colette in Paris.) But the coup de grâce of her fashion domination was her appointment — should that be in quotation marks? — as a creative director for Kering's Puma. Was there anything revolutionary at that show? Did there need to be? All you need to know is she crashed the brand's site website when she released faux fur slides (you can find them up to three times the original retail price on Ebay), and her sneaker creeper sold out in 35 minutes on its first drop.
Rihanna, Reluctant Actress Fan Zhong: Of all the A-listers — Brie, Tilda, Lupita, Margot Robbie — who were ushered in front of audiences at Comic-Con 2016 two weeks ago, only one stole the show: Rihanna. And she wasn't even there; she just sent a video of herself from the "Anti" tour announcing her surprise role in the final season of "Bates Motel" as Marion Crane. As in the girl in the shower. As in the part Janet Leigh made iconic. Of course she did it in the most Rihanna way possible. At the same Comic-Con weekend, the French director Luc Besson very excitedly revealed Rihanna's substantial role in his upcoming space sci-fi blow 'em up, "Valerian;" the takeaway, more or less, is that she will be playing an alien stripper. Which sounds very reasonable; in fact, it sounds exactly like a character Besson based on RiRi's Fenty ads. But Rihanna, don't do this. Yes, you are all of us. You contain all the multitudes. But you don't need to be Hollywood A-list, too. Not because I don't think you can do it — "Battleship" notwithstanding — but because DGAF doesn't fly in Hollywood. I don't want to have to watch you pretend to put up with Jennifer Lawrence's passive-aggression for weeks on end during the next "X-Men" promo tour. You don't need to smile while being lectured at by Matt Damon. You don't need to act like Natalie Portman is interesting. You don't need to talk into a microphone about what it's like to kiss Benedict Cumberbatch onscreen. Actually, I changed my mind. I would love to watch Rihanna try, and then fail, to not smack Miles Teller upside the head. #RihannaGlobes2017.
Rihanna, a Queen for all Queens
Antwaun Sargent: For as long as I can remember, black gay men have projected our desires onto pictures of black stars. For the current generation, no one reflects those desires more viscerally than one Robyn Rihanna Fenty. She is less pop package for the masses and more punk alternative. She may be photographed in the latest orange, knee-length boots from Vetements and a matching Feng Chen Wang Spring 2017 overcoat, but her hair will be in Bantu Knots, she will be smoking blunts and she will be walking out of that restaurant and into the streets carrying cups filled with red wine. Bad Gal is this generation's Diana Ross, only she's not announcing "I'm Coming Out," but demanding, "Bitch better have my money! / Please don't call me on my bluff / Pay me what you owe me / Ballin' bigger than LeBron." And maybe, in that sense, she's not just a reflection of who we are, but who we want to be. A few years ago, a hazy black and white video appeared on my Instagram feed and stopped me cold. Rihanna was dressed casually in black — matted mid-night knee length dress and boots, a long dark trench coat and, what seemed like, 22 inches of tasseled charcoaled Remy underneath a dark chocolate veiled beret — and she was standing on a runway in Astoria, Queens, at the Miyake-Mugler Ball, which was celebrating the 25th anniversary of one of New York's most renowned voguing and ballroom houses. Before she took the stage, the commentator introduced the Barbadian musician as "The one, the only, legendary, icon, motherfuckin' Miss. Rihanna." Then she took a turn down the runway, exaggerating her gait, and sashayed and shantayed down the catwalk to the syncopated claps of the audience. Olivier Rousteing, Balmain's creative director, watched on, smiling. "Work Rihanna!," a man screamed from the audience. Hand on her hip, she did.
Rihanna, Feminist Ally Betker: Rihanna is nine months older than I am, give or take, so when the news broke in 2009 that her then-boyfriend Chris Brown assaulted her, I was a 19-year-old college student in liberal Boston, Massachusetts. The world to me then existed in a clean spectrum of right or wrong, and so — after poring over the gruesome police report — I couldn't understand how Rihanna continued to stand by him. I felt she had a responsibility to be a role model for young women, and speak out about what happened to her. Though she addressed that expectation sporadically ("When I realized my selfish decision to love could result in some young girl getting killed … I couldn't be held responsible for telling them, 'go back,'" she told Diane Sawyer), she largely tried to separate herself from the incident, even reuniting with Brown in 2012. For a long time, I couldn't separate the "victim" label from Rihanna. But by requiring her to play the advocate, I was defining her by the assault and that's a flaw in my feminist principles, not hers. "Artists sign a deal to make music; we didn't sign to be perfect, or to be role models," she once told Vanity Fair. There are lots of ways to describe Rihanna (beautiful, bold, talented, rich, utterly in charge) that go against the disempowered stereotype surrounding victims. By forcing us to not think about her attack all, she doesn't allow herself to be defined as such — or any way at all.
Rihanna, Proud Mess
Katherine Cusumano: On January 27, after many delays and a string of lead-up singles that didn't make the final cut on the track list, Rihanna's "Anti" debuted, purely by accident, a little bit ahead of schedule. Jay Z's streaming service Tidal leaked the record, then quickly took it offline, only to officially release it later the same evening. The saga of "Anti" offers a counter-narrative to the meticulous release of Beyoncé's "Lemonade" — it's something more akin to Kanye West's "The Life of Pablo," which he continued to tinker with even after the record had already been released (on Tidal, naturally). It was, in short, messy, a calling card most pop stars would reject but our RiRi has embraced with gusto. As she announces on "Consideration," "Let me cover your shit in glitter, I can make it gold." Rihanna is everything Beyoncé isn't: chill, rude, unwoke. She takes no prisoners; just ask Mads Mikkelsen. (It seems, too, that she's not afraid to shed a little blood.) The album's own sprawl is a brush-off to the industry demand that she must come pre-packaged with logos and radio-made singles. When she sings "This whiskey got me feelin' pretty, so pardon if I'm impolite" on "Higher," it's something of a mess manifesto, the words of a woman unafraid to show the cracks in her façade, because there's a freedom — and control — in putting it all out there.
Rihanna, Stick Figure
Stephanie Eckardt: A round, moon-like face; blank, lifeless eyes; and a coil of hair that best resembles a caterpillar: This is how Rihanna has chosen to represent herself to her 42 million followers on Instagram. It's a pared-down aesthetic true to the DIY approach of her handle – she's eschewed the traditional @rihanna for the decidedly more personable @badgalriri – and which shows up, periodically but reliably, throughout her feed, stretching back to 2014. Rihanna's no stranger to design – she's collaborated with Dior and shown on the runways of New York Fashion Week – but when it comes to her own visual art, she keeps it as simple as it gets. The girl loves a good stick figure. After all, there's only one way to communicate achievements like landing a #1 Billboard record only matched by the Beatles but still stay relatable: By rendering herself (and Drake) in shapes that might best resemble potatoes.
What Would Rihanna Do? Sarah Leon: Most pop stars live tightly controlled lives, full of photo ops with fans, amicable breakups announced by publicists, and the occasional stint in rehab for "exhaustion." In their free time, they are often pictured leaving parties with new beaus, or on yachts with their closest A-List friends (and a professional paparazzo). Not Rihanna. A video made by Lenard McKelvey, best known as Charlamagne Tha God, first opened my eyes to that Rihanna, the anti-pop star. In the video, McKelvey recalls a night that he spent out with Rihanna in 2012 in Los Angeles. According to McKelvey, it all started with a Twitter exchange in Beverly Hills, and ended up at a club with the rapper Beanie Sigel. "This is the best night of my mother fucking night," he said. "I'm in a hood club with Rihanna!" Now, McKelvey lives his life by a simple motto WWRD—What Would Rihanna Do? Can you say the same about Taylor Swift?
Rihanna, the Pop Star Who Led the World's Most Infamous Press Tour
Maud Deitch: Rihanna remains a mystery. Even after 7 countries and 7 days, four years after I got off that plane, I still don't get her. If I hadn't seen her with my own eyes, smelled her perfume a she passed my seat on that first afternoon on the tarmac in Los Angeles ("Escada," a fellow writer whispered to me as she passed), I wouldn't believe she had been there at all. But maybe that was the point of Rihanna's 777 Tour all along — to create a false sense of being let in, only to reveal that we were never even close. I should have known when we were checked into the fanciest hotel Def Jam could manage, somewhere near LAX. I asked the clipboard guy checking us in what was about to happen as he handed me a gift bag — it included Rihanna-branded socks, a notebook, and perfume — and he said, "Honestly. I have absolutely no idea." It struck me as a weird thing for a publicist to say before a journey of this magnitude that was ostensibly to promote Rihanna's "Unapologetic" album. Once it became obvious that we would always be hungry, always be tired, and always be confused on that plane, people started jokingly asking if this was a social experiment. At the time it felt that way because hundreds of people should never spend seven days sleeping on an airplane and not seeing the daylight, but looking back on it, the jokes take on new meaning. We — the journalists on the plane — were never promised anything; from the very beginning we were told that we might never get any face time with Ri, that interviews were not what this was about. What we weren't told would end up being more important in hindsight. First and foremost, we weren't told that we were being filmed. The camera crew sticking their lenses into our open mouths as we slept, over our shoulders as we typed, was wholly unexpected, as was the stack of non-disclosure agreements and appearance releases we were asked to sign upon arrival in Paris. It felt very one-way mirror — we were being observed interacting with conditions that we didn't understand, for a reason we weren't being told. None of this had anything to do with Rihanna. The woman herself is beautiful beyond measure, with a beguiling smile and an otherworldly way of moving through space — she floats. She also laughs, like when asked questions by a pushy pap while waiting at baggage claim in Toronto, as someone completely in control. Whenever we would see Rihanna—that time on the plane the first day, pouring D'Ussay into our mouths and promising we were all going to have a great time together, behind a velvet rope in Diddy's club VIP in Paris, waiting for her bags in (now rumored on-again) boyfriend Drake's home city, or bursting into coach to calm us all down as we landed in Newark — she knew exactly what was going on, even if after all that time spent in close quarters, we never will.
Listen In: This Is What Making a September Issue Sounds Like