Kate McKinnon's Alien Abductee Character Returned To Saturday Night Live and Ryan Gosling Could Not Stop Laughing
Ryan Gosling cannot keep a straight face.
---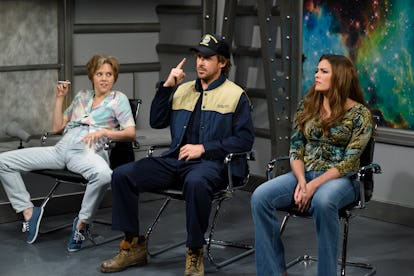 NBC
Season 43 of Saturday Night Live premiered on Saturday night hosted by Ryan Gosling, who in 2015 co-starred (and giggled, a lot) in a sketch called "Close Encounters," about a group of alien abductees who had a transforming and enlightening experience…except for Kate McKinnon's character, who had a wildly different time aboard the spacecraft.
To say it was a success is an understatement; it's been viewed 23 million times on YouTube alone. McKinnon, who has won two Emmys for her work on SNL, reprised the character in "Near Death Experience" and "Christmas Miracle," but on Saturday, we got the genuine article when she re-teamed with Gosling for "Another Close Encounter." It did not disappoint.
In "Another Close Encounter," two NSA agents (Aidy Bryant and Mikey Day) interview the only three known survivors of a double alien abduction: McKinnon, Gosling, and Cecily Strong. Strong's character has been moved by her experience, Gosling's was really jazzed about his new Department of Defense hat, and McKinnon as the chain-smoking Ms. Rafferty, well, this is what she has to say about the abduction:
"Cookie crumbled a little different for me here. I wasn't so much lifted by light as I was caught in a net. Little bastards set a snare for me; next thing I know I'm being winched straight up through the world's sappiest pine tree, right? My slacks got snagged on a branch, so they're gone, and I'm hauled on board with my bush and my tush hanging out. I see my old pals, the grey aliens with the big, stupid, fat eyes, and I'm hit with the realization: first time I've been on a second date since twenty-oh-nine."
It gets weirder and better from there. Do yourself a favor and watch the whole thing:
The best part of this sketch, besides McKinnon's performance, is that Gosling just cannot stop breaking, especially when they begin to re-enact parts of the abduction. Their physicality adds new meaning to the "close" in "close encounter."
Emmys 2017: Go Inside All Of the Weekend's Star-Studded Bashes With Reese Witherspoon, Ben Affleck, And More
Reese Witherspoon attends the HBO's Official 2017 Emmy After Party at The Plaza at the Pacific Design Center on September 17, 2017 in Los Angeles, California. (Photo by FilmMagic/FilmMagic)

FilmMagic
Elisabeth Moss, winner of the awards for Outstanding Drama Series and Outstanding Lead Actress in a Drama Series for 'The Handmaid's Tale" attends Hulu's 2017 Emmy After Party at Otium on September 17, 2017 in Los Angeles, California. (Photo by Todd Williamson/Getty Images for Hulu)

Todd Williamson
Jeff Garlin, Charissa Thompson, Larry David, Lindsay Shookus and Ben Affleck attend the HBO's Official 2017 Emmy After Party at The Plaza at the Pacific Design Center on September 17, 2017 in Los Angeles, California. (Photo by Jeff Kravitz/FilmMagic)

Jeff Kravitz
Kate McKinnon and Nicole Kidman attend the HBO's Official 2017 Emmy After Party at The Plaza at the Pacific Design Center on September 17, 2017 in Los Angeles, California. (Photo by Jeff Kravitz/FilmMagic)

Jeff Kravitz
Samira Wiley attends Hulu's 2017 Emmy After Party at Otium on September 17, 2017 in Los Angeles, California. (Photo by Todd Williamson/Getty Images for Hulu)

Todd Williamson
Mandy Patinkin, William H. Macy, and Liev Schreiber at SHOWTIME EMMY EVE Nominee Dinner 2017 in Hollywood on Saturday, September 16, 2017. Credit: Eric Charbonneau/SHOWTIME.

Eric Charbonneau
Elizabeth Moss and John Hamm attend Hulu's 2017 Emmy After Party at Otium on September 17, 2017 in Los Angeles, California. (Photo by Todd Williamson/Getty Images for Hulu)

Todd Williamson
Elisabeth Moss, winner of the awards for Outstanding Drama Series and Outstanding Lead Actress in a Drama Series for 'The Handmaid's Tale" attends Hulu's 2017 Emmy After Party at Otium on September 17, 2017 in Los Angeles, California. (Photo by Todd Williamson/Getty Images for Hulu)

Todd Williamson
Laura Dern attends the HBO's Official 2017 Emmy After Party at The Plaza at the Pacific Design Center on September 17, 2017 in Los Angeles, California. (Photo by Jeff Kravitz/FilmMagic)

Jeff Kravitz
Ann Dowd attends Hulu's 2017 Emmy After Party on September 17, 2017 in Los Angeles, California. (Photo by Vivien Killilea/Getty Images for Hulu)

Vivien Killilea
Thandie Newton attends the HBO's Official 2017 Emmy After Party at The Plaza at the Pacific Design Center on September 17, 2017 in Los Angeles, California. (Photo by Jeff Kravitz/FilmMagic)

Jeff Kravitz
Sofia Vergara attends the HBO's Official 2017 Emmy After Party at The Plaza at the Pacific Design Center on September 17, 2017 in Los Angeles, California. (Photo by Jeff Kravitz/FilmMagic)

Jeff Kravitz
Tessa Thompson and Janelle Monae attend the HBO's Official 2017 Emmy After Party at The Plaza at the Pacific Design Center on September 17, 2017 in Los Angeles, California. (Photo by Jeff Kravitz/FilmMagic)

Jeff Kravitz
Ava Elizabeth Phillippe and Reese Witherspoon attend the HBO's Official 2017 Emmy After Party at The Plaza at the Pacific Design Center on September 17, 2017 in Los Angeles, California. (Photo by FilmMagic/FilmMagic)

FilmMagic
Julianne Hough attends the HBO's Official 2017 Emmy After Party at The Plaza at the Pacific Design Center on September 17, 2017 in Los Angeles, California. (Photo by Jeff Kravitz/FilmMagic)

Jeff Kravitz
Rodrigo Santoro, Angela Sarafyan, and Thandie Newton attends the HBO's Official 2017 Emmy After Party at The Plaza at the Pacific Design Center on September 17, 2017 in Los Angeles, California. (Photo by Jeff Kravitz/FilmMagic)

Jeff Kravitz
Alexander Skarsgard and My Skarsgard attend the HBO's Official 2017 Emmy After Party at The Plaza at the Pacific Design Center on September 17, 2017 in Los Angeles, California. (Photo by Jeff Kravitz/FilmMagic)

Jeff Kravitz
Ava Elizabeth Phillippe, Reese Witherspoon, Laura Dern, Jaya Harper and Ellery Walker Harper attend the HBO's Official 2017 Emmy After Party at The Plaza at the Pacific Design Center on September 17, 2017 in Los Angeles, California. (Photo by Jeff Kravitz/FilmMagic)

Jeff Kravitz
Aziz Ansari (L), winner of Outstanding Writing for a Comedy Series for 'Master of None,' and Donald Glover, winner of Outstanding Lead Actor in a Comedy Series for 'Atlanta,' attend the 69th Annual Primetime Emmy Awards Governors Ball on September 17, 2017 in Los Angeles, California. (Photo by Kevin Winter/Getty Images)

Kevin Winter
Chrissy Metz and Milo Ventimiglia attend FOX Broadcasting Company, Twentieth Century Fox Television, FX And National Geographic 69th Primetime Emmy Awards After Party at Vibiana on September 17, 2017 in Los Angeles, California. (Photo by Emma McIntyre/Getty Images)

Emma McIntyre
Gaten Matarazzo, Joe Keery, and Natalia Dyer attend the BBC America BAFTA Los Angeles TV Tea Party 2017 at The Beverly Hilton Hotel on September 16, 2017 in Beverly Hills, California. (Photo by Kevork Djansezian/BAFTA LA/Getty Images for BAFTA LA)

Kevork Djansezian/BAFTA LA
Donald Glover attends FOX Broadcasting Company, Twentieth Century Fox Television, FX And National Geographic 69th Primetime Emmy Awards After Party at Vibiana on September 17, 2017 in Los Angeles, California. (Photo by Emma McIntyre/Getty Images)

Emma McIntyre
Tracee Ellis Ross attends theVariety and Women in Film Emmy Nominee Celebration. Photo by Katie Jones/Variety/REX/Shutterstock.

Katie Jones/Variety/REX/Shutterstock
Viola Davis attends theVariety and Women in Film Emmy Nominee Celebration. Photo by Katie Jones/Variety/REX/Shutterstock.

Andreas Branch/Variety/REX/Shutterstock
Julianne Hough and Nina Dobrev attend theVariety and Women in Film Emmy Nominee Celebration. Photo by Katie Jones/Variety/REX/Shutterstock.

Andreas Branch/Variety/REX/Shutterstock
Kiernan Shipka attends theVariety and Women in Film Emmy Nominee Celebration. Photo by Katie Jones/Variety/REX/Shutterstock.

Katie Jones/Variety/REX/Shutterstock
Gabrielle Union attends theVariety and Women in Film Emmy Nominee Celebration. Photo by Katie Jones/Variety/REX/Shutterstock.

Katie Jones/Variety/REX/Shutterstock
Kiersey Clemons and Serayah attends theVariety and Women in Film Emmy Nominee Celebration. Photo by Katie Jones/Variety/REX/Shutterstock.

Buckner/Variety/REX/Shutterstock
Dolly Parton attends theVariety and Women in Film Emmy Nominee Celebration. Photo by Katie Jones/Variety/REX/Shutterstock.

Andreas Branch/Variety/REX/Shutterstock
Alexander Skarsgard attends theVariety and Women in Film Emmy Nominee Celebration. Photo by Katie Jones/Variety/REX/Shutterstock.

Katie Jones/Variety/REX/Shutterstock