Gal Gadot Filmed Her Wonder Woman Reshoots While Five Months Pregnant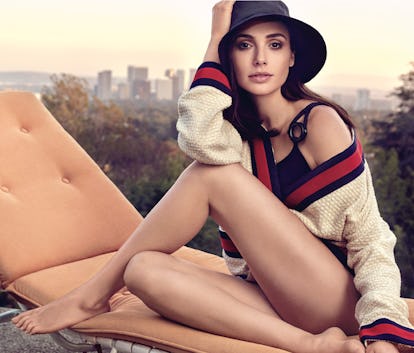 Photographs by Craig McDean, Styled by Edward Enninful; Hair by Didier Malige at Art Partner; makeup by Peter Philips for Dior; manicure by Chelsea King for Orly at Celestine Agency. Set design by Miguel Bento at Streeters; Retouching: Dtouch; Produced by Kyle Heinen For Rosco Production; Digital Technician: Nicholas Ong; Photography Assistants: Nick Brinley, Maru Teppei, Kris Shacochis, Brian Bee; Fashion Assistants: Ryann Foulke, Dena Giannini; Hair Assistant: Jenelle Oldham; Makeup Assistant: Miguel Ramos; Production Assistants: Mike Stacey, David Singh, Bean Bielski, Andres Raygoza.
Gal Gadot headlines this week's edition of "amazing women doing amazing things while pregnant"—à la Serena Williams' revealing last week that she was pregnant when she won the 2017 Australian Open. The Israeli actress, it seems, did her Wonder Woman reshoots while five months into her pregnancy.
Gadot told Entertainment Weekly that while filming some final shots for the upcoming superhero film at Leavesden Studios outside London in November, her growing bump didn't exactly mesh with the Wonder Woman vibe.
"On close-up I looked very much like Wonder Woman," the actress said. "On wide shots, I looked very funny, like Wonder Woman pregnant with Kermit the Frog." Viewers will never see this Muppet-carrying Wonder Woman, though, as Gadot explained the costume department replaced part of the front of her armor with Kermit-colored green fabric that could be digitally altered later on.
Wonder Woman director Patty Jenkins told EW that Gadot's work ethic was a sight to behold. "There are so many things we asked her to do: Now do it on one foot. Now shout while you're doing it. Now it's raining in the freezing cold and you've lost your voice, go. Everyday was a hilarious gauntlet and she would do it," Jenkins said.
Gadot, 31, who gave birth to her second daughter, Maya, in March, recently spoke with W about her own favorite strong women, sharing that she was "losing [her] mind" while waiting to audition for Wonder Woman.
"So I decided to put on Beyoncé. Who runs the world? Girls! I just started to dance, and I let my anxiety go. Thank you, Beyoncé!" She also opened up about being pregnant on set. "I found out I was pregnant while shooting Justice League. I had terrible migraines. I would show up in dark glasses and they all thought I was going Hollywood, but I was only pregnant," Gadot said.
Yes, Gadot was pregnant in both Wonder Woman (out in June) and November's Justice League, proving you can both save fictional lives while creating a very real one at the same time.
Related: Gal Gadot: Wonder Woman on the Red Carpet and Beyond
Gal Gadot Was a Very Reluctant Pageant Queen: