The Best Hydrating Masks to Banish Dry Winter Skin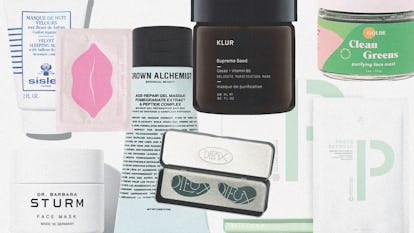 Collage by Tilden Bissell.
As temperatures get harsher and the air gets drier, your skin might start to feel like it could use a little extra love. Plus, with constant mask-wearing, the skin around your nose and mouth might feel even more rough, raw and inflamed than it usually does this time of year. In addition to incorporating thicker creams or rethinking your serums, adding a deeply hydrating mask to your routine can go a long way in improving texture and soothing irritation. In anticipation of the colder months ahead, we've rounded out the best masks to solve your cold-weather skin woes, no matter what issues you're facing. From Golde's "green smoothie for your skin" to Dieux's new reusable eye masks that keep selling out, plus exciting new picks from KLUR and Dr. Barbara Sturm, there's something here for everyone.