Kourtney Kardashian and Kate Moss Prove Coachella Isn't the Only Desert Locale Worth Visiting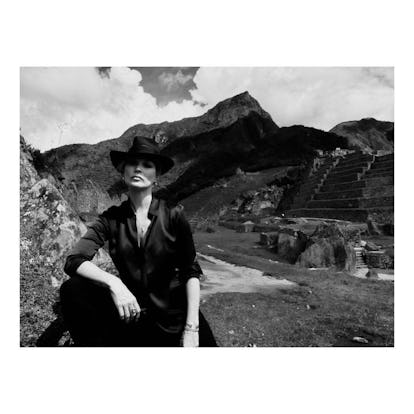 Photo by @katemossagency.
It may seem like everyone and their mother goes to Coachella, but the Valley is not the only well-known destination for lovers of desert locales. In fact, there are plenty of chic hot spots to head off to if you are looking for a place that is not swarmed with the estimated 100,000 people who flock to the Coachella Valley for the music festival each year. Although celebrities hit the Coachella scene, they also know where to go to really escape. As Kanye West once tweeted, "we need to Aman Giri the world," and he was right—more people should be taking desert vacations to luxurious resorts and hot springs in locales other than Palm Springs or Indio, if they want to experience a vacation not crammed with neon crop-top-wearing festival goers. Hot springs and dry air can be found alongside the cacti and tumbleweed lining the historic Route 66 running through Arizona and New Mexico, as well as in the canyons of Utah and the sand dunes of Jordan. For more alternatives to Coachella, check out these desert canyons that boast the most breathtaking views in the world.