How to Incorporate Feathers, This Year's Most Festive Accent, Into Your Wardrobe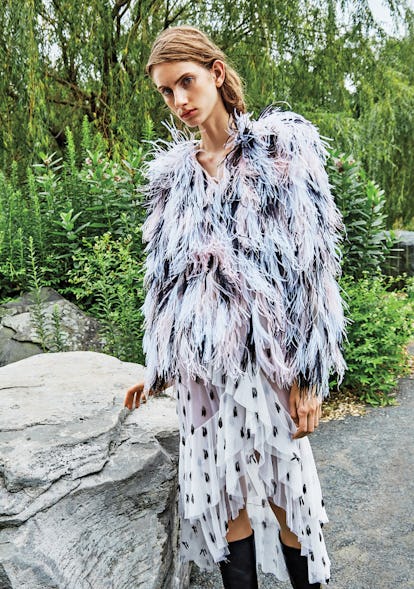 Photographs by Matthew Kristall, Styled by Lindsey Frugier; Hair by Tamara McNaughton for Kerastase at Streeters; Makeup by Junko Kioka for Chanel at Joe Management; Manicure by Dawn Starling for Dior at MAM-NYC; MODEL: Sara Berger at Women Management; Digital technician: Jared Zagha; Photography assistants: Gaspar Dietrich, Carlos Monino; Fashion assistant: Callie Turner.
When it came to red carpet dressing this year, feathers were just about everywhere. There was Blake Lively and Lupita Nyong'o at the Met Gala; Katy Perry at the Grammy Awards; Zoe Kravitz at the Emmy Awards; and plenty of other notable appearances. The trend started, as so many do, with Miuccia Prada, who showed marabou feathers on many pieces in her Spring 2017 collection. Still haven't tried the trend for yourself? Well, there is no time like the present, especially as the holiday season kicks into full gear. After all, what is more festive than adorning yourself in plumes? For a notice-me holiday party look, try David Koma's stark white, and totally feathered, mini-dress. Looking for something slightly more subtle? The Row has updated their signature minimalistic shoulder bag with just a few dangling feathers, and Saint Laurent offers a classic stiletto heel adorned with two feathered accents around the ankle. Whether you go full feathers or subtle accents, here are 12 ways to incorporate the trend into your life this season.