After a Decade of Ruling K-Pop, Girls' Generation Is Stronger Than Ever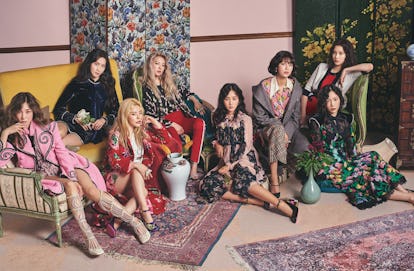 Photo by Yoo Young Kyu for W Korea.
In the United States, 2017 may have marked the end of an era when the HBO series Girls came to an end, but in South Korea, the year brought quite a different—and more celebratory—anniversary: 10 years of the K-Pop band Girls' Generation, whose eight members—Taeyeon, Sunny, Tiffany, Hyoyeon, Yuri, Sooyoung, Yoona, and Seohyun, some of whom casually have over 10 million Instagram followers apiece—seem stronger than ever since they debuted as a group in 2007. Sooyoung Choi, for one, has lately been sitting front row at fashion week alongside Emma Roberts and Ciara; Yoona is landing even more acting gigs; and Taeyeon is successfully juggling her own career as a solo artist, which she debuted in 2015 to much acclaim to her fanbases in Japan and South Korea—as well as to a no. 1 spot on the Billboard charts in the U.S. Still, even as they've stepped out on their own, the group has managed to remain as together as ever; they even all squeezed into the cover of the latest issue of W Korea—and coordinated in matching Gucci. Take a look at them altogether and apart, here.