Nicole Kidman, Milo Ventimiglia and 11 More Actors Who Prove that Television Has Never Been Hotter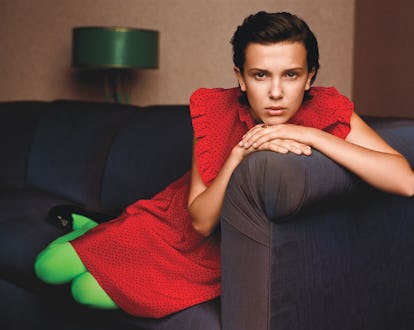 Photographs by Alasdair McLellan, Styled by Edward Enninful; Hair by Shay Ashual at Art Partner; makeup by Diane Kendal for Marc Jacobs Beauty at Julian Watson Agency; manicures by Casey Herman for Dior at the Wall Group. Set design by Stefan Beckman at Exposure NY.
As movies increasingly play to a global audience with an endless stream of superhero blockbusters, the television landscape is becoming more varied—and more compelling. So, this year we turned our attention to dramas and the 13 actors and actresses who have given performances that are deeper and more thrilling than any you might find at the cinema. From Nicole Kidman and Alexander Skarsgård, who played a couple caught in an impassioned and physically abusive relationship in HBO's Big Little Lies, to Millie Bobby Brown as the otherworldly Eleven on Stranger Things and Milo Ventimiglia as Jack Pearson, the flawed but compassionate father at the heart of NBC's breakthrough hit This Is Us, here is a closer look at the hottest TV stars of the year.