Raf Simons Finally Delivers the Drama New York Fashion Week: Men's Badly Needed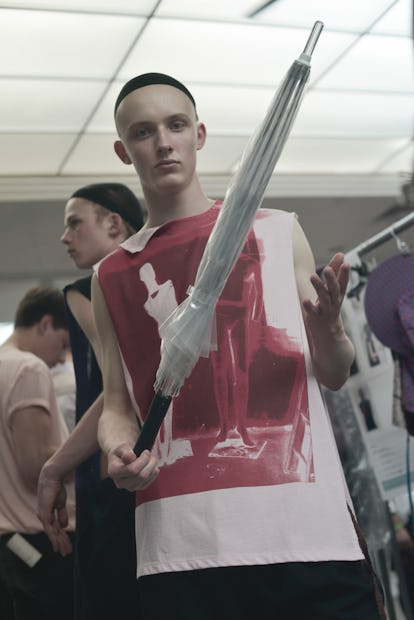 Photo by Alex Hodor-Lee for W Magazine.
Cinematic was one way to describe the scene Tuesday night at Raf Simons's second show in New York for his namesake label. Taking over a supermarket on East Broadway in Chinatown—Simons is slowly discovering the city's hidden treasures—Simons's stage looked as if lit by Ridley Scott, brimming with scrolling digital signs bearing the words "Replicant," neon lights dappling the water-covered pavement, and Chinese lanterns featuring Peter Saville's typography for New Order. Echoing Blade Runner, models emerged dramatically from the shadows, and walked among a crowd hungry for some theater during the pro forma men's shows in New York—A$AP Rocky, Julianne Moore, Ashton Sanders, Marc Jacobs, Jake Gyllenhaal and Anwar Hadid among them. Between the pop references and the models each lugging umbrellas and protective gear—boots, hats and headscarves in floral prints—it seems Simons's 50 piece collection was imagining a not so distant, dystopian future where we all need shelter from the elements (Kathryn Bigelow's Strange Days also came to mind). Perhaps there was a subtle political message in that, or perhaps Simons was channeling the apocalyptic mood of the moment, whatever the case, New Order lanterns will always come in handy.