Exclusive: Rita Ora Trades in Track Suits for Glam White Feathers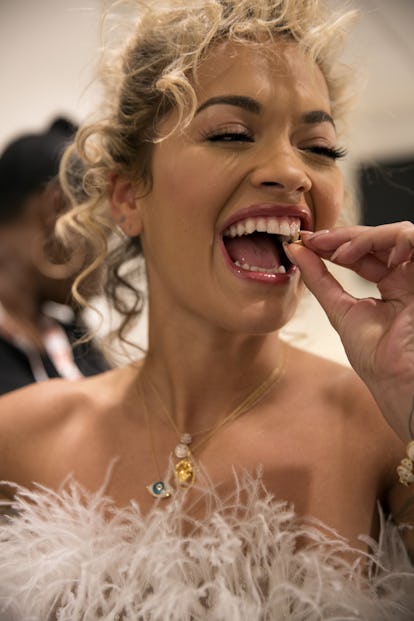 While Rita Ora may claim that she is not the biggest fan of pre-planned looks, and would rather wear what "feels comfortable and right [to me] in the moment" she knows how to deliver fashion drama. Such was the case at the 2018 Brit Awards, where the singer stepped out on the red carpet in an enchanting Ralph & Russo white feathered gown—complete with a curly updo and a gold cap on her incisor tooth to emphasize her grin—before changing into a white leotard for her performance of "For You," her sultry Fifty Shades Freed pop duet with Liam Payne.
The symbolism of the color white was not lost on Ora and her team—they chose to follow in the footsteps of the 2018 Grammys attendees who participated in the silent protest of wearing white roses in support of the Time's Up initiative. "I think it's important for us as people to stand up for all injustice," Ora told W via email. "As a woman, I support women as a whole, and applaud the bravery of all of the women that are able to tell their story. By wearing the rose we show these brave women we are here to stand with them."
Living in the moment seems to be the singer's modus operandi, whether she's aiming for glamour or comfort. "I am the girl who loves big dresses, but I'm also the girl who loves to be cool in a tracksuit, but love to be sexy in a bodysuit," Ora said of her unrehearsed approach to choosing looks. Here, find the exclusive behind-the-scenes photos of a smiley, silly and sexy Rita Ora having fun while getting glammed up for her performance at the 2018 Brit Awards.