A Simple Scarf Is This Season's Fashion MVP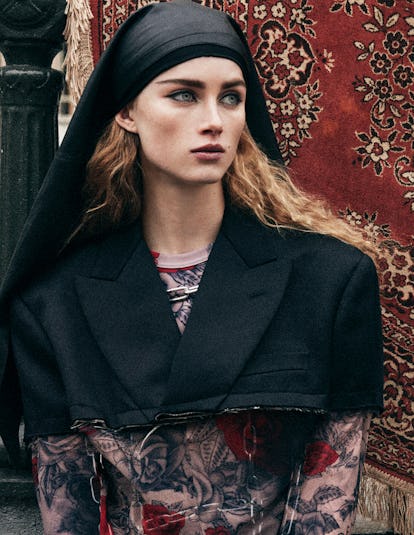 Photograph by Mikael Jansson; Styled by Marie-Amélie Sauvé. Hair by Damien Boissinot at Art + Commerce; Makeup by Mark Carrasquillo for Nars at Streeters; Manicures by Isabelle Guyon at Majeure Prod. Set design by Andrew Lim Clarkson at Bryant Artists. Casting by Edward Kim at the Talent Group. Models: Rianne van Rompaey at DNA Model Management, Oudey Egone at Oui Management. Produced by Marie Hu at Northsix Paris; Production Manager: Stefany Turner at Northsix Paris; Production Coordinator: Ines Chenguel; Retouching by Noah Beyene; Digital Technicians: Magnus Bergqvist, Romain Courtios; Photography Assistants: Noah Beyene, Filip Alfvag, Paul Jedwab, Joris Rossi; Fashion Assistants: Rae Boxer, Elizabeth Wholley, Nelly Carle; Set Assistant: Sophie Coates; Tailor: Carole Savaton at Atelier-On-Set; Production Assistants: Kevin Coutinho, Melissa Lartigue, Ashleigh Hayward, Vivien Loiseau, Ben Cayzac.
It's fashion week in New York City, which means you're likely to see a whole lot of statement heels, major outerwear, and some flashy handbags, as we do season after season. But this go around, a new hot item is emerging on fashion's most ubiquitous—and surprising—accessory: the humble scarf. Typically reserved for your chic aunt's neck, today the scarf is fashion's most versatile item. Wear it tied around your head in a chic balacava-esque nature, or fasten around your purse for an extra dose of glamour. Any way you like, it's a surefire way to get noticed. Here, a look at how to style the new must-have.