Stockholm Fashion Week Street Style Stars Are Still Dressing in Bright Summer Colors, Bless Them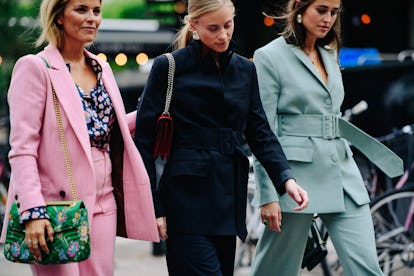 Photo by Adam Katz Sinding for W Magazine.
You know a city has nailed its street style when even while facing downpours, the locals still pull out some of the most enviable looks around. And so, after more than proving itself last year despite the rain, Stockholm Fashion Week and its accompanying cadre of models, bloggers, and editors took advantage of the bluer skies to come back stronger than ever this summer, flooding the streets with pastel pantsuits, shoes made almost entirely out of fur, and, of course, at least one on-trend fanny pack. There were also of course some of the Swedish Victoria's Secret model Elsa Hosk's favorite—floral dresses—and plenty of pairs of sunglasses to go around, too, which served to both block out the sun and the overwhelming amount of color suddenly in the city. In other words, in Stockholm, where the temperatures have been averaging in the sixties, it's definitely somehow still summer—and we're definitely not mad about it. See the best looks, here.