Tom Bianchi's New Fire Island Snapshots Showcase Queer Joy—and Defiance—Amid the Summer of Trump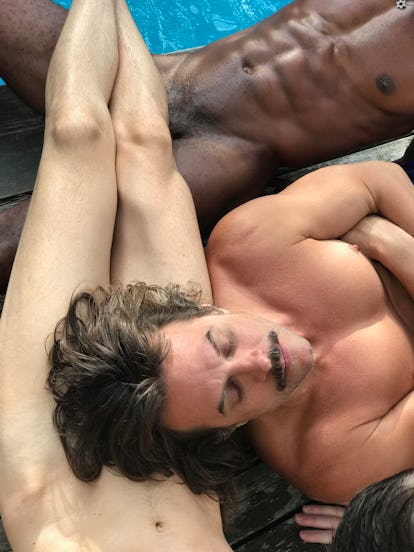 Photo by Tom Bianchi.
For four decades now, if you make the trek to the Pines in Fire Island during the summer, you can reliably count on two things: Thousands of gay men and other free spirits often at full-frontal ease, and Tom Bianchi, the photographer who immortalized Fire Island in the '70s with his beloved Polaroids, still snapping away among them. Of course, there's been some changes since then, too: While Bianchi's original pictures have become a staple of queer imagery—and a beacon of hope in the Trump era—he's since moved on from the "cumbersome camera—which you couldn't go to the middle of the dance floor too much with"—to the much more compact iPhone, which, if you haven't yet discovered his delightfully derrière-filled Instagram, he's taken to with ease, having discovered this summer the extent to which its size has allowed him to capture the moments that mean the most to him on the island, like the romance of those abandoning a dance party to rush into the ocean and embrace mid-sunset, and the trust and intimacy among friends to get nude and give each other temporary tattoos at 4:33 a.m. His message, however, remains the same, if not stronger than ever in our current political climate, when homophobia—and misogyny, too, as he underlined—still run rampant: "We've created a world that's more filled with love, where people are valued on multiple levels and not simply categorized by skin color, and—I'm absolutely happy to say this—it's better than yours." In other words: Yes, there is, in fact, an alternative, and paradise actually does exist.