12 Floral Candles Perfect for a Springtime Refresh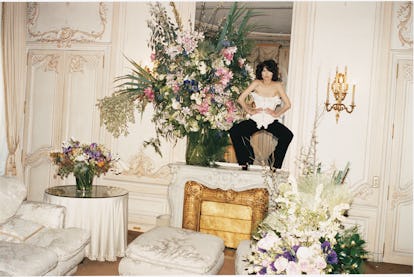 Shalom Harlow photographed by Juergen Teller for W magazine, April 2006.
We may receive a portion of sales if you purchase a product through a link in this article.
The right aromatic candle has the power to comfort, soothe, and uplift the ambience of any room. Much like a signature fragrance, a candle can bring peace and a sense of familiarity—no wonder some jet setters routinely travel with their favorite scented candles. With the arrival of spring, why not invest in a new (or classic) candle to brighten up your surroundings and your mood? Below, we've compiled several of the most exceptional, vibrant (and seductive...this IS spring, after all) candles to consider adding to your collection.
The Luxurious, Long-lasting Candle
When we say luxurious, we mean it. Dior's Oud Supreme is undoubtedly for special occasions, and will fill your heart (and room) with joy. This candle will burn for 110 hours, bringing fabulous wood oud scent along with it. Oud Supreme is a special limited-edition collaboration with atelier Alain Ellouz, a New York City-based brand that specializes in making alabaster light fixtures.
A Timeless, Classic Gift
Gift this to candle to your friend (or lover) with exceptional, discerning taste—you won't go wrong. The fragrance of Cartier's Pétales is unmistakably sublime, evoking lush, blooming meadows of floral greenery.
For a Soothing Bath
This candle has the perfect calming notes for bath time: juniper berry, pepper, and Somalian incense flow together delicately to transport you into a more tranquil world. Can't you hear the gentle babble of a stream nearby and feel the fresh, outdoor air on your face now?
A Floral Celebration
An homage to thecherry blossom, Diptyque's newest scent is wrapped in sumptuous lily of the valley, rose, jasmine, and ylang-ylang. There is also a very faint blend of raspberry and cherry fruit to give a subtle but attractive sweetness.
A Tasteful Scent for Any Room
In our opinion, nothing signals the arrival of spring more than this lovely concoction, which blends two Jo Malone London's favorite scents, English pear and freesia, with lime basil and mandarin. This chic and artful candle is part of the brand's recent collaboration with artist and photographer Martyn Thompson.
Perfect for an Al Fresco Dinner Party
This candle is the perfect complement for an outdoor garden party, with notes of orange blossom, tuberose, and jasmine enhancing any festive occasion. In Leland Francis's Cowgirl, there's also a patchouli and balsamic woods base that balances the floral trifecta.
For a Romantic Night
This heavenly scented candle contains peaceful amber, vanilla, and bergamot notes that give warmth and an air of beauty equal to the 14th night passages in ancient Persian literature. The Candle is sultry and seductive, but also full of aromatic heart.
To Uplift Your Senses
A melodic mood-lifter, this beautifully scented candle has the propensity to both beautify your surroundings and instill within you a sense of inspiration. The "throws" of this candle are also well-balanced—the amount of white floral, coconut, and not-too-sweet strawberry fill the room gracefully. The candle's lid also serves as an attractive bedside jewelry tray.
To Relieve Tension
Lighting this candle not only infuses the room with an attractive citrus scent, but also delivers therapeutic, healing properties—Yuzu essence is known to relieve anxiety and promote circulation.
For a Festive Party
If you're looking for a somewhat sultry yet tasteful candle for intimate gatherings, try Anine Bing's new Rose Wood variety. In this candle, rose is melded with a velvety layer of Indian cardamom and palo santo to deliver a soft, deep presence.
To Burn at Brunch
Exquisite and tasteful to burn day and evening. The newly launched Glasshouse candle captures the essence of jasmine fused with green apple, transporting you to a lush floral escapade far and away. Ylang Ylang gathers delicately around the floral fusion at the very end with perfect intensity.
To Unlock Creativity
A burst of floral flavors from Frédéric Malle, Jurassic Flower contains magnolia enveloped in velvet rose, citrus, and apricot. It's a truly magnificent bouquet of floral flavors that, we find, promotes focus and mental energy.