The 15 Nonnegotiable Essentials to Becoming a Silver Lake Shaman on Instagram
You may not think you need a Tiffany lighter to be an Instagram hippie these days, but you really do.
---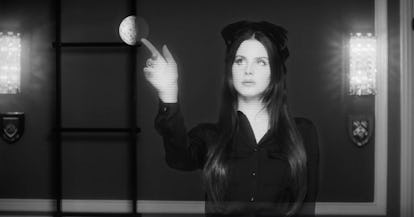 Lana Del Rey/Facebook
Caftans, crystals, succulents, baskets, burning sticks of Palo Santo—a decade ago, these items might have only populated the shelves of head shops, but in a post-Moon Juice world, they're more chic than crunchy. Now they're everywhere. What started as a micro-trend in Los Angeles has now become a generational trope, dubbed "The Silver Lake Shaman," a neo-hippie aesthetic that's both design-centric and aspirationally immaterial, and could only come from the creative bourgeoisie class. Blame GOOP. Blame crystal-loving celebrities such as Kylie Jenner and Emma Roberts. Blame '90s-nostalgia dredging up cult favorites like The Craft. But the Silver Lake Shaman seems here to stay, especially given our current cultural paradigm towards self-care, wellness, and holistic living. Ahead, we round up the essentials to become a Silver Lake Shaman. Your aura will thank you.
Moon Juice Dusts What good is a Shaman without magic? For those who can't get an appointment with Gwyneth Paltrow's go-to, Moon Juice's expansive collection of dusts is the next best thing. The tiny cans of miracles promise to do everything from repairing your REM cycle to boosting your intelligence and spirit to sparking a better sex life to, most importantly, giving you a glow that makes you always look backlit. "If I'm recovering from travel or I've been doing a lot of yoga, and I can just feel my muscles a little depleted, I'll throw Power Dust in," explained brand founder Amanda Chantal Bacon. "If I'm feeling a little mentally fatigued, and I've got a big office day ahead of me, I'll throw a bunch of Brain Dust in." Luckily for those outside of Los Angeles, they'll soon be stocked at Sephora.
Palo Santo After herb-enhanced enlightenment comes decluttering your home of bad vibes. To do that, you must buy a bundle of Palo Santo — preferably preciously bound together with artisanal rope—and light them around your house. The "holy wood," traditionally used by Amazonians to chase off evil spirits, will leave behind a trail of musky smoke. If you don't buy into any of that, we hear it also works as a holistic insect repellent. If it can repel evil, surely it should be able to eliminate mosquitos.
Hippie Shit Candle For those who'd prefer to ward off bad vibes without fear of tripping the smoke detector, there's Mister Green's Hippie Shit candle, which smells of burnt Palo Santo with "notes of soft wood, neroli, musk, smoke, and leather." For a mere $68, you can add ambience and a positive aura to your home.
Artisanal Incense and a Worthy Holder Perfume isn't a word in the Silver Lake Shaman's vocabulary, but incense certainly is. The burnable scent bombs should be filling up your home. Standard Nag Champa will do the trick but for a more elevated scent, opt for handmade incense like Incausa's Breu Resin for $20 and a vessel worthy of burning it in, like Jonathan Cross' lidded incense box for $450. Light and repeat to yourself, "thank you, disposable income."
A Needlessly Fancy Lighter For the Silver Lake Shaman, dropping the word "curate" comes as naturally as lighting incense, which is why every element of the persona needs to be carefully considered. Every household item—no matter how small, from a coffee mug to scissors to a cigarette lighter—needs to be Instagram-worthy. Thankfully, a vintage brass Tiffany lighter dreamed up by Elsa Peretti accomplishes both.
Crystals It might be almost too obvious to mention, but there are few things as dear to the Silver Lake Shaman as crystals. Anyone who followed the Missing Case of Moon Juice's Rose Quartz is fully aware of that. "This loving rock has given so much to an entire community and has much more to share," Amanda Chantal Bacon said at the time. "To whomever took her out the door, you do not want the energy of a stolen crystal, please trust me!" Take heed, and stock up at East Los Angeles' go-to crystal store House of Intuition.
Bath Salts Although Instagram might lead you to think otherwise, crystals aren't just for decoration. Aside from massage and sleep, crystals can also be incorporated into your daily routine. The Silver Lake Shaman doesn't merely just shower, they take crystal healing baths. To do so, you'll need to take your crystals into the tub with you — quartz, rose quartz, and amethyst work particularly well — and pour in a heap of fine bath salts. Shiva Rose's $60 Rose Moon Sea Salts do the trick. As the brand writes, the "elevating, restorative and detoxifying mix is blended with spirit enhancing frankincense essential oil, heart opening rose oil, and grounding cedar from old growth forests. Use the rare rose moon seashell to fill your bath water."
Caftans With all of the accessories in place comes the uniform. Comfort is key for the Silver Lake Shaman, as is anything that feels handmade. (Bonus if it's handmade in East L.A.) To check off those necessities, look to Rachel Craven, who is something of a linen shaman. She truly makes magic with swaths of the fabric, which come in colors like Poppy Red and Tumeric.
A Natural Blanket Throw To fully embrace the comfort-centric vibe of the Silver Lake Shaman, a blanket is essential. Choose one in a neutral color that will match every caftan. Throw it on for a "just walked out of a yurt" look, or use it as a cozy seat while communing with nature. Just be sure to grab one that was lovingly cut and stitched by hand, like Creative Women's Queen Cotton blanket for $275.
A Basket Bag To complete the Silver Lake Shaman look, you'll need a vessel in which you can store all of your crystals, Moon Juice dusts, and essential oils. Basket bags can take you from Farmer's Market to the juicery to dinner at your local macrobiotic eatery, and they're certainly having a moment. Plus, with every little imperfection, they give the appearance of having been made by human hands.
Succulents Plant hoarding is practically a necessity for the Silver Lake Shaman. If your bedroom doesn't look like the inside of a greenhouse, you have a long way to go. Fiddle Leaf trees are a must, as are Monstera leafs, but nothing says Silver Lake Shaman quite like the succulent. Not only do they photograph well—especially in geometric ceramics—but they're drought-tolerant and therefore fiercely independent. With all of your self-care, how will you find time to tend to anything else?
Stained Glass For those who don't have a green thumb, stained glass in the shape of a cactus might be the next best thing. Opt for one by the California brand Brewer & Marr Glassworks. Or, try out one of their more geometric pieces. When the sun floods your home with color, you'll see life through the Silver Lake Shaman's happy-go-lucky lens.
Macramé No longer relegated to taxi driver seat covers, the '60s and '70s trend is the pièce de résistance of any Silver Lake Shaman's home. Use it as a wall hanging, as a lamp cord, as a chair, or as a planter. For the Silver Lake Shaman, there is no such thing as too much macramé.
The Soundtrack Before the Silver Lake Shaman was even an archetype, there were figureheads like Father John Misty and Lana Del Rey laying the groundwork. From their post-Laurel Canyon embrace of Los Angeles to their vintage aesthetics, the two have become the poster children for the neo-hippie movement. Nowhere is that more on display than in last year's "Freak" video, where they gobble acid in a field of wild flowers, joined by a group of perfectly sun-kissed, all-white-wearing ladies who look like they escaped from The Source Family, while singing about halos on fire and pleading, "Baby, if you wanna leave, come to California/ Be a freak like me, too." Baby boomers had Joni Mitchell and David Crosby. Their children have Lana Del Rey and Father John Misty.
Instagram At the core of the Silver Lake Shaman is a yearning to return to nature, whether it be through harnessing the healing power of herbs and crystals, crowding one's home with plants, or actually stepping into the wild on a hike. But, there is also an itch to document it all on social media—a contradiction that isn't dissimilar from the one that exists in turning to materialism to live a purer existence, or practicing minimalism through decadent curation. Therefore, an Instagram is just as critical as any other accessory for the Silver Lake Shaman. It's not just a way for the Silver Lake Shaman to show off their lifestyle, it's also an encyclopedia on how to improve it. Instagram is where one can find everything from which Joshua Tree-based ceramicist just restocked to which faraway countries have the best crystals to wellness tips and meal inspiration like Dragon Dust (who knew?).
10 Wellness Must-Haves to Look and Feel Your Best This Summer
Related: In Defense of Bonnie, Big Little Lies' Very Own Amanda Chantal Bacon
Edward Enninful reflects on Kate Moss, Kurt Cobain, and 90's Fashion: