Lana Del Rey Casually Confirms She Indeed Hexed Donald Trump
"Yeah, I did it. Why not?"
---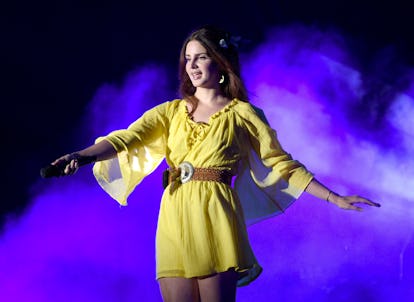 C Flanigan/Getty Images
Lyrically, Lana Del Rey is usually quite magnanimous towards rich older men, but there's one in particular she just doesn't have patience for at the moment: our 45th President Donald J. Trump. Back in February, the singer took to Twitter to align herself with the online witch community (a thing that, yes, exists) and promised to cast a hex on Trump once a month at midnight on the dates of waning crescent moons. She also called on her rabid followers to join in, and informed them that "Ingredients can b found online."
Though, Del Rey never publicly documented her witchcraft, and we all had to wonder whether she actually went through with the hex. British music mag NME had the good sense to follow up, and her answer was classic.
"Yeah, I did it. Why not? Look, I do a lot of sh–," she told the mag.
(Please feel free to use that phrase to explain any of your actions at any time.)
"I'm in line with Yoko [Ono] and John [Lennon] and the belief that there's a power to the vibration of a thought," she further explained (incidentally Ono and Lennon's son Sean appears on her new album Lust For Life). "Your thoughts are very powerful things and they become words, and words become actions, and actions lead to physical charges."
"I really do believe that words are one of the last forms of magic and I'm a bit of a mystic at heart," she added.
Which is nice, but mostly folks, remember, she's Lana Del Rey, and, look, she does a lot of sh–. She just does. Why not?
Placing hexes on the controversial executive branch head is not the only Trump-related action Del Rey has made lately. She's also noted that she's tuned down her signature use of American iconography since the real estate promoter took office.
"I definitely changed my visuals on my tour videos. I'm not going to have the American flag waving while I'm singing 'Born to Die,'" she recently told Pitchfork ('Born to Die' being one of the singer's singles, and not the motto for Trump's healthcare agenda, in case there was any confusion).
"It's not going to happen. I'd rather have static. It's a transitional period, and I'm super aware of that. I think it would be inappropriate to be in France with an American flag. It would feel weird to me now—it didn't feel weird in 2013."
Del Rey is not particularly known for political fare. Look, she does do a lot of sh–, but she hadn't previously done that until Trump talk overwhelmed everyone.
"We didn't know we were going to start walking in every day and talking about what was going on," she told Pitchfork. "We hadn't ever done that before, but everyday during the election, you'd wake up and some new horrible thing was happening. "
Hopefully though Del Rey and the internet witch community's hexes prevent more things horrible things from happening.
Related: On Lana Del Rey's Lust For Life, Pop's Princess of Americana Is Losing Her Faith in Donald Trump's America
See What's Tending in W Magazine: