On Lana Del Rey's Lust For Life, Pop's Princess of Americana Is Losing Her Faith in Donald Trump's America
Even an artist suspended in the amber of nostalgia can't help but wake up to America under Trump.
---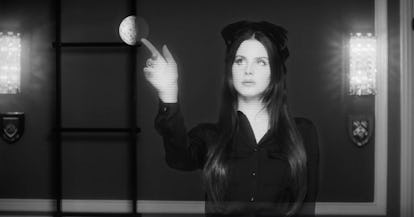 Lana Del Rey/Facebook
Lust For Life, Lana Del Rey's fourth studio album, sounds politically urgent. This is a new pose for the beloved singer, who since her major label debut Born To Die, has been suspended in perma-nostalgia. The election of Donald Trump, though, caused a shift not only in her imagery—promotion for this album has strikingly tempered down the nationalism—but in her subject matter. Camp, romance, and sadness are the driving forces behind much of her music, but the political jolt finds the singer querying not just personal relationships but asking public questions of the world.
"Love," the album's first single and opening track, shows both the realm she used to occupy and the new one that Lust For Life attempts to construct. Sonically, it picks up the regal majesty that was particularly raised on her last album, Honeymoon, where gorgeous string sections would accent songs that previously might have been tempered by anguished guitars or rap-influenced production. She sings: "Look at you kids with your vintage music / Coming through satellites while cruising / You're part of the past / But now you're the future." This is not to criticize, but to try and better understand what is happening and what will happen to this generation coming up. An endlessly self-aware writer, Del Rey subverted her own tropes in an effort to better connect with the world.
That widening lyrical scope opens the gates for collaborations. With The Weeknd, one of Del Rey's rare pop music partners, they continue to be a powerful sour pop duo on the album's title track, "Lust For Life." The songs has the two superstars galavanting across an idyllic Los Angeles, as she opens the song: "Climb up the H of the Hollywood sign… There's nobody here, just us together." Del Rey and The Weeknd are artists who this decade retraced the same themes of darkness, drugs, and lust, but where the Weeknd shed some of that baggage for pop success, Lana sheds it in order to better engage with the world in her post-fame self.
The political shift happens right at the album's center with "Coachella — Woodstock in My Mind," where she recounts watching her friend Father John Misty at Coachella. She looks out into the crowd at these youths, with their eyes transfixed by what's happening onstage, and wonders: "Cause what about all these children? / And what about all their parents? / And what about all their crown they wear?" Del Rey, true to form, embraces the camp of invoking a Woodstock at Coachella, but even if it is done with a knowing wink, the album's second half is committed to diving into these questions, without offering plain answers.
"God Bless America — And All the Beautiful Women In It" follows "Coachella," and while Del Rey could have sung "God Bless America" through three layers of irony and made it work, she reorients the song to speak up for women; there is no confusion about who this song and message is intended for. Lana Del Rey is performer who makes forceful gestures with lyrics and musical style, and in these moments where her style converges with 60's protest music, it feels natural.
"Is it the end of an era? / Is it the end of an America?" she asks on "When the World Was At War We Kept Dancing," and where a few albums ago these thoughts would've been invoked with a cold remove, on Lust For Life they have the warmth of sincerity. Before it can balloon too much, though, that earnestness is punctured with "Tomorrow Never Came," with Sean Ono Lennon, where the singer sounds too close to his late father John Lennon. It's the one low point on this album, not for the attempt at irony, but because a duet that should work doesn't. Lennon's voice is too pure for Del Rey's plane, even if this is an album of trying new ideas. Her duet with Stevie Nicks, "Beautiful People Beautiful Problems," is far more her speed, even if she cedes the stage to the classic rocker.
Earlier this week, in an interview with Pitchfork, the singer kept stressing how she perceived the world differently after the election. "It's more appropriate now than under the Obama administration," she said about the tonal and political shift in the album, "where at least everyone I knew felt safe. It was a good time." There's a slight sadness now to rewatching her 2012 pre-Obama re-election video for her songs "National Anthem," where she and A$AP Rocky, who appears twice on this album, are cast in the roles of Jackie and JFK. That attempt at subversive nostalgia, already fairly dated, appeared nearly rotten after the election of Trump wrecked the post-racial dream that was the failed hope of the Obama years. The camp and drama of love will continue to center Lana Del Rey's music, but Lust For Life tells us she can say more, without losing what makes her voice so compelling.
Lana Del Rey's Style Evolution, From California Pop Star to Bewitching Songstress
Sporting her original blonde locks at concert in 2010, where she performed as Lizzy Grant.

Getty
Del Rey in a Prabal Gurung dress at the Q Awards in 2011 where she won the "Next Big Thing" award.

Getty
Leaving a hotel in Paris wearing a saffron colored dress and single white rose in her hair.

Getty
After a Cannes red carpet wearing jeans, loafers, and a Ferrari racing jacket.

Getty
Out and about in New York, wearing a simple white dress and nude pump.

Getty
At an event for fashion brand Mulberry, in a gown by the house.

Getty
Classic Hollywood siren in a dramatic black gown on the Cannes red carpet.

Getty
As the song goes, blue jeans, white shirt; at an event for her album "Born to Die."

Getty
At the Echo Awards wearing a gown by Versace.

Getty
On the Met Gala red carpet in a gown and cape by Altuzarra, sporting a vampy lip.

Getty
At the UCLA Institute Of The Environment And Sustainability Presents An Evening Of Envrionmental Excellence wearing a fur coat with jeans and converse.

Getty
At the EMA awards in an elegant navy dress made for her by a friend.

Getty
At the Cannes Film Festival premiere of Baz Luhrman's The Great Gatsby in a dramatic black and white gown.

Getty
Front row at the Versace Fall 2013 show wearing a full look by the house.

Getty
At an event for Nylon Magazine looking biker-girl chic

Getty
At an Academy Award party hosted by the Weinstein Company in all-white.

Getty
At the amfAR's 21st Cinema Against AIDS gala with Justin Bieber in a canary yellow ball gown.

Getty
At the 2014 British Fashion Awards in an emerald green dress and shawl.

Getty
Casual cool and glossy-haired at LAX airport in a navy cardigan.

Getty
In a floral-tiered frock on the red carpet for the Breakthrough Prize Ceremony.

Getty
Nautical-chic in a navy blazer and white trouser suit at the 5th Annual Sean Penn & Friends HELP HAITI HOME Gala.

Getty
Lana Del Rey attends 2016 Billboard Power 100 Celebration at Bouchon Beverly Hills in a white blouse and belted safari pants.

Getty
Del Rey at a 2016 pre-Grammy Gala wearing a stripped ruffle top and black satin skirt with a radical up-do.

Getty
In an elegant, all-over floral print caftan on the 2016 Brit Awards red carpet.

Getty
Every inch a 50's beauty queen in a shimmer gown at the 2016 Vanity Fair Oscar party.

Getty
Mermaid cool in a pleated turquoise gown on the red carpet for the Golden Globes.

Getty
Lana Del Ray attends the Gucci Bloom Fragrance Launch at MoMA PS.1 on May 2, 2017 in New York City.

Getty
Lana Del Rey performs during BBC Radio 1's Big Weekend at Burton Constable Hall, Burton Constable, Skirlaugh in Hull.

Getty
How Hiplet, a powerful fusion of hip-hop and ballet, is redefining the dance world: