2016 Was the Year of the Choker. Was It Also the Year the Choker Died?
This year, there were few fashion pieces more ubiquitous than the choker. (See Beyonce, Rihanna, and Kendall Jenner for proof.)
---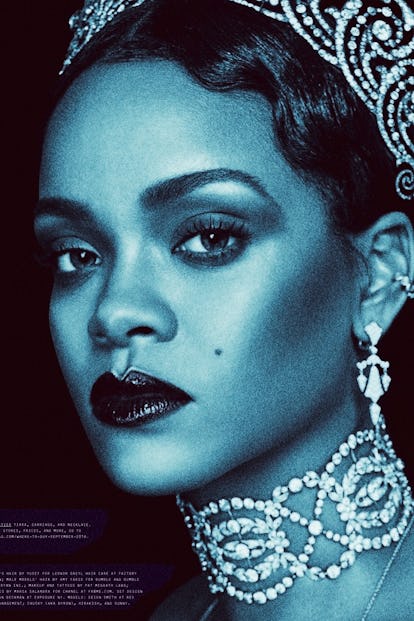 In early 2016, Beyonce stunned the world with a surprise release of the song "Formation" and its accompanying music video. Every aspect of the single was thoroughly investigated, including her jewelry choices. In the music video, Beyonce wore not one, but three choker necklaces (two by Dylanlex and Fallon's Monarch choker–which became a cult favorite of everyone from Rihanna to Khloe Kardashian) at once. Also this year, Rihanna wore a large pink choker with a massive ring in the center in her dancehall-inspired "Work" music video, and sported a megawatt, diamond Cartier Collection choker on the cover of W's September issue.
When two of pop culture's most influential women–Beyonce was the most Googled artist of 2016—do pretty much anything, the masses will most likely try to follow. And follow they did, cementing the choker's status as this year's most ubiquitous fashion trend.
From pop princesses to countless supermodels (most noticeably those styled by Monica Rose, like Kendall Jenner and Gigi Hadid) to celebrity babies (North West) to plebeians around the globe, various iterations of the necklace—from reincarnations of the stretchy, butterfly versions of our youth to Alexander Wang's BDSM, Sid Vicious-style chokers from his Fall 2016 runway collection—found their way onto necks everywhere in 2016. What gives?
"Chokers are most popular when necklines dip," explained Wendy Yothers, chair of the Jewelry Design Department at the Fashion Institute of Technology in NYC. "As long as women like to show off their clavicles, chokers will keep coming back." To that point, Jennifer Sunwoo, Executive Vice President and General Merchandise Manager of Womens at Barneys New York, added, "Chokers have been a notable trend this year, gaining momentum in spring and continuing through the fall season. We first saw a spike in this category as off-the-shoulder looks were trending in ready-to-wear and women were looking to accessorize this new neckline."
The choker has cycled in and out of style for thousands of years. It was once a piece of protective armor for men and women in ancient Egypt and parts of Africa; in Europe during the 18th and 19th centuries it was worn by women as a symbol of wealth; King Henry VIII's wife Anne Boleyn famously wore a pearl choker with a "B" hanging from it; Degas painted his ballerinas with thinly tied, black chokers. "The choker has a long history as a fashion statement," said Yothers. "After the Terror in France, society ladies who escaped the guillotine wore a single, thin red ribbon tied in a small bow around their necks when they went to parties. Napoleon's Josephine wore one." Rock stars like Mick Jagger and Prince wore them in the '70s.
But the latest choker revival is being attributed to the current '90s resurgence spanning across all cultural mediums right now, from fashion to film and television to art.
"The '90s trend re-emerged as a whole over the last few seasons across ready to wear and eventually trickled down to accessories," said Lisa Aiken, Retail Fashion Director for Net-a-Porter. "It has been seen on the neck of off-duty models, worn as a street style statement by the most recognizable influencers. It is that instant update that transforms a look and brings it on trend, hence why it is so popular."
Not only is it an easy, instant wardrobe update, but it's affordable, thanks to copies of the designer versions available for $3 at places like Forever 21. Heck, it's so simple, you can fashion a choker from your shoelace, à la Katie Rosebrook, who went viral in October when she tweeted, "This choker trend is wild y'all i wore a shoelace to the bars last night & i've never gotten so many compliments thanks @Nike just do it lol."
"Last year, chokers made of crocheted hair, filament, chain and ribbon were very popular–probably because many of them were very attractive and relatively inexpensive," said Yothers. "You could buy one for every outfit."
On the flipside, many of the runway versions–seen at Tom Ford, Prada, Saint Laurent, Givenchy, Lanvin and more—that spurred the trend are far more intricate and complex than the thin black ones once worn by the likes of Britney Spears, Vanessa Paradis, Gwen Stefani, and Alicia Silverstone as Cher in "Clueless." They are 18-karat gold with diamonds, like Suzanne Kalan's version currently available at Net-a-Porter for $17,000, or see Tom Ford's dramatic, sculptural gold and leather statement choker for $1,990. And Alexander Wang's versions are the ultimate good girl-gone-bad symbol, with thick leather bands, locks, and mixed metal chain links. (Let's just say you wear one of these and you definitely look like you're on Santa's naughty list this year.)
Styles that really took hold with shoppers, however, were a little less naughty than the defiant Wang girl. "Carbon and Hyde is a new jewelry designer we launched this year, based on their strong offering of chokers, and it has become our bestselling resource in this category," said Sunwoo Barney's choker sales. "The thin leather variations with pave diamond charms are the most popular but the delicate chain styles also do quite well."
At Net-a-Porter, chokers from independent fashion jewelry designers such as Dannijo and Aamaya By Priyanka have been in high demand, according to Aiken, because they lend themselves towards the '90s trend that has re-emerged over the past few seasons. "Dannijo's velvet and Swarovski crystal choker has been a best-seller and has sold out in a variation of colors. Jennifer Fisher has been a consistent favorite amongst our shoppers; her minimal pieces are timeless and easy to wear," she said. "We recently launched Anissa Kermiche on the site, whose entire collection is absolutely exquisite; she focuses on pearls and diamonds as the aesthetic of the collection and one of her key pieces is the choker which customers have flocked to the site for."
Jennifer Fisher, whose highly popular chokers have appeared in countless magazine editorials and on many a red carpet starlet, said, "I started making the plain choker years ago when I wanted something strong clean and structured at the neck. We always see a nice boost when a celebrity wears one of our chokers but I have to say the strength in sales is really from the trend in the style and offering a simple classic style or a twist on that classic." Her consistent best-sellers include the mini tall dog tag choker from her fine collection, the brass flat plate choker, and the brass round reverse choker styles.
2016 was undoubtedly the year of the choker. But now that it's reached cult status, will it also mark the death of necklace with so much naughty-but-nice appeal?
"I honestly don't think chokers are dead yet…just like earrings, bracelets, necklaces, they too have their place (fine or costume), especially when stacked up and down the neck," said W's jewelry editor Grace Fuller. "I think what we are over is the broadcasting, so just don't shout out loud about them. We get it—you have a good neck."
The designers and retailers agree, the choker isn't going anywhere just yet. "We will continue to see chokers in 2017 as customers are looking to them not only as fashion purchase but as an investment buy," said Net-a-Porter's Aiken.
With more and more fine jewelers adopting the style, the choker has now been cemented as more than just a trend. "Fine jewelers are presenting shorter length necklaces and chokers in more elevated and unique designs," said Sunwoo of Barneys. "We have a beautiful offering of ribbon chokers from Cathy Waterman such as the gold lace ribbon with pearl pendant or black ribbon encrusted with marquise shaped diamonds. The stunning Repossi White Noise choker was introduced a few seasons ago and does well in all its variations, whether in gold or with pave diamonds. Other fine jewelers who have expanded into this category include Ileana Makri, CVC Stones, Dezso by Sarah Beltran."
Fisher, for her part, recently added a charm choker into the mix, which now tops the list as her most popular choker style yet. "We always offer a few choker silhouettes within our selection each season," she said. However, she added, "We are seeing a shift from chokers and cuffs to the statement earring and ring for next season. I am feeling statement for next season."
Fuller added, "I think big earrings for so long were associated with summer, the tropics or a red carpet moment. I think women are getting used to a big earring during the day worn even to work. Take a cue from Spring 2017 runway where 'the bigger, the better' theme reigned."
Go behind the scenes of Rihanna's September cover: