Ask 21: Rapper 21 Savage Is Your New Relationship Guru
The rapper who has never had a bad break-up offers romantic advice.
---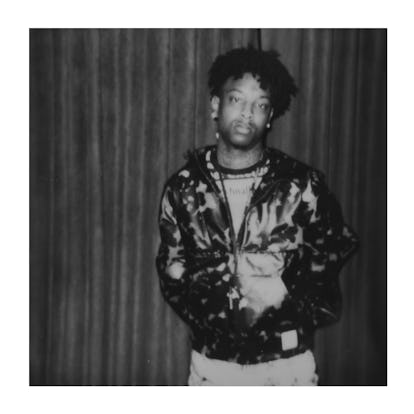 On Sunday, the first night of Hanukkah, an electric menorah flickered phosphorescently in the lobby of the Sixty LES hotel in New York. I was waiting for 21 Savage, who was upstairs in his room. A night after sitting front-row at the Alexander Wang show (next to Teyana Taylor and Sophia the robot), 21, arguably Atlanta's most popular hip-hop export since Young Thug, was getting ready to sit front-row again, this time at Versace's pre-fall show.
21 was late, but considering how incredibly busy he is these days, I wasn't surprised: few rappers over the past two years have been as ubiquitous, quoted, meme'd, or plain successful. After rising to rap world prominence with the ominous, Metro Boomin' produced 2016 mixtape Savage Mode, 21 broke out into the mainstream with his 2017 debut Issa Album. Named for his viral explanation of the cross on his forehead ("issa knife!"), the album featured his first top 20 hit, the infectious "Bank Account," and vaulted him into rap superstardom. He soon after picked up his first number one hit, a feature on Post Malone's "Rockstar," and has since been one of the most in-demand guest verses in hip-hop, assisting on songs by Drake, Cardi B, Gucci Mane, Travis Scott, Young Thug, DJ Khaled, and Migos, among many others.
When I finally arrived to 21's room, it was already 6 p.m., and the Versace show was starting in an hour. A grab bag's worth of Versace clothes were laid out on the couch, golds and reds and medusa heads woven hypnotically across zip-up jackets and track pants, accompanied by three selections of multi-colored Versace sneakers on the floor. I poked my head into the bedroom and saw 21, clad in an all-gray sweatsuit, sprawled out on the bed, his head buried in a pillow, an Xbox controller to his side and a TV glowing bluely with the NBA 2K19 homescreen against the headboard.
It only takes one verse—check out the first verse to 2016's "No Heart," which begins with "I sit back and read like Cat in the Hat"—to understand why 21 is as beloved as he is: his voice, a chillingly monotone, matter-of-fact drawl, is his biggest weapon, and he seamlessly weaves in threats to his enemies and boasts about his wealth with myriad references to everything from cartoons to nature to politics. He's imaginative, hysterical, and brilliantly self-aware (exhibit A: the name of his album); his most recent viral photo, with over 800,000 likes, is a mirror selfie of him in a neon green cowboy onesie, his face twisted into a grimace in order to show a peek of his gold fronts.
Sitting in the TV room waiting for 21 to emerge, I noticed his three personal products set up on the table: 21's must-haves. "He doesn't need a lot. Very simple," a member of his crew said. By simple, he apparently meant a bottle of Nivea body lotion, a bottle of Le Labo Santal 33 cologne, and a travel-sized stick of Secret women's deodorant.
Just as 21's publicist, Tammy Brook (already outfitted in a white and gold Versace jumpsuit), began assessing different combinations to bring into the bedroom, 21, sleep-eyed and drowsy, shuffled in. While munching on some Hi-Chew, he pointed a tattooed finger at a matching set of black and white, newsprint- and comic-covered Versace pants and shirt. After he changed—during which he added a water-resistant camo hoodie on top (for the drizzle outside, Brook explained)—I sat on his bed with him as he tied his shoes. A neat stack of $50 bills rested on the nightstand, next to several massive diamond earrings. Meek Mill's new album, Championships (which, of course, features 21), blared at full volume. I asked 21 what he liked about Versace in particular. "Versace is gangsta friendly. It's gangsta," he said matter-of-factly. He'd always been into fashion, he said, since he was a kid. And then he gave me a look that told me that was the end of the answer.
We were running out of time, and I wasn't about to ask him about the deodorant, so I asked him instead if he was single. He gave me a goofy, gold-toothed smile. "Hell yeah," he said. " I'm in like eight different relationships."
That must be a scheduling nightmare, I said.
He scoffed. "I don't see the same eight ladies. Different ones," he said, placing an enormous diamond stud into his left ear.
21, the father of a five-year-old and two three-year-olds, recently got out of a highly-publicized, on-and-off relationship with Amber Rose; I asked if it was a friendly split. He nodded. "We cool. That's my homie. We talk. No bad break up. I ain't never had a bad break up. Not like where I hated the person after."
Wait: Not a single bad one? Is 21 Savage also a relationship guru? I decided to test it out. I told him how, after a year apart, a close friend of mine was starting to spend time with an ex again. His head perked up.
"She cheated on him?" he asked. I shook my head. "What they break up for?" Distance, I told him. "So they be apart a lot?" I nodded, but told him they both lived in New York now. "Does he love her?" he asked, with surprising tenderness. I'm not sure, but I think he still does, I said. He paused and bit his lip. He nodded his head. "Then do it."
I was about to thank him for the help, but he interrupted. "You think she'll get back with him?" he asked, looking over his shoulder at me as he unplugged his phone from the charger. I told him I hoped so, but that he'd have to work on it. He squinted knowingly.
"So he was cheatin'?" he asked.
"Definitely not," I said, unable to contain my laughter. He smiled back.
It was time to leave. 21 was going to be late for the show, where he'd be front-row alongside 2 Chainz, Tracee Ellis Ross, and Kanye and Kim, and another journalist was waiting downstairs to talk to him on the ride. Before he went, though, there was one last thing to do, which was to clean his teeth. No, not brush them, but clean them. Moving with a sloth's urgency, despite the frenzy of people in the room attempting to rush him out the door, 21 pulled a plastic bag out of a Balenciaga backpack and delicately removed a large microfiber cloth. Pinching it in his fingers, he bared his teeth like a dog and slowly cleaned his gold-plated fronts with the cloth. All of us, his publicist included, stared dumbfounded.
Knowing 21, the teeth were definitely real gold, so I couldn't fault him for taking care of them. "Do you ever get food stuck in there?" I asked him as he stood up to leave. "Yeah," he said. "But I floss. Daily." He grinned, as if to prove it, and before I knew it he was gone, the front row waiting, gold teeth ready to reflect the light of a million flashes.