5 Minutes with Laetitia Crahay
It's little wonder that the fashion world has fallen head-over-heels for headwear-extraordinaire Laetitia Crahay. The creative director of historic Parisian milliner Maison Michel (she also the accessory and jewelery director at Chanel) is re-popularizing an...
---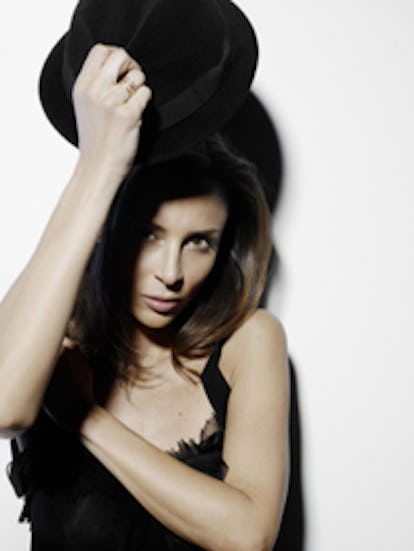 Hi Laetitia, how are you? We loved your lookbook for Maison Michel. Laetitia Crahay: I am good, thank you! I am lucky to have so many pretty, inspiring and famous friends. It just sort of happened naturally, the thought of including them in my work. I asked them very nicely if they would want to take part in the lookbooks, and with that, a creative emulsion happened. It was very interesting, and I think it comes out clearly in the images – such a strong team of people involved. I asked Karl if he would also like to be part of it… Well, and the rest is history!
Before you came along, there was a void in the market for playful and refined headwear. You've been credited with revamping, and even popularizing, headwear (and we're obsessed with the bunny ears!) – why do you think people have been so receptive to your designs? Well, its like you mentioned, there was such a big gaping hole in this market, there was definitely a need and desire for people to wear beautiful hats and refined headbands. Before, there was only those bad huge 90's hats… It was really time for a change. I developed the products in a niche market, and then it kind of flourished on its own. And hopefully people have been so receptive to what I design because they really love it!
You often wear your own pieces – which are your favorites, and where do you wear them? For everyday, I love to wear the Angélique headband, it's quite simple and easy to wear. And for evening, I like to go all out with the bunny ears or the veils.
How does it make you feel to wear certain pieces, they are all so unique and have such personality – refined, rock 'n roll, sexy, playful… It really depends on my mood in the morning. If I want to be rock, I will wear the tiger headband, for romantic, I wear the goddess-like headbands and when I feel like being a sexy bunny, I wear the ears! I play in my everyday life, just like an actress, and luckily I get to do that with Maison Michel. And I don't limit the playfulness to hats or headbands, the same goes with clothing.
You often collaborate with friends and are part of an exciting fashion movement in Paris – what are you involved in besides accessory design, other projects or passions? Well, my friends and life are not only in Paris, it's all very international. Each period in history had their movements and stars – my friends and I are a gang that all work in the same industry, and the most important thing is that we all help each other out. It really is a creative gathering. At the same time as being artistic director of Maison Michel, I am also head of accessories and jewelry at Chanel and both jobs keep me very busy. I would really say that my passion is Karl Lagerfeld.
What is your all-time-favorite piece of clothing, accessory or outfit? I don't know if I can choose just one piece in particular, but Chanel and Olivier Theyskens remain my favorite designers.
Can you give us a hint as to what to expect from your Fall 2011 headwear and accessories for Maison Michel and Chanel? Yes, just a little hint… All I can say is, very feminine, refined and 50's inspired.
Photographs by Karl Lagerfeld