5 Questions for Celestine Maddy of the Wilder Quarterly
Celestine Maddy would be the first to tell you she wasn't born with a green thumb, but the 34-year-old founder of a new gardening magazine, Wilder Quarterly, has done well by adopting a learn-as-you-grow attitude.
---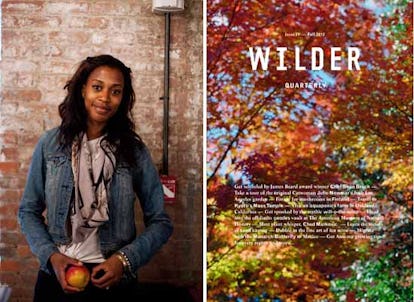 Celestine Maddy would be the first to tell you she wasn't born with a green thumb, but the 34-year-old founder of a new gardening magazine, Wilder Quarterly, has done well by adopting a learn-as-you-grow attitude. Two years ago, the former digital strategist got hooked on urban gardening when she moved into a Brooklyn brownstone with her then-boyfriend, now husband (Matthew Maddy of the TriBeCa cocktail lounge Weather Up), inheriting one unkempt and overgrown backyard. "It was used as an outdoor party depot, a hangout spot to play touch football," says Maddy. "But if you have that kind of space, I think you should turn it into an oasis of some sort. I decided to grow some grass, and in the process, realized how much I loved getting my hands in the dirt and making things grow where once there was nothing."
The same school of thought applies to Wilder. Its fourth issue on newsstands this week, the quarterly "for contemporary cultivators" has built a steady fan base amongst a niche of discerning urban growers and farmers, including the Vena Cava and Rodarte girls. Stunning photography aside, the magazine is three cuts above the rest in its genre, capturing horticulture through the lens of food, beauty and travel. The current issue features wild mushroom foraging in Finland and a visit to Kyoto's moss temple of Kokedera, tips on seasonal varieties of quince and heirloom tomatoes, and a culinary how-to with Chef Sean Brock, including his recipe for crispy pig ear lettuce wraps.
W spoke to Maddy on the current climate and culture of gardening.
I have to be honest: gardening has gotten a bad rap as a granny's hobby. With the growing popularity of urban and rooftop gardening, do you think a considerable change is underway?
Yes, it definitely has a bad rap as something a 60-year-old woman is doing. In reality, as people start to care about what they're eating, younger generations are going to be growing and farming at an ever rapid rate. Pair that with all the new technology that allows you to grow in small spaces, and I give it five more years until gardening becomes a 30-something-year-old hobby.
That's also the reason I started Wilder; as I went through my first year of trying to grow things, I couldn't find a magazine that spoke to my age group, where I was living, and my interests. I was desperate for something that talked about gardening and farming through a wider lens.
Are there certain fruits and vegetables you like to grow more than others?
I like to grow things that I can cook with: eggplants,turnips, garlic, kale, tomatoes, raspberries, blueberries. Growing is very much like cooking—you have to be willing to kill a few things along the way. Once you get comfortable with that idea, it's pretty much a really exciting adventure to just try and grow new things all the time.
Any advice for a novice?
The best place to start is outdoors: a terrace, or a windowsill, is a great place to grow something small. Look at how many hours of light the space gets, and then go to your local farmers market to get a seedling for something you love, like kale. Drop the seedling into a pot, put it on the windowsill, and see what happens. Just be okay with possibly killing something. And always ask! Google is an amazing resource for figuring out what's wrong with your plant, because there's always somebody who has killed it before you. If you type in, "What's wrong with my strawberry plant?" I guarantee you'll get eight answers, and one of them will be correct.
What story are you most excited to share in Wilder's fall issue?
Oh my God, the feature on Julie Newmar [the original Catwoman.] I'm a really big comic and graphic novel nerd, so this touches a personal sweet spot for me. Julie really is la grand dame of Los Angeles; she has incredible stories and has one of the most magnificent gardens I've ever seen. And she looks fantastic: I think it has to do with being outdoors all the time.
Is there something surprising about your twenties that you've come to embrace?
I've learned to trust myself a lot more. There are some people—myself included—who spend their twenties second-guessing themselves, and in my thirties all those worries have fallen away. I feel very strong and clear in what I'd like to create in the world that I don't really stop and pause anymore. Trusting your gut comes a little later in life, and I'm super glad that it has come to me.
Photos courtesy of the Wilder Quarterly