The 7 Hallmark Christmas Movies We Can't Help But Love
90's actors? Check. Dead spouse? Probably. Completely addicting? Def.
---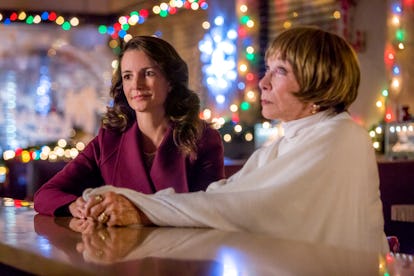 jeremy lee
You have no idea what a "problematic fave" is until you start binging on Hallmark Christmas movies. Each of these films hews to a very specific formula, and that usually entails a conservative actress in a small town searching for heteronormative bliss by fulfilling stereotypical gender roles, reinforcing small town values, and the Merry Christmas spirit that would make any Fox News anchor smile from ear to ear.
And let's not even get started with the racial makeup of these movies. They give a whole new meaning to the idea of a white Christmas. As Zachary Jason said in Slate, Hallmark Christmas movies exist in "a fantasy world in which America has been Made Great Again."
Now that we've addressed the problematic part, let's talk about the "fave" part of these movies that take over an entire cable channel 24 hours a day between mid-October and mid-January. They're remarkably popular—the premiere of Switched for Christmas scored almost 6 million viewers earlier in December. There's a simple, perfect reason why: These movies are as sweet as a plate of gingerbread people, as fun as a snowball fight on the lawn, and as soothing as a mug of egg nog (with two shots of brandy).
Hallmark presents an idealized vision of Christmas that we've all been brought up to expect, but it actually serves as a balm for the Christmas we actually get. Any of these films is like a little bit of Santa Xanax after all the exhausting holiday parties, combative shopping, and family drama that leads up to the 25th. So just relax and let a 90's sitcom star sweep you away and smooch you under the mistletoe.
The price you're going to have to pay is watching commercials for the Wonder Bible, an electronic gadget that reads the Bible to you. But, hey, at least each of these movies promotes the primacy of small businesses against corporate greed. That's something even the leftiest of all of us can get behind.
If you're going to tune in, here are the best of the bunch. Check your local listings and set your DVR.
The Christmas Train
Yes, Joan Cusack is in a Hallmark Christmas movie, a new addition to the channel's rotating repertoire. If that's not enough to pique your interest, how about Dermott Mulroney and Danny Glover. Yes, it's a true B-list Christmas as Mulroney plays a journalist trapped on a transcontinental train trying to reach Los Angeles in time for the big holiday. Of course his old colleague and former flame (Kimberly Williams-Paisley) is stuck on the train, too. Will they fall in love before making it to L.A.? I mean, is Santa old?
North Pole
What's a Christmas movie without some supernatural shenanigans? Here one of Santa's elves (Bailee Madison) has to boost the amount of Christmas cheer in the atmosphere (the war on Christmas is real!) and travels to a small town to try to convince them to un-cancel their annual tree lighting ceremony. She enlists the help of a boy, his journalist mother (Tiffani Thiessen), and his hunky teacher (Josh Hopkins). This is as absolutely insane as these flicks get.
A Royal Christmas
Part Princess Diaries and part Maid in Manhattan, this sees a blue-collar girl (Mean Girls' Lacey Chabert) who finds out her boyfriend is a prince (Stephen Hagan) and returns to the fictional European principality for the big holiday. She is absolutely tortured by his mother (Jane Seymour, an evil queen if there ever was one). If a small town girl can't charm the crown off a monarch, then these people are really doubting the American can-do spirit.
A Heavenly Christmas
Charlotte isn't anyone's favorite character on Sex and the City and Kristin Davis isn't anyone's favorite Christmas angel. When Eve (Davis) dies unexpectedly, she is forced to spend the afterlife helping people's holiday dreams come true. The problem is that she's awful at her job. Of course she finds redemption thanks to a singer-songwriter (Eric McCormack) and Shirley MacLaine drops in too, just to jazz up the joint (and collect an easy paycheck).
Christmas Cookies
This movie is about a town that is unironically named Cookie Jar. Do you know what they do there? They bake like all the world's Christmas Cookies or something. A stingy executive (Jill Wagner) shows up in town to shut down the factory, but of course a factory worker (Wes Brown) convinces her to get some holiday cheer and keep it in town. Her corporate overlords are not pleased, until they are. Scrooge would be so happy.
Journey Back to Christmas
I'm not sure if you're aware, but Candace Cameron Bure is like the patron saint of the Hallmark Christmas movie. This is one of her craziest and most recent. Here she plays a WWII nurse who travels in time thanks to a Christmas comet and arrives in 2016 to help people solve all of their Christmas problems. It's like Outlander meets Back to the Future meets an episode of The 700 Club.
Related: James Franco Stars in SNL's Perfect Parody of Hallmark Christmas Movies