James Franco Stars in SNL's Perfect Parody of Hallmark Christmas Movies
If you told us these were real, we'd believe you.
---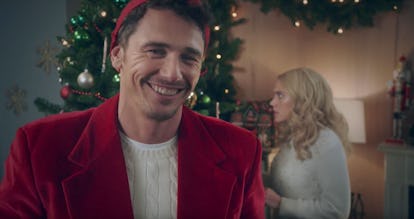 If you subscribe to our In & Out newsletter's monthly culture guide, you'll know we listed literally every single new made-for-TV Christmas movie of the season—and warned you against spending too much of your time watching them, but we know some of you out there did. These things are popular enough for channels like Hallmark and Lifetime to churn out dozens upon dozens of these a year nowadays (even Netflix got into the game with their notorious A Christmas Prince). Of course, the trend didn't escape Saturday Night Live's satirical eye, even if the show didn't actually get around to airing it during last weekend's busy James Franco-hosted episode.
Now, just in time for Christmas, they've finally unleashed the cut-for-time parody of Hallmark Channel's busy Holiday output. Franco stars as Chris Bearstick, a "Canadian handsome" actor who appear in multiple movies ("We got him to be in two of these for no pay!" boasts the voice-over) alongside various costars like Kate McKinnon's "Jessica Normal" and "once famous, now very Christian actress" Meredith Devoe-Ellis. Plots range from big city executives who leave their high powered jobs to take over a Christmas tree farm to a superstar ice skater who suffers amnesia and accidentally becomes a princess to struggling bakers who get trapped in snow globes. Honestly, you could tell us these are real Hallmark movies, and we'd believe you.
Of course, the best joke might be the blink-and-you'll-miss-it calendar of movies in which every single title is constructed from the words "Winter," "Holiday," "Wish," "Wife," "Santa," and "Princess." Again, you could tell us these are all real, and we'd believe you.
Consider that Franco's current movie tells the behind-the-scenes story of one of the most infamous "how did this get made?" movies of all time (Tommy Wiseau's The Room), it would only make sense as a natural followup for him to explore the dramatic side of how these movies get made. There has to be some dark side to this world, right? You don't send a bunch of frustrated C-list actors to Ottawa for three weeks to shoot a movie without something intriguing going down behind the scenes. Until then, we'll just have to let this suffice.
Related: James Franco Admits Directing Himself as Twins in HBO's The Deuce Was a Little Confusing