The Crown, Daniel Day-Lewis and Laura Dern in Space: What to Watch, Stream, and Listen to in December 2017
From "The Crown" to "The Post."
---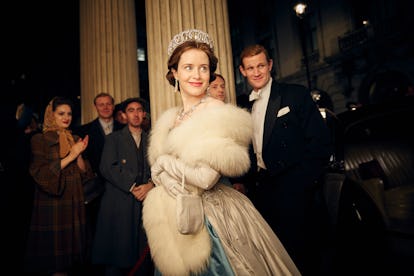 Netflix
In this special monthly edition of In & Out, we're looking a full month ahead and sorting through December's cultural calendar for you. Here are our picks for what you'll need to consume to keep up with polite dinner party conversation, what you'll be secretly binging late at night, and what's best to just avoid. For daily In & Out content, subscribe to the newsletter here.
What You Need to Know
Film
Well, it's December, the height of would-be-award-winning films, which is to say there's a lot you have to see. Maybe too much. So, let's do a lightning round. Want to see a Tonya Harding biopic that breaks all of the genre's conventions and becomes something more in the process? I, Tonya comes out in select theatres December 8. Wonder which Alexander Payne movie is not actually getting much Oscar buzz despite great reviews? Downsizing debuts December 22. Love Jessica Chastain and wonder if Aaron Sorkin is as good of a director as he is a writer? Molly's Game is out December 25. Daniel Day-Lewis fan? His last role ever is in Phantom Thread (December 25). Annette Bening fan? She's wonderful in Film Stars Don't Die in Liverpool. Just want to see Hollywood's Mom (Meryl Streep), Dad (Tom Hanks), and Uncle (Steven Spielberg) tackle the all too prescient issue of the power of a free press? The Post is out in limited release on December 22. Wondering if Ridley Scott managed to successfully replace Kevin Spacey with Christopher Plummer without bumps? All the Money in the World has the answer December 22.
Television
Between holiday parties and holiday shows, most traditional networks aren't launching major shows this month, but the Netflix machine never stops. In season two of The Crown (December 18, Elizabeth II contends with more of Prince Philip and Princess Margaret's drama all while entertaining a visit from JFK and Jackie at some point. Netflix also got documentary filmmaker Errol Morris to push his limits by making [__Wormwood__](https://www.wmagazine.com/story/wormwood-trailer-netflix-errol-morris-peter-sarsgaard) (December 15), a semi-scripted miniseries based on a true story. Peter Sarsgaard and Molly Parker act while being intercut with real-life testimonials about the mysterious death of a scientist amid the U.S. government's mysterious Cold War-era MK-Ultra project. HBO, meanwhile, offers up the American debut of BBC One's three-part miniseries Gunpowder. Premiering December 18 at 10 p.m., it stars reigning HBO mascot Kit Harington alongside Liv Tyler and follows Guy Fawkes's historical plot to blow up the House of Lords.
Music
Fresh off from performing at the Victoria's Secret Fashion Show, Miguel started off the month strong with his fourth album, War & Leisure. Pitchfork raves that his kinetic energy, both political and sexual, pretty much makes him one of the rightful heirs to Prince. This might be one of the last released albums of the year looking to make a dent in end-of-year "best of" lists.
What You'll Actually Enjoy
Film
What kind of movie could bring Hugh Jackman, Zendaya, Zac Efron, and Michelle Williams together? A big ol' circus musical. The Greatest Showman, a song-and-dance biopic of P.T. Barnum, comes out on December 20. Of course, on December 15, Star Wars: The Last Jedi finally hits theaters, thus finally answering questions Star Wars fans have debated fiercely for years. Mainly, on a scale of one to 10, how iconic will Laura Dern's space character be?
Television
What would the season be without some Christmas specials? FOX is the latest to bring you a live broadcast of the musical version of A Christmas Story. It stars Jane Krakowski and Maya Rudolph, so consider us in. Meanwhile, Gwen Stefani and Taraji P. Henson have more in common than looking iconic in red lipstick; they also have holiday specials. NBC gives us Gwen Stefani's You Make It Feel Like Christmas on December 12 at 9 p.m. FOX will present Taraji's White Hot Holidays on December 14 at 8 p.m.
Music
At this point in time, you probably already know how you feel about Eminem. Love him? Hate him? We'll cut the difference and put his new album, Revival, here for when it comes out December 15 (even if the Internet hated the Beyoncé-assisted lead single). NER*D, Pharrell Williams's old band with his former Neptunes production partner, Chad Hugo, and rapper Shay Haley, makes a surprising return with No_One Ever Really Dies, also on December 15. M.I.A., Rihanna, Kendrick Lamar, and, uh, Ed Sheeran will be among the guest appearances.
What You Can Skip
Film
On December 15, a John Gotti biopic, appropriately entitled Gotti with John Travolta in the lead role, opens. It costars Travolta's real-life wife, Kelly Preston, and Stacey Keach, and was directed by the guy who played Eric on Entourage. On December 22, Netflix releases its most expensive original film ever: the blockbuster-sized, Will Smith-starring Bright. It's about a world where humans and orcs coexist. The trailer features a prominent Shrek joke.
Television
Here's a quick list of every basic cable holiday movie premiering this month on either Lifetime, The Hallmark Channel, Hallmark Movies & Mysteries, or TV One this year: Christmas in Angel Falls, Christmas in Evergreen, Four Christmases and a Wedding, Ugly Sweater Party, Christmas at Holly Lodge, Magical Christmas Ornaments, My Christmas Prince, Christmas Cottage, Christmas in Mississippi, A Holiday Trap, Karen Kingsbury's Maggie's Christmas Miracle, Sharing Christmas, You Can't Fight Christmas, Miss Me This Christmas, Christmas Shuttle, Engaging Father Christmas, Snowed-Inn Christmas, Christmas Connection, A Perfect Christmas List, Christmas Getaway, and When Calls the Heart: The Christmas Wishing Tree. How will they even have titles leftover for next year?
Music
G-Eazy, the white rapper whose biggest hit to date was a collaboration with Bebe Rexha, set the release of his third studio album, The Beautiful & Damned, for December 15. A few days ago, Eminem announced he was releasing his own comeback album on the same day, so good luck with that.
Related: What to Stream This Thanksgiving: 7 New TV Shows For Your Binge Watch]