Exclusive: Daniel Day-Lewis Opens Up About Giving Up Acting After Phantom Thread
The greatest actor of our generation talks about the beauty of craft, the genius of Balenciaga, and why his latest film, Phantom Thread, will also be his last.
---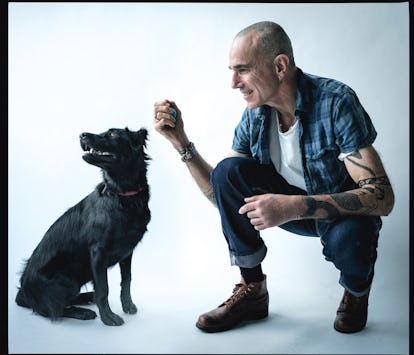 Photographs by Tim Walker; Sittings editor: Sara Moonves.
Around two years ago, as part of his preparation to play the couturier ­Reynolds Woodcock in Paul Thomas Anderson's latest film, Phantom Thread, Daniel Day-Lewis re-created a Balenciaga dress. At that time, Day-Lewis could not have predicted that Woodcock would be the last character he would play. He had no sense that this film would engulf him in such a depression that he would be prompted to publicly announce his retirement from acting. On the contrary, he was, as he has always been when he takes on a new part, eager to immerse himself in yet another cinematic identity.
To become Woodcock, Day-Lewis, who is 60, watched archival footage of fashion shows from the 1940s and '50s, studied the lives of designers, and most important, learned to sew. He consulted with Cassie Davies-Strodder, then curator of fashion and textiles at the Victoria and Albert Museum, in London. And for many months he apprenticed under Marc Happel, who is head of the costume department at the New York City Ballet, watching intently and then helping to reconstruct the famous Marc Chagall costumes for a production of Firebird. At the end of the ballet season, Day-Lewis decided he needed to build a couture piece from scratch.
"I saw a photograph of a Balenciaga sheath dress that was inspired by a school uniform," Day-Lewis told me on a chilly day in October. We were in a small sitting room at the Marlton Hotel, not far from the Greenwich Village apartment where he lives with his wife, the filmmaker Rebecca Miller, and the younger of their two sons, Cashel, 15. (Gabriel-Kane, his oldest son, is from a previous relationship with the French actress Isabelle Adjani.) There was construction going on in the building next door to his home, so Day-Lewis suggested we meet at the hotel, but the cacophony of renovation seemed to be following him wherever he went, and our conversation was accompanied by a lot of loud banging outside. Day-Lewis, who recently shaved his head and was dressed in a navy-and-maroon track suit, has an innate elegance about him and is almost poetic in his speech, so the blasts from the machinery were a greater affront than they might have otherwise been.
"The Balenciaga dress was very simple," he continued. "Or at least it looked very simple until I had to figure out a way to make it and then realized, My God, this is incredibly complicated. There is nothing more beautiful in all the arts than something that appears simple. And if you try to do any goddamn thing in your life, you know how impossible it is to achieve that effortless simplicity."
Unable to borrow the actual dress, which is in the Balenciaga archives in Paris, Day-Lewis made a sketch of it and then, using his wife as a fit model, set to draping heavy gray flannel directly on her tall, narrow frame. "Rebecca was very patient," Day-Lewis said with a slight smile. "The code that I had to crack was a very particular gusset in the armpit. You couldn't tell from the photos how the gusset was designed. Marc and I each worked on our version of the gusset and, through trial and error, ­figured it out." Day-Lewis lined the dress in silk, in a pinky shade of lilac that would become Woodcock's signature hue.
"Rebecca has worn the dress," Day-Lewis said proudly. "It's very pretty."
As a teenager in London, Day-Lewis studied woodworking, and aspired to become a craftsman rather than a furniture designer. "Being in a workshop is like food and drink to me," he said. "I love that sense of creation." At 19, before he was accepted to the Bristol Old Vic Theatre School, he was torn between a life as an actor and one as a cabinetmaker, and he has never given up his obsession with the process of honing a skill. Throughout his career, he has taken on the interests and physical challenges of every character he plays. He was attracted to the role of Christy Brown, the Irish painter and writer afflicted with cerebral palsy at the center of My Left Foot, immediately after reading the opening scene of the script: Christy uses his left foot to put a record on a turntable; there's a skip and the foot picks the needle up and then places it gently back down again. Day-Lewis was convinced that it couldn't be done. After weeks of practice—and months spent with cerebral palsy patients—Day-Lewis mastered the scene on the first take.
Similarly, for his role as Bill "the Butcher" Cutting in Martin Scorsese's Gangs of New York, Day-Lewis learned to throw cumbersome knives with pinpoint accuracy; he built a kitchen table when he played an iconoclast living off the grid in The Ballad of Jack & Rose; and he practically rigged a turn-of-the-century oil well for There Will Be Blood.
To get into the mind-set of Reynolds Woodcock, Day-Lewis not only learned the couturier's trade but also meticulously invented every aspect of Woodcock's personal wardrobe, from the wool and cashmere fabrics he selected from Savile Row tailor Anderson & Sheppard to the bishop purple socks he ordered from an ecclesiastical shop in Rome to the shoes he had custom made at George Cleverley, in London, which, Day-Lewis said, "has the allure of being slightly less well known than John Lobb." He also considered Woodcock's surroundings—how his house should be decorated, the pens and sketch pads he used, the items on his nightstand. Even his dogs: "I wanted lurchers," Day-Lewis said. "I gave so much thought to every single detail. I was probably infuriating."
And yet, the perfection of the physical elements was never the end goal. In Phantom Thread (or, for that matter, in any of Day-Lewis's films), the research leads to an impeccable backdrop for a larger idea. ­Phantom Thread is an intimate story of a man and his obsession with the ­creative process. It is set in London, after the Second World War, when England was still recovering from years of devastation and deprivation. ­Woodcock designs clothes for rich women and royalty, and he is consumed by his work. He is aided and abetted by his spinster sister, played by Lesley Manville, and fueled by a succession of muses whom he uses up and then discards. He is also haunted by the memory of his mother, for whom he made a wedding dress for her second marriage while he was still a young boy. When Woodcock encounters a new muse, Alma, played by Vicky Krieps, she disrupts his life in ways that he ­cannot control, but ultimately comes to need. The film has a powerful undertow: Beneath the stunning patina, it contains an entire world in a single character.
Phantom Thread is also, notably, English. For years, Day-Lewis, who is the son of Cecil Day-Lewis, a poet laureate of England, and Jill Balcon, an actress who was the daughter of Sir Michael Balcon, the head of one of England's predominant film studios, was not the least bit interested in stories about his home country. His last English film was the 1985 Merchant Ivory production A Room With a View; nearly a decade later, he accepted the vaguely Eurocentric role of Newland Archer in The Age of Innocence, only because it was Scorsese who asked him.
"Too English," he told me. "But Scorsese was a damn good reason to say yes. I had seen Taxi Driver five or six times in the first week that it came out, and I was hoping he'd ask me to do something more like that. Back then, contrary to expectations, I only wanted to tell American stories."
And he did: as Hawkeye in The Last of the Mohicans, Bill the Butcher in Gangs of New York, Daniel Plainview in There Will Be Blood, President Abraham Lincoln in Lincoln. Each performance defined something essential about America—from the ambitious to the corrupt to the heroic. "I don't know why, but suddenly I had a strong wish to tell an English story," Day-Lewis said about Phantom Thread. "England is deep in me. I'm made of that stuff. For a long time, a film set in England was too close to the world that I'd escaped from—drawing rooms, classic Shakespeare, Downton Abbey did not interest me. But I was fascinated by London after the war. My parents told stories about living through the Blitz, and I felt like I ingested that. I am sentimental about that world. And my dad was very much like Reynolds Woodcock. If a poet is not self-absorbed, what else is he?"
Day-Lewis paused.
"Before making the film, I didn't know I was going to stop acting. I do know that Paul and I laughed a lot before we made the movie. And then we stopped laughing because we were both overwhelmed by a sense of sadness. That took us by surprise: We didn't realize what we had given birth to. It was hard to live with. And still is."
Day-Lewis has not seen Phantom Thread. He has viewed many of his other films, but has no plans to see this one. Earlier this summer, he announced through a written statement that he would not continue acting. He only discussed this decision with Rebecca—and has not spoken publicly about his retirement until now. In the past, he always took extended breaks between films—blue periods and times of decompression that prompted Jim Sheridan, the director of My Left Foot and two other Day-Lewis films, to remark that "Daniel hates acting." But after a break, he would be seduced anew by a fascinating character, a compelling story, an exciting director. "What has taken over in the past is an illusion of inevitability," Day-Lewis said. "I'll think, Is there no way to avoid this? In the case of Phantom Thread, when we started I had no curiosity about the fashion world. I didn't want to be drawn into it. Even now, fashion itself doesn't really interest me. In the beginning, we didn't know what profession the protagonist would have. We chose fashion and then realized, What the hell have we let ourselves into? And then the fashion world got its hooks into me."
The fashion world, in turn, was obsessed with the film, which was cloaked in secrecy. At first, Phantom Thread was rumored to be about the couturier Charles James, a great innovator whose work was recently celebrated at the Metropolitan Museum of Art's Costume Institute, who ended life destitute and virtually unknown, living in the Chelsea Hotel. Anderson and Day-Lewis were not interested in telling that story. ­Phantom Thread is one of the most beguiling portrayals of fashion in the history of film, but in the end, it's not a film about fashion.
Day-Lewis was uncharacteristically inarticulate when speaking about the exact reasons why he found Reynolds Woodcock so overwhelming. Perhaps, I suggested, it was a combination of being back in his homeland and playing an exacting artist like his father. He politely brushed my theories aside. "There are spells in these films that you can't account for," he said. "Paul and I spoke a lot about curses—the idea of a curse on a family, what that might be like. A kind of malady. And it's not that I felt there was a curse attached to this film, other than the responsibility of a creative life, which is both a curse and a blessing. You can never separate them until the day you die. It's the thing that feeds you and eats away at you; gives you life and is killing you at the same time."
Day-Lewis paused. I wondered why a man who is widely acknowledged as the greatest actor of his generation, who has won three ­Academy Awards for best actor and is magical onscreen, would want to walk away from his profession. "I haven't figured it out," he said. "But it's settled on me, and it's just there. Not wanting to see the film is connected to the decision I've made to stop working as an actor. But it's not why the sadness came to stay. That happened during the telling of the story, and I don't really know why." He paused again. "One of my sons is interested in musical composition, so I showed him the film Tous Les Matins du Monde, about the French composer Sainte-Colombe. My son was deeply struck by the sobriety that it took to create that work, Sainte-Colombe's refusal to accept less than what was extraordinary from himself or anyone else. I dread to use the overused word 'artist,' but there's something of the responsibility of the artist that hung over me. I need to believe in the value of what I'm doing. The work can seem vital. Irresistible, even. And if an audience believes it, that should be good enough for me. But, lately, it isn't."
Day-Lewis has often wanted to quit after emerging from a character. This time, by making a public announcement of his retirement, he sought to make the decision binding. "I knew it was uncharacteristic to put out a statement," he continued. "But I did want to draw a line. I didn't want to get sucked back into another project. All my life, I've mouthed off about how I should stop acting, and I don't know why it was different this time, but the impulse to quit took root in me, and that became a compulsion. It was something I had to do."
Interestingly, Day-Lewis speaks about the need to retire in the same manner he speaks about the need to take on a character: with a kind of intensity that takes over his entire being. And, as with acting, he is still uncertain of his feelings. "Do I feel better?" he asked, anticipating my question. "Not yet. I have great sadness. And that's the right way to feel. How strange would it be if this was just a gleeful step into a brand-new life. I've been interested in acting since I was 12 years old, and back then, everything other than the theater—that box of light—was cast in shadow. When I began, it was a question of salvation. Now, I want to explore the world in a different way."
Although there have been rumors that Day-Lewis is going to become a fashion designer, he laughed when I suggested that career. "Who knows?" he said mischievously. "I won't know which way to go for a while. But I'm not going to stay idle. I don't fear the stony silence." He has always had a variety of passions: He once wrote a comedy script with Rebecca; he paints well; he makes furniture; and he is a fan of MotoGP, the competitive motorcycle tournament. But he also has a deep love of film, and it is hard to imagine that he will not continue to contribute to movies in some way.
"They will not let you go quietly," I said to him. And Day-Lewis smiled. "Hmmm," he said. "They will have to."
Daniel Day-Lewis, as Himself, Faces Tim Walker's Camera for W
Daniel Day-Lewis wears his own clothing.

Photograph by Tim Walker. Sittings editor: Sara Moonves. Grooming by Lisa-Raquel for Dior Homme at See Management.
Daniel Day-Lewis, photographed in New York. All clothing his own.

Photographs by Tim Walker; Sittings editor: Sara Moonves.
Daniel Day-Lewis, photographed in New York. All clothing his own.

Photographs by Tim Walker; Sittings editor: Sara Moonves.
Daniel Day-Lewis, photographed in New York. All clothing his own.

Photographs by Tim Walker; Sittings editor: Sara Moonves.
Daniel Day-Lewis, photographed in New York. All clothing his own.
Daniel Day-Lewis, photographed in New York. All clothing his own.

Photographs by Tim Walker; Sittings editor: Sara Moonves; Produced by Jeffrey Delich; printed by Graeme Bulcraig at Touch Digital; photography assistants: Sarah Lloyd, James Stopforth; special thanks to Pier59 Studios
Daniel Day-Lewis, photographed in New York. All clothing his own.

Photographs by Tim Walker; Sittings editor: Sara Moonves.
A few days later, Day-Lewis arrived at the W photo shoot with a small duffel bag full of his own clothes. He is uncomfortable having his photo taken—he doesn't like to be in front of a camera when he is not playing a character. More specifically, he rejects the notion of artifice. Day-Lewis refuses to be "dressed," and for our session he wore only the things he had brought with him. His wardrobe is eclectic and carefully chosen—ranging from a three-piece plaid Harris Tweed suit made by a tailor in New York to well-worn dark blue Aran sweaters knit by women in a remote part of Scotland to a pair of work boots that he designed himself. The common themes are craftsmanship, utility, and uniqueness: Day-Lewis ­is not one to purchase anything trendy or frivolous. Each piece is precious.
His wardrobe also matched his mood: "I want to wear soft, comforting, plain things," he told me. Over Labor Day weekend, on his way to have lunch with his middle son, Ronan, who is in his sophomore year at Yale, Day-Lewis was in a motorcycle accident. "It's a journey I've done hundreds of times," he told me. "An ambulance ran a red light, and there was nothing I could do. I've avoided hundreds of accidents, and this was the one I just couldn't avoid." His bike was crushed, and ­Day-Lewis had a badly broken arm. "When I was on the ground, I remember thinking that I would probably lose my hand. I thought, Okay, it's my left hand, and I have another one." His arm is now out of the cast—he removed the cast himself using two screwdrivers and a bread knife. And the surgeon who operated on him did an excellent job of preserving the lines of the swirling mermaid tattoo on his forearm.
Day-Lewis has such markers all over his body: handprints that climb his back to his shoulders, commemorating each of his three sons, and a dozen more that tell secret stories. When Tim Walker, our photographer, asked if he could shoot his naked tattoo-covered torso, Day-Lewis replied, "Yes—but you would have to promise to never show the picture to anyone." Walker declined.
The motorcycle accident happened shortly after Day-Lewis's decision to retire had been made public. Since he is naturally athletic, it is hard not to think that such a life-altering decision was weighing on his mind, perhaps causing him to be more distracted than usual. He rejected that notion, but did say that he wasn't sure he would continue to ride motorcycles. "But I did ask the surgeon if I could box again," he told me. "And she thinks it will be okay."
He had taken up the sport when he played Danny Flynn in The Boxer, and the interest stuck. "I'm going to hold all my grudges in until the doctor gives me the word, and then I'll start swinging." Day-Lewis smiled. "I'm looking forward to that time. Maybe if I hit the heavy bag, I'll find some answers."