Wormwood Trailer: Netflix's Groundbreaking Mystery Series Will Suck You in Over the Holidays
Is it real life? Or is it just fantasy?
---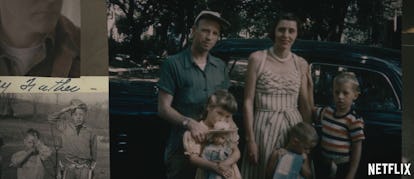 What, exactly, is Netflix's upcoming series Wormwood? The answer may be as difficult as trying to discern what's fact and what's fiction in its central story. The streaming service (somewhat controversially and ultimately quite controversially) attempted to get it deemed eligible to compete for best documentary at the Oscars, and, yet, it's also a six-part miniseries that stars a cadre of well-known actors including Peter Sarsgaard, Molly Parker and Bob Balaban. Yet, it isn't accurately described as either a documentary feature or a scripted miniseries. It's sort of both, and yet neither.
It's the work of legendary documentary filmmaker Errol Morris, and touches on everything from LSD to the CIA, from mind control to corruption. Dramatic reenactments are interspersed with documentary-style testimonials from real life figures.
Sarsgaard stars as Frank Olson, a bacteriologist, who, while working for the CIA in the '50s, was secretly dosed with LSD. Just days after the dose he wound up falling from the window of a New York City hotel room. The death was officially ruled a suicide, but to this day some maintain that his death was a murder. Complicating the matter is that many of Olsen's CIA colleagues were working on the agency's secretive mind control project known as MKUltra at the time. More than two decades after his death, his family was awarded a $750,000 settlement from the CIA. To this day, however, Olson's son Eric continues to raise questions about the mysterious circumstances of Olson's death. In Wormwood, Morris tackles both the elder Olson's death and the younger Olson's lifelong devotion to unraveling the mystery.
"Wormwood examines this case from every possible angle, bringing the viewer face-to-face with some of the United States' darkest secrets," claims Netflix.
The ambitious series seems primed to take advantage of both the age of peak scripted television and America's ongoing obsession with serialized true crime stories of any kind by wrapping it all up into one genre-bending package.
The series will also debut on December 15th, which means it will be perfectly timed to suck you in over your holiday break.
Related: The 8 Netflix Original Movies to Stream This Thanksgiving Weekend