The 8 Netflix Original Movies to Stream This Thanksgiving Weekend
These are exactly 8 Netflix Original films worth watching this holiday season, no more no less.
---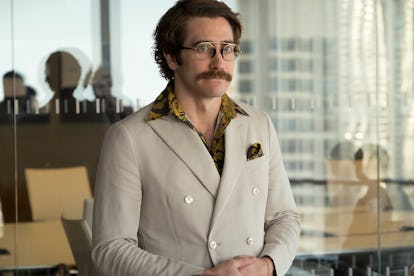 Barry Wetcher / Netflix
New and old releases may come and go on a month to month basis, but Netflix Original movies are always here to stay, and with 62 original films produced so far, Netflix has officially changed the movie industry. Everyone from Lady Gaga to Barbra Streisand has made a concert documentary film with Netflix, and auteurist directors like Dee Rees and Noah Baumbach have been tapped to make films for the streaming giant. If you're tired of the classics, or if you have somehow already achieved the impossible and watched every single movie you've added to your Netflix List, these are the eight Netflix Original films worth your time this holiday season.
Mudbound
Mudbound is the most recent Netflix Original film. The story comes from director Dee Rees, follows post World War II southern sharecroppers, and stars Mary J. Blige and Carey Mulligan.
Okja
It might be best to watch Okja after you have already finished eating your turkey, because you likely will not want to eat meat again after watching the corporate animal slaughter fiasco that drives the plot of this Netflix Original, which stars Jake Gyllenhaal, Tilda Swinton, Seo-Hyun Ahn and Lily Collins.
The Meyerowitz Stories (New and Collected)
Ben Stiller, Adam Sandler and Elizabeth Marvel give riveting comedic performances in Noah Baumbach's film that follows a trio of children of fictional artist Harold Meyerowitz and their relationship to one another as they deal with their father's deteriorating health.
I Don't Feel at Home in This World Anymore
In this critical darling, which had its premiere at the 2017 Sundance Film Festival, Melanie Lynskey and Elijah Wood seek revenge on a set of burglars, and find themselves biting off way more than they can chew.
The Incredible Jessica James
Comedian Jessica Williams shows off her acting chops as she stars in this Brooklyn based rom-com alongside Chris O'Dowd and Get Out's Lakeith Stanfield.
Barbra: The Music… The Mem'ries… The Magic!
If you were a fan of Lady Gaga's Gaga: Five Foot Two documentary on Netflix, Barbra: The Music… The Mem'ries… The Magic! is the perfect holiday counterpart. The legend performs just about every iconic song of hers that you would want to hear in this documentary and she brings on some fabulous guests to the stage. Barbra Streisand has been so excited to share this Netflix concert film with the world, and has been posting about it nonstop on her Instagram, so this one could be perfect to watch with the whole family.
#realityhigh
This tale about high school teens who somehow achieve intense social media fame is not a great film, but it is really fun.
A Christmas Prince
It wouldn't really be the holidays if there wasn't at least one holiday movie on this list. A Christmas Prince is cheesy and unbelievable, of course, but if you need to stream a flick to watch with your younger cousins or siblings, this one is a safe bet.
Related: Tilda Swinton's Costumes in Okja Were Inspired By Everyone from Ivanka Trump to Gwyneth Paltrow
Jake Gyllenhaal Confesses His Cinematic Crush