Tilda Swinton's Costumes in Okja Were Inspired By Everyone from Ivanka Trump to Gwyneth Paltrow
The Okja costume designer Catherine George opens up about dressing actors Tilda Swinton and Jake Gyllenhaal, as well as a getting a custom Chanel dress.
---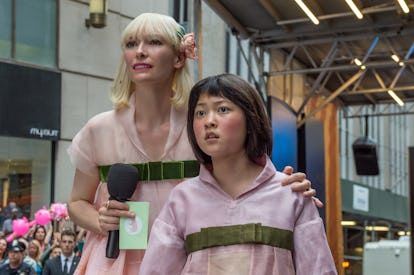 Barry Wetcher
In the opening scene of Okja, a new film premiering today on Netflix, Tilda Swinton's character, Nancy Mirando steps into the frame wearing pristine white pumps that match her white summer dress, crisp blonde bob, and porcelain skin. In the mirror, she applies a layer of bright pink lipstick before heading on stage to give a press conference regarding the radical future of her family's company, Mirando Corporation. And the minute she opens her mouth, it is revealed that this glamorous, powerful CEO has braces.
Such is the slightly off-kilter and always-surprising world of Okja, which was directed by Bong Joon-ho and tells the story of a young Korean farmer girl named Mija, who stands up against the Mirando Corporation for kidnapping her best friend, a giant, genetically-modified pig named Okja. In addition to Swinton, who plays the identical twin sisters, Nancy and Lucy, the film also stars Jake Gyllenhaal as Dr. Johnny Wilcox, a zoologist and TV personality, and Paul Dano as Jay, the leader of an animal-rights activist group, the Animal Liberation Front (ALF). Lily Collins also makes an appearance as Red, another member of the ALF.
A movie of such fantastical proportions requires equally out-of-this world costumes, and Catherine George was bestowed with task of designing for the Western characters, while Se-yeon Choi handled the more traditional Korean costumes. As the film deals with the issue of animal rights, George felt strongly that all the costumes had to be based in some sense of reality, and even tapped Chanel for a custom gown, which Swinton herself actually first spotted on the runway two years ago.
Below, George opens up about the design process, working with Swinton, and the intricacies of that Chanel dress.
How did you approach designing the costumes for this movie? And did it differ from movies you've done in the past?
It always starts with research, reading the script, and talking with the director. I've worked with Joon-ho Bong before for Snowpiercer, so we had a working relationship already. But we had to do a lot of communicating over Skype, since he was shooting in Korea. That part was difficult, and the time difference was tricky. Once I spoke with the director, then I would speak with the actors. Then, Tilda [Swinton], Jake [Gyllenhaal], and Paul [Dano], came to New York for fittings.
Do you have any mantras or rules that describe your process?
Whether it's fantasy or in the future, I always try to keep my work based in some reality. It's always good to start from there, and then go off and change from there.
What was it like working with Tilda Swinton? Is it a challenge designing costumes for an actor with so much personal style?
This is my third movie with her. For the first project I did with her, We Need to Talk About Kevin, I was a little bit intimidated just because she's such a style icon. But we ended up having such a great time. When we did Snowpiercer, we became a family with director Bong. After the process of working with Tilda, I think her fashion persona and her film persona are two different things. She's very open to trying everything and playing. Basically, we were playing.
Did you find yourself taking more risks with the costumes because it was her wearing them?
Yeah, completely. The fitting process is very fun with her—it's very playful.
Can you speak a little bit about Tilda Swinton's different looks?
For her character Lucy, we did a lot of research on different CEOs—everybody from Richard Branson to Marissa Mayer to Ivanka Trump to Gwyneth Paltrow—and then took it from there. And when it came to her sister Nancy, who she also plays, she's more conservative. She's been banished to the U.K. to run the smaller business over there; she plays golf and is a more butch character.
Do you have a favorite Tilda Swinton look, either from this film or other films that you've done together?
I have a soft spot for Nancy, the one who's been banished. But I love Lucy's stage look, which is a Chanel dress. When we looked at CEOs like Richard Branson, it was funny to see him dress in these costumes depending on which country he was in, adapting to their different traditions. So, we wanted them to be appropriate, depending on how you look at it. And even though Lucy can be a bit inappropriate at times, she wants to wear a Korean dress in this scene. We found this Chanel dress, which Tilda had actually seen on the runway in Korea a couple years before, and they agreed to work with us and make a custom dress for the movie. From there, we designed the little girl, Mija's outfit, which was based around hers.
Were there any other big designers like Chanel that you worked with?
We worked with Creatures of Comfort on a dress for one of Tilda's characters, and we also worked with Hugo Boss on a suit for Paul Dano's character.
You mention this blend of cultures, and Westerners dressing appropriately, or inappropriately for entering these different spaces. How did you approach that as a designer?
When I started the job, I spoke with director Bong about having a Korean designer do the Korean parts, as they would have the essence. I think it was a great idea to have someone from there to get the very accurate details. And then when the Westerners go to Korea, they stick out like sore thumbs.
What about Jake Gyllenhaal's costumes for Dr. Johnny?
His character is based on various animal experts on kids' TV shows like Steve Irwin and Jack Hanna. When we had Jake's fitting, he went with it and took it to another level.
Are there any small details in the costumes that viewers might miss, or not see immediately?
With Tilda's Chanel dress, it's actually a hand-made patchwork that's done in a traditional Korean process. It's a patchwork that when you spread out the dress, the back spells out Chanel in Korean, I believe. It's really amazing. And also Dr. Johnny's Hawaiian shirt, which is by a company called Eton, they helped us add little tiny animals, which was fun for us to know, but I don't know if anyone can see it on the screen.
Okja hits theaters June 28th, 2017.
Related: Tilda Swinton and Jake Gyllenhaal's New Film Okja Looks Like a Vegan's Fever Dream
Tilda Swinton's Style Evolution: A Lot of Haider Ackermann
Tilda Swinton in Haider Ackerman at the premiere of A Bigger Splash in Venice, Italy, September 2015. Photo by Getty Images.
Tilda Swinton in Lanvin at the photocall for A Bigger Splash in Venice, Italy, September 2015. Photo by Getty Images.
Tilda Swinton in Haider Ackermann at the premiere of Only Lovers Left Alive in Cannes, France, May 2013. Photo by Getty Images.
Tilda Swinton in Lanvin at the London premiere of A Bigger Splash> after party in London, England, October 2015. Photo by Getty Images.
Tilda Swinton in Chanel Couture at the premiere of Hail, Caesar! in Berlin, Germany, February 2016. Photo by Getty Images.
Tilda Swinton in Maison Margiela at a screening of A Bigger Splash in New York, New York, April 2016. Photo by Getty Images.
Tilda Swinton in Vionnet in New York, New York, April 2016. Photo by Getty Images.
Tilda Swinton in Valentino Couture at a press conference for Snowpiercer in Seoul, South Korea, July 2013. Photo by Getty Images.
Tilda Swinton in Haider Ackermann at the 51st annual New York Film Festival, October 2013. Photo by Getty Images.
Tilda Swinton in Schiaparelli at the premiere of Snowpiercer in Los Angeles, California, June 2014. Photo by Getty Images.
attends the Sony Pictures Classics' "Only Lovers Left Alive" screening hosted by The Cinema Society and Stefano Tonchi, Editor-in-Chief of W Magazine at Landmark's Sunshine Cinema on March 12, 2014 in New York City.