Is Get Out a Comedy or a Drama? Jordan Peele Weighs in on the Debate
While Get Out has been submitted to the Golden Globes as a comedy, the film's director and creator, Jordan Peele, declares that the horror-satire is a documentary.
---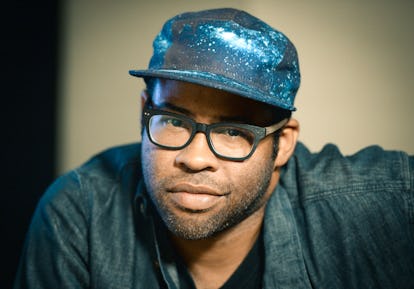 Photo by Michael Kovac/Getty Images.
Filmmaker Jordan Peele has made a name for himself as one half of the comedy duo Key & Peele, along with Keegan-Michael Key. Get Out, his feature directorial debut, is a horror-satire about racism that shocked, terrified, and entertained audiences across the nation, and now it has been submitted for Golden Globes consideration as a comedy. Entertainment Weekly reports that Blumhouse Productions, Get Out's producer, submitted the film to the comedy category of the Golden Globes.
In case you haven't seen it yet (and really, where have you been that you haven't seen it yet?), Get Out tells the tale of a young black man named Chris who travels upstate to meet the family of his white girlfriend, only to discover the family's sinister secret. The film is an allegorical tale of racism in America, and while it is laugh-out-loud funny, it is seriously scary as well.
The politics of submitting a film like Get Out to the comedy category rather than placing it in the ring with drama is tricky. On one hand, the competition might be slimmer for the film, making it an easier win for Peele. Get Out could potentially have a better chance of winning multiple awards if it goes up against films like The Big Sick or I, Tonya rather than competing against dramas such as Three Billboards Outside Ebbing, Missouri or Call Me By Your Name. On the other hand, why can't Hollywood take a chance and see what happens if it allows Get Out to compete with dramas?
It is not out of the realm of possibility that Get Out, which is a very scary horror film, could win an award in the drama category. The drawback is that it might not sweep. Films like The Disaster Artist, The Big Sick and I, Tonya all straddle the tenuous line between comedy and drama. They are indeed very funny movies in parts, but they occupy a space of the darkest humor. This is especially true of the films that take a satirical look at seriously horrific and sensitive topics, like racism and slavery in Get Out and abuse and assault in I, Tonya. Do these films really fit the bill to be described as comedies instead of dramas? In 2012, Michelle Williams won Best Actress in a Musical or Comedy for her depiction of Marilyn Monroe in My Week with Marilyn. The film was a tragedy with moments of levity, but that does not necessarily make it a comedy. Should we really be roping musicals and comedies together in one genre in the first place? Where on the scale of comedy-to-drama-to-musical might we place a heist film like Baby Driver or an action packed superhero film like Thor: Ragnarok? Should there be a petition to create another category that more aptly defines the space between comedy and drama?
The controversial discussion of whether or not Peele's Get Out should be considered a comedy or a drama only proves that genre itself is démodé. One of the most salient components of Get Out is how it disturbs our notions of what "genre" really is and what constitutes a genre, whether that be in terms of cinematic aesthetics, race or gender. It is this very disruption of our ideas and preconceptions about assigning categories—to people or things—that speaks to the film and its filmmaker's brilliance. Of course, Peele knows this, which is why he cheekily declared on Twitter that his film's absurdist critique of racism and its unceasing do-si-do with white liberalism in America is a "documentary."
The Golden Globes holds a particular power over some of the other awards in that it is one of the few ceremonies that takes a more progressive stance towards its nominees, and takes a chance on the otherwise unsung critical darlings of film. The Hollywood Foreign Press Association, has also been known to look favorably on television, placing shows alongside movies since 1956. Television shows that are often repeatedly snubbed by the Emmy's tend to get their recognition from the Golden Globes—just look at The Crown, Six Feet Under or Mad Men, two series which took Globes home in their infancy.
Earlier this year, The Golden Globes was praised for its representation of diversity on the red carpet and with its awards, with Tracee Ellis Ross winning Best Actress in a Television Series, Comedy or Musical—an historic win; Debbie Allen was the last black woman to win in that category since 1983. The Globes also awarded Atlanta with Best Television Series, Musical or Comedy, and Moonlight with Best Motion Picture, Drama, predicting the film's Oscar win.
The Globes have exhibited a trend of keeping a finger on the pulse of who or what should win, but it might be time to take a risk and either let Get Out compete with the other serious dramas, or create more official genres for films. In either case, one thing is still true—a film like Get Out, which so expertly evades being nailed down to one single category, really does exist in a genre of its own.
Related: How Get Out Director Jordan Peele Managed to Make a Thrilling, Super Fun, LOL Funny Horror Movie—About Racism
See W's most popular videos: