Busy Philipps Dyed Michelle Williams's Hair Millennial Pink
A fair amount of wine was involved.
---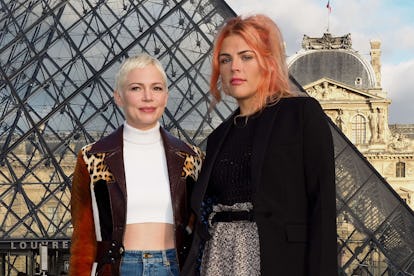 LaurentVu/SIPA/REX/Shutterstock
It's a classic tale: Two celebrity best friends spend a few magical days gallivanting around Paris in honor of Paris Fashion Week and, on their final night in the City of Lights, get buzzed on white wine and tequila, and dye one of the friend's platinum pixie cut a subtle shade of millennial pink. It's happened to the best of us, and on Wednesday night, it happened to Busy Philipps and Michelle Williams.
Fortunately, Philipps is a known Instagram Stories devotee, and thus documented the entire process on social media. It all began with a boozy dinner, where they ate "baked potatoes with caviar" and mourned the end of their Parisian fairytale, after which they would have to send back their PFW wardrobe and "turn into pumpkins." The confessional-style selfie videos of Philipps, Williams, and another friend grew increasingly goofy, perhaps due to Philipps's alleged penchant for drinking tequila "like water." "Do we look like babies or am I crazy," Philipps captioned one pic in which the trio sleepily lounged on a hotel bed—until the tub of "pink slime" arrived, seemingly out of nowhere, and the plan to give Williams a makeover was hatched.
A series of short clips followed in which a suddenly wide-awake Philipps massaged the dye into a frightened Williams's short blonde hair. After approximately 120 seconds, Philipps's "little pixie" friend had the palest, almost Cara Delvingne-esque pink tint in her now "perfectly millennial pink" hair, and both women were celebrating their DIY dye job with more glasses of white wine. "I want everything to be pink," Williams said from behind Philipps's shoulder. Later, back in the hotel bed, Philipps triumphantly declared of her robe-clad pal, "She's, like, kind of naked and she has slightly pink hair and it is f*cking beautiful!" For her part, Williams was more preoccupied with the room service menu. "There's more food to be eaten," she declared in the final clip, evoking the wisdom and passion that have landed her not one but four Academy Award nominations.
Before Wednesday night's truly delightful finale, Philipps, 38, and Williams, 37 — who met on Dawson's Creek in the early aughts — spent their time in Paris sitting front row at the Louis Vuitton show and taking a multitude of mirror selfies, all of which Philipps dutifully posted on Instagram for Philliams (Willipps?) fans to enjoy.
21 of Michelle Williams' Best Hair Moments: From Long Hair to Short Hair
Michelle Williams went super short, and super platinum, at the 2017 Oscars.

Christopher Polk/Getty Images
At the 23rd Annual Screen Actors Guild Awards, Williams wore her pixie cut softly tousled with a bold eye.
Back to platinum blonde, Michelle Williams's short hair is worn extra sleek style to accentuate her creamy, porcelain skin at the 2016 New York Film Critics Circle Awards.
For the 70th Annual Tony Awards, the actress returned to her beloved pixie cut, and added a bold red lip for some extra drama.

FilmMagic
With a wavy blonde lob, wispy bangs, and bold black eyeliner, Williams was a rock and roll beauty at the 2015 InStyle Awards.

Getty Images
At the Louis Vuitton "Series 2" Exhibition, Williams wore her platinum locks in a deep side part with a dusted pink lip.
The gorgeous actress looked sleek and chic at the 'Charles James: Beyond Fashion' Met Gala with a new platinum bob and bangs.

Getty Images
Williams's luminous skin and platinum blonde locks looked fresh and natural at the Louis Vuitton Spring/Summer 2015 show in Paris.
Williams had an edgy look at the Los Angeles premiere of OZ The Great and Powerful, thanks to bold eyeliner, a lighter hair color, and an asymmetrical cut.

WireImage
Could she be any cuter? The actress accessorized her pixie cut with a black velvet and jeweled headband for the 69th Annual Golden Globe Awards.

WireImage
At the Take This Waltz screening in New York City, Williams wore her pixie cut with brushed out bangs and a glossy coral lip.

Jason Kempin
Williams returned to the pixie, and added a new strawberry blond color, for a screening of her film, 'My Week with Marilyn'.

Getty Images
Williams wore her long locks in a softly tousled pony for the Shutter Island premiere at the 60th Berlin International Film Festival.
Williams grew out her short pixie cut for the 2009 Film Independent's Spirit Awards, and styled her new locks with a deep, side-swept fringe.

WireImage
Williams wore her blonde locks in a S-wave do with a glossy rose-colored lip at the at the 61st International Cannes Film Festival Adoration premiere.
Williams debuted a chic, short pixie cut that accentuated her delicate features at the 22nd Annual Film Independent Spirit Awards.

Getty Images
Williams returned to her blonde roots at the 78th Annual Academy Awards, where she was nominated for best supporting actress.

FilmMagic
Surprise, she's a brunette! While attending the National Board of Review of Motion Pictures 2003 Annual Gala, Williams sported a messy bob with a long fringe.

WireImage
Williams accentuated her stunning green eyes with brown eyeliner, highlighted skin and wispy bangs while attending the celebration for the 100th episode of Dawson's Creek.

WireImage
At the 6th Annual Blockbuster Awards, Michelle Williams epitomized the girl next door look with mid-length wavy curls, rosy cheeks and glossy pink lips.

WireImage
The budding actress arrived at the Halloween H20 World Premiere with very natural makeup, and curled, dark blond hair.

WireImage
Related: A Brief History of Michelle Williams and Busy Philipps' Friendship on the Red Carpet