Platinum Pixie Cuts Are Officially a Thing, Thanks to Katy Perry and Emma Roberts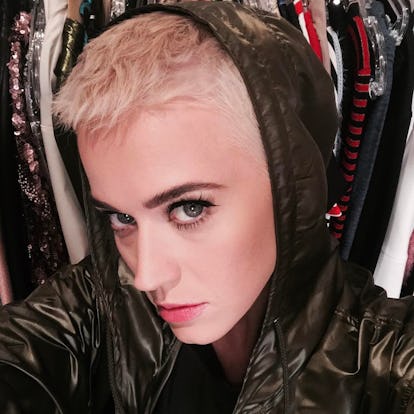 New season, new haircut?
That seems to the mantra in Hollywood—and we're not talking not just any trim or understated fringe. Celebrities are going full-on Mia Farrow, with super-cropped pixie cuts, preferably in shades of platinum blonde.
First there was Kristen Stewart, who admittedly went for more of a buzzcut than a typical pixie, but give it time. Last month, at the premiere of her film Personal Shopper, the actress arrived at the event looking nearly unrecognizable with a shaved head bleached blonde. The cut is reportedly for her upcoming role in the film Underwater, which "focuses on an underwater scientific crew forced to go on a dangerous journey for survival following an earthquake," according to Variety.
Just a few weeks later, newly-platinum Cara Delevingne announced she'll also be undergoing a major hair transformation soon enough. Speaking with USA Today while promoting her upcoming film Valerian and the City of a Thousand Planets, Delevingne shared, "I have to shave my head for my next part, so I have to do something different." As for the current platinum shade? "I dyed it. Just for fun. Just to change it up."
The most recent celebrity to undergo the change? Katy Perry, who originally chopped of her long dark waves into a floppy blonde crop not unlike Miley Cyrus. Earlier this week, however, she went even shorter to a proper pixie, citing Annie Lennox and Agyness Deyn as style inspirations.
Soon there may be a fourth famous pixie. Emma Roberts told Byrdie that her next hairstyle may also entail another big change of the icy-hued kind. "I really, really loved having that long blond hair on Scream Queens," she said. "It was so fun to have this super-blond, long, girly hair." But ultimately, it seems, Emma wants to keep the color, and ditch her length, extensions or otherwise, with her muse being the perpetually pixied Michelle Williams. "I'm going to cut it shorter than I've ever had it and bleach it," she said. "I don't know if I can pull off her little bangs with my texture, but I don't even want to think about it. I just want to do it."
The Scream Queens actress has always been known to be a hair chameleon: In the past two months alone, she's dyed her hair red and added major brown extensions, just in time for Coachella. Got to have something to fasten that flower crown to, after all.
Related: Watch W's most popular videos, here.