The Greatest Showman Trailer is Here to Make You Forget All Your Problems
Plus, Hugh Jackman, Zac Efron and more in the happy version of *American Horror Story: Freak Show.*
---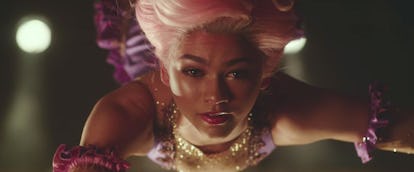 Sometimes the world just needs a big, grand Hollywood fantasy to cap off the year and make us forget all of our problems, and this year The Greatest Showman is trying to be just that. It's a circus-themed musical after all with Hugh Jackman, Michelle Williams, Zendaya and Zac Efron. It's got songs and dance and acrobatic stunts and a rags-to-riches story and that's just what we can glean form the trailer.
The trailer opens with Jackman getting laid off from his desk job, realizing his family's apartment is in tatters, and then deciding, "Hey, why don't I just invite the entire concept of a circus?" And so he does. He sets out to recruit his cadre of performers, that includes Zendaya as an acrobat, Zac Efron as, we assume, the ringmaster, Rebecca Ferguson as a Swedish opera singer, and Broadway veteran Keala Settle as a very determined-looking bearded lady (Settle also sings "This Is Me," the uplifting song featured in the background). They're basically like the crew from American Horror Story: Freak Show, but they're all actually happy and instead of singing David Bowie music they have their own original tunes.
Those songs, by the way, are written by Benj Pasek and Justin Paul. They're absolutely on-fire songwriting duo who were also behind the music from La La Land and the Tony-winning musical Dear Evan Hansen. Basically everything they touch turns to gold at the moment, and The Greatest Showman may prove no different. Certainly, they're at least already considered contenders for the Oscar for best original song.
Bill Condon, a musical vet with credits on Chicago and Dreamgirls under his belt, co-wrote the script, but commercial director Michael Gracey will make his feature film debut directing the film.
The film will hit theaters on Christmas, which means you may very well end up seeing it with your mom, your grandparents and your aunt Jenny. So get excited.
Related: Exclusive: Stylist Law Roach Shares His Impromptu Parisian Photo Shoot With Zendaya
Zendaya Wishes She Had Michael Jackson's Dance Moves: