Exclusive: Stylist Law Roach Shares His Impromptu Parisian Photo Shoot With Zendaya
The "image architect" Law Roach compares and contrasts his two superstar clients: Zendaya and Celine Dion, who took Paris Couture Week by storm.
---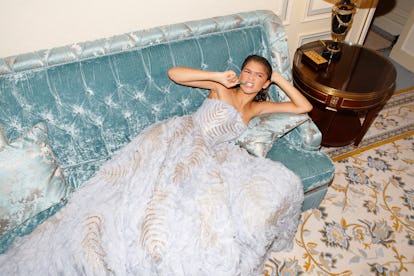 Photo by Mireya Acierto.
There are arguably no two bigger style icons right now than Zendaya, the 20-year-old Spider-man: Homecoming actress and recent Vogue cover girl, and Celine Dion, the 49-year-old singer and now streetwear savant. At first glance, they may seem worlds apart—not only in age, but also background and aesthetic. At Paris Haute Couture Week, for example, Zendaya sat front row in a glamorous Ralph & Russo gown well beyond her years, meanwhile Celine Dion stepped out Givenchy faux-leather overalls and Kanye West heels. But they've actually got a lot more in common than meets the eye.
What aligns these two superstars is not their style but rather their whole-hearted, over-the-top approach to it. And because of this, they are able to share a stylist: a man named Law Roach, who prefers to call himself an "image architect." It was he who drew the blueprint to help transform Zendaya from a gregarious teenager to a glamorous Hollywood starlet, and later introduce the Las Vegas diva Celine Dion to streetwear brands that matched her bravado.
Last week, we caught up with Roach over the phone from Paris, where he sat at a café eating chocolate cake (with a scoop of ice cream) after facilitating both his clients' many Haute Couture Week appearances. It was this same time last year that he put Dion in a very-fitting Vetements Titanic hoodie, signaling to the fashion community that she was ready to claim her style icon crown. And indeed, this season she took the streets of Paris like she owned the place, striking poses outside of shows that rivaled the statues in the Louvre, and emerging from the sun roof of her town car to blow kisses at crowds of fans.
Like his clients, Roach, who is also a judge on America's Next Top Model, seems to live for high fashion—and even in his down-time enjoys playing dress-up with his clients. One night in Paris, for example, he organized an impromptu photo shoot with Zendaya in her hotel room at the Ritz until 4:00 in the morning, because, well, c'est la vie! See the results below.
Where in the world are you right now and where did this shoot with Zendaya take place?
I'm actually still in Paris. It was in her hotel room at the Ritz.
Was it an impromptu thing or had you planned it?
No, this was very impromptu. We had just gotten back from dinner, and I think she was a bit jet lagged and hadn't been sleeping. I was like, well, let's do a photo shoot! So we were up until maybe 4:00 in the morning just playing around. She did her own hair and makeup. It's so funny how the universe works because I had actually just bumped into an old friend of mine from Chicago in Paris who happens to be a photographer. So I texted them, "Hey what are you doing right now?"
This sounds like sort of a metaphor for your life right now: Dressing up amazing women on the fly. How long have you been working with Zendaya?
I've worked with her for six years now. I'm the only stylist she's ever had.
You guys must be really close.
Yeah, at this point she's my younger sister.
You've been working with Zendaya on her red carpet looks for Spider-man: Homecoming. What has that experience been like and what are some of your favorite looks?
The press tour was great. It was an artistic outlet for both of us because there were so many looks. I loved the Ralph & Russo custom pink dress she wore to the premiere. To me, she was like a life-size Barbie doll. She actually wore the same shoes for most of the press tour—these white Le Silla pumps. She probably wore them like, seven times, which is hilarious.
Zendaya is such a risk-taker when it comes to her style. Is there anything that she doesn't like to wear?
No, not at all. I think we're both very conscious of who her audience is, and who looks up to her. She's very responsible in that matter. She'll be 21 in September and you still haven't seen her do anything super sexy. She has a huge respect for the younger girls who've grown up with her and the ones who are discovering her now. One of the things we say is: You have your whole life to be sexy. So, that's one of the things she hasn't really done.
You were in Paris for couture week. Were there any looks you wanted to grab right off the runway?
I was in love with Ulyana Sergeenko. It was 1940s-inspired, and that reference is kind of why I wanted to be in fashion; I was just obsessed with the way women looked back then, the way they carried themselves, and the types of clothes they wore. So that was a definite standout for me.
You were at couture week with Celine Dion as well. How long have you been working with her?
I've been working with her for a year now.
Yet you've had such a transformative experience with her. How has your relationship evolved? How did she first respond to all these new options you came in with?
I call myself an 'image architect,' not so much a stylist. So when I meet my clients, we built a blueprint of what I think their fashion profile should be and how I'm going to get there. I was just surprised at how much of a fashion girl Celine Dion really was; nobody knew it. I did introduce her to a lot of new brands last summer—Vetements being the biggest of them all—and Off-White and elevated streetwear brands that she probably wouldn't have thought about or noticed. That was really important to me. To some people, it was surprising to see her in a Vetements sweatshirt. But when I showed it to her, she was like: 'I love it. Let me wear it right now.'
So she's super receptive to all the stuff that you're showing her?
Absolutely.
Why do you think Vetements is such a good fit for someone like Celine Dion?
I think Demna [Gvasalia] has this talent of creating this new woman over and over again. And when I put Celine in that Vetements, she had literally just lost her husband a few months before. She was probably at the beginning stages of her healing process, and so she was becoming a different woman. She had been with René [Angélil] for most of her life, and now all of a sudden she's a single mother and she's an artist on her own. So, his talent of creating this new woman fit with her actually becoming a new woman. It was incredible.
She seems so happy and confident in all the clothes that you put her in you.
I mean, she loves it! I wish I could take credit for introducing Celine Dion to this whole new world. But she's always lived in this world; she just did it quietly. Like, she performs in couture at her Vegas shows. She buys couture. Since we've been working together, I think I just grabbed all the fashion kids and was like, 'Look at this woman!'
Zendaya and Celine are are two such different women, but also similar in some ways. How would you compare them?
They're more similar than different. I think the biggest difference is age, but they're both beautiful with these incredible bodies; they're both talented in their own ways. The biggest similarity between the two of them when it comes to fashion is that they're both fearless. They're the type of women that when you're around them, you're like, 'Oh, I get it.'
You mentioned their age difference, but I feel like they're both breaking down stereotypes about how people of a certain age dress. Like Celine Dion is wearing all these you young, emerging designers and Zendaya is dressing like a glamorous Hollywood woman. Is that something you're thinking about?
I always like to tell a story of my mother taking a bath and putting rollers in hair and doing her nails—just doing the things that women did to get dressed. It had an effect on me and created my aesthetic. Celine is that woman: She's magnificent even when she's putting on her nylons and jewelry. She just recently said that sometimes when she misses René she'll put on her diamonds and take a bath. Like, who does that? I think of old Hollywood glamour and women like Elizabeth Taylor and Marilyn Monroe. That's what I try to project, even if my clients are young. And that's why people hire me.
Celine Dion's Style Has Always Been About Taking Risks
Winning her second Grammy award at the 34th Annual Grammy Awards, the singer wore black pants with an embellished tank dress. 1992. Photo courtesy of Getty Images.

GETTY
The next year, the singer wore a form fitting red gown with cutouts by Versace to the 20th Annual American Music Awards. 1993. Photo courtesy of Getty Images.

GETTY
Dion kicked up the glitz at the 69th Annual Academy Awards in this Chanel couture dress with white, silver, and black stones. 1997. Photo courtesy of Getty Images.

GETTY
Dion attended the 71st Annual Academy Awards wearing one of her most iconic, most talked about looks to date. This white Christian Dior suit, by John Galliano, was designed to be worn backwards, making quite the statement. The look was finished with a Dior fedora and black sunglasses. 1999. Photo courtesy of Getty Images.

GETTY
The singer continued to wow in white at the 41st Annual Grammy Awards, wearing a gown designed by red carpet favorite Carolina Herrera. 1999. Photo courtesy of Getty Images.

GETTY
On the opening night of 'A New Day', in Las Vegas, Celine Dion stunned in a black jumpsuit finished with a sparkling cape. 2003. Photo courtesy of Getty Images.

GETTY
At the World Music Awards in Las Vegas, Dion was truly sparkling in a stunning Yves Saint Laurent sequined gown. The dress, designed by then-creative director, Tom Ford, speaks to the star's love of cutouts in a fresh way. 2004. Photo courtesy of Getty Images.

GETTY
Dion's look at the 13th Annual Ella Awards took a fun spin on the little black dress. This strapless, bubble skirt dress was truly a staple of the early 2000's. 2004. Photo courtesy of Getty Images.

GETTY
Dion stepped out in black pants with an embroidered steel blue jacket with fur trim at a celebration for her collaboration with Anne Geddes. The look was sleek and exceptionally flattering, tied with a belt. 2004. Photo courtesy of Getty Images.

GETTY
Dion shimmied down the red carpet in an embellished mini-dress at the World Music Awards in Monte Carlo. 2007. Photo courtesy of Getty Images.

GETTY
Dion was a green goddess on the arm of her husband, Rene Angelil, at the 79th Academy Awards. The singer's long gown was accented in the sparkle we have come to love about her signature style. 2007. Photo courtesy of Getty Images.

GETTY
Dion took sparkles from an accent to a statement at the 52nd Annual Grammy Awards wearing an ultra embellished dress with refreshing sheer sleeves from Aquilano Rimondi's spring collection. 2010. Photo courtesy of Getty Images.

GETTY
Dion was the definition of old Hollywood glamour at the 83rd Annual Academy Awards wearing a long sleeve white gown with a touch of sheen by Armani Prive. 2011. Photo courtesy of Getty Images.

GETTY
Again, the singer made waves in a minimal full length gown with this off the shoulder look by J. Mendel at the BAMBI awards in Germany. 2012. Photo courtesy of Getty Images.

GETTY
Dion proves she can work street style with the best, as she sports black leather pants with a short white fur jacket out on the streets of Paris. 2013. Photo courtesy of Getty Images.

GETTY
Dion may have taken a step away from her usual glitz at the UCLA Luminary Awards, but looked every bit as sophisticated draped in a nude and black gown. 2014. Photo courtesy of Getty Images.

GETTY
Dion looked luxe in leather at the 2015 Billboard Music Awards in this one shoulder green dress by Mugler. 2015. Photo courtesy of Getty Images.

GETTY
Dion had a major glamour moment at the 2015 American Music Awards when she stunned in a floor length gown with floral detail by Elie Saab. 2015. Photo courtesy of Getty Images.

GETTY
Dion won the Icon Award at the following year's Billboard Awards in Las Vegas wearing her signature sparkle. This beautiful off the shoulder gown, by Valentin Yudashkin, showed off the singer's leg with a not so subtle slit up to her thigh. 2016. Photo courtesy of Getty Images.

GETTY
The singer sat front row at the Giambattista Valli couture show wearing a flowing black and white gown from the designer's previous collection and a pink bag by Roger Vivier. 2016. Photo courtesy of Getty Images.

GETTY
Ever the queen of fashion, Dion sat front row at Paris Fashion Week wearing head to toe black Christian Dior. The sleek look is finished with a pair of door-knocker earrings and a black croc leather bag. 2016. Photo courtesy of Getty Images.

GETTY
Again opting to show off her leg, Dion wore an incredible leather gown by August Getty Atelier to perform on Jimmy Fallon, keeping her signature glamour and adding a splash of edge. 2016. Photo courtesy of Getty Images.

GETTY
The singer stunned as she arrived on the red carpet for the premiere of Beauty and the Beast. Her light blue dress, by Christian Siriano, was long sleeved and elegant, exaggerated with a bow over her right shoulder, keeping on trend with Dion's signature dramatic flair. Photo courtesy of Getty Images.

GETTY
Dion was radiant in a dazzling green Zuhair Murad dress at the 59th Annual Grammy Awards. The look was everything we have come to love from the star from the plunging neckline to a thigh high slit. 2017. Photo courtesy of Getty Images.

GETTY
Celine Dion attends the "Rei Kawakubo/Comme des Garcons: Art Of The In-Between" Costume Institute Gala at Metropolitan Museum of Art on May 1, 2017 in New York City. Photo courtesy of Getty Images.

GETTY
Celine Dion poses in the press room during the 2017 Billboard Music Awards at T-Mobile Arena on May 21, 2017 in Las Vegas, Nevada. Photo courtesy of Getty Images.

GETTY
Celine Dion is seen on the streets of Manhattan on April 30, 2017 in New York City. Photo courtesy of Getty Images.

GETTY
Celine Dion seen leaving her hotel in Paris, France, on June 14, 2017. Photo courtesy of Getty Images.

GETTY
Celine Dion is seen on June 28, 2017 in Paris, France. Photo courtesy of Getty Images.

GETTY
Singer Celine Dion is seen on July 2, 2017 in Paris, France. Photo courtesy of Getty Images.

GETTY
Zendaya Wishes She Had Michael Jackson's Dance Moves