See Christopher Plummer Take Over for Kevin Spacey in New All the Money in the World Trailer
"I move like lightning," said director Ridley Scott.
---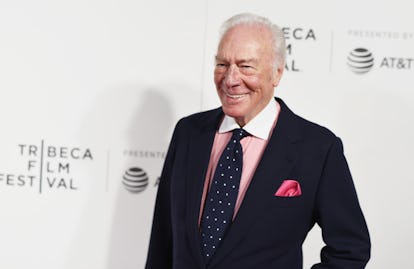 Dave Kotinsky/Getty Images
On November 20, director Ridley Scott began extensive reshoots of his upcoming film, All the Money in the World. The movie, which wrapped its initial filming in August, originally starred Kevin Spacey as J. Paul Getty, the famed oil mogul whose grandson, John Paul Getty III, or Paul, was kidnapped in 1973—and who refused to pay the demanded ransom sum. But when numerous allegations of sexual misconduct against Spacey, spanning a three-decade-long period, surfaced after Anthony Rapp accused the actor of making an unwanted "sexual advance" when Rapp was just 14, Scott made the surefooted, if risky, decision to reshoot Spacey's part with a new actor. Just more than a week after the initial accusations, Scott announced he had recruited Christopher Plummer, the 87-year-old screen veteran who had once been eyed to play Getty himself, to take over for Spacey.
For Scott, the decision came about after a brief meditation: "I sat and thought about it and realized, we cannot. You can't tolerate any kind of behavior like that," he said, speaking with Entertainment Weekly on the set of All the Money in the World over the Thanksgiving holiday. It wasn't just a matter of tolerating behavior, though; the movie's Oscars prospects are already the subject of much discussion. (Of course, while Nate Parker's Oscars hopes were dashed when a college sexual assault accusation resurfaced with Birth of a Nation, Casey Affleck's two settlements in cases of sexual harassment did not prevent him from winning Best Actor for Manchester by the Sea.) "It will affect the film," Scott said. "We cannot let one person's action affect the good work of all these other people. It's that simple."
The reshoots, which also involved participation from co-stars Michelle Williams and Mark Wahlberg, wrapped Wednesday, and to celebrate the occasion, a new trailer for the film has finally emerged, offering a first look at Plummer in the new role. (The film is still slated for a December 22 release date, though its proposed AFI Fest premiere this month was canceled for reshoots.)
The new trailer reframes key moments from the previous Kevin Spacey clip. The original trailer for All the Money in the World, featuring a heavily prosthesis'ed Spacey, is still available on Youtube; he's only seen in shadows and side-angles until the end of the two-minute clip, when he appears in front of a pack of reporters. One asks, if not $17 million, how much would he pay the kidnappers? "Nothing," he replies, with chilling affectlessness. This same moment is reprised in the new prosthesis-less Christopher Plummer trailer, perhaps serving as proof Scott has accomplished what the studio doubted he could.
"They were like, 'You'll never do it. God be with you,'" Scott recalled. "I know what I can deliver. I move like lightning. I'm already two scenes ahead," he added. "If you know what you're doing, you don't need 19 takes."
It must have helped that Williams in particular was eager to facilitate the reshoot: "I'm so very proud to be a part of this," she told Entertainment Weekly in the same story. "When this idea was hatched, I immediately started to feel better. This doesn't do anything to ease the suffering of people who were all too personally affected by Kevin Spacey, but it is our little act of trying to right a wrong. And it sends a message to predators—you can't get away with this anymore. Something will be done." Plus, perhaps the reshoot will steer Plummer towards his third Oscar nomination.
See a candid interview with Christopher Plummer: