Ridley Scott Has One Month to Re-Shoot His J. Paul Getty Thriller Without Kevin Spacey
Director Ridley Scott has replaced Kevin Spacey with Christopher Plummer in an upcoming thriller about the kidnapping of J. Paul Getty's grandson, which he still plans to release in December.
---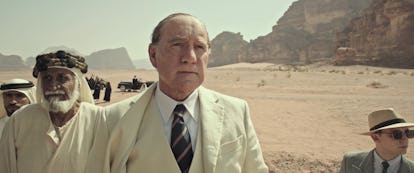 Sony Pictures Entertainment/YouTube
Amidst the allegations of sexual misconduct against Kevin Spacey, director Ridley Scott has decided to re-cast Spacey in All the Money in the World, an upcoming thriller about the kidnapping of J. Paul Getty's grandson.
After Netflix's House of Cards halted production and is reportedly rewriting the next season without Spacey's character, Ridley Scott's decision to cut his scenes from the film comes as no surprise. The most shocking aspect of this news is that Scott plans to achieve the feat of re-shooting multiple scenes with a new actor and release the film in just over a month. After Scott canceled All the Money in the World's AFI Fest premiere this month, he still plans to release the film on December 22, with Christopher Plummer filling in for Spacey.
All the Money in the World will chronicle the true story of the kidnapping of J. Paul Getty III, the grandson of the wealthy oil tycoon J. Paul Getty, who was played by Spacey and now will be played by Plummer. According to The Hollywood Reporter, Scott planned to cast Plummer in the role of J. Paul Getty in the first place, but was shut down by studio executives. Spacey, who is 58 years old, underwent a significant makeup transformation to portray Getty, who was 80 years old at the time of his grandson's kidnapping in 1973. Plummer's real age of 87 is much closer to that of Getty's at the time of the kidnapping scandal, so hopefully the special effects makeup department will catch a break when shooting Plummer's scenes in the next few weeks.
As the film's trailer shows, Spacey's scenes were shot in different locales around the world, and reshooting them with Plummer will require expensive visual effects to make up for the fact that Scott will likely not reshoot the scenes at their multiple locations. In the past, VFX houses have digitally composed deceased actors into scenes posthumously, but this particular situation is unique in that it will require a hasty production schedule if Scott plans to finish the film before the holiday season, and in time for Oscar contention.
Ridley Scott's race against the clock will be a speed test not only for the VFX team, but for the film's supporting cast as well. Most of Spacey's scenes were shot solo over a total of eight days, but to pull this off, Ridley will also need to bring in actors Michelle Williams and Mark Wahlberg to reshoot some of their scenes as J. Paul Getty's daughter and lawyer, respectively.
Related: Eight House of Cards Employees Have Accused Kevin Spacey of Sexual Misconduct
See W's most popular videos: