Netflix Is Reportedly Working on Multiple House of Cards Spin-Offs
Including one about Doug Stamper.
---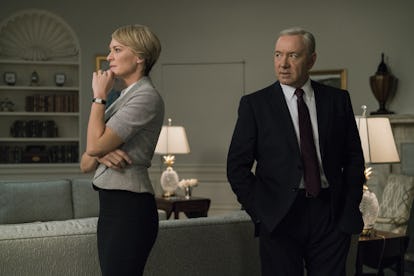 NETFLIX
As one house of cards crumbles, another is built. In the wake of actor Anthony Rapp's allegations against Kevin Spacey — that Spacey made a physical sexual advance on a 14-year-old Rapp when he was 26, an incident for which Spacey has quasi-apologized in a statement that, much to the frustration of the LGBTQ community, he also used to come out as gay — Netflix is reportedly set to announce that the upcoming sixth season of its hit Spacey-starring show, House of Cards, would be its last. (Sources that spoke to Variety say the sixth season was intended to be the last anyway, as do other sources.)
Though, there may be a Spacey-less future for the franchise. Variety now reports that the streaming giant, which has already committed to spending billions on original programming next year, is currently working on multiple spin-offs of the series.
"The streaming service and producer Media Rights Capital are in very early stages of development on multiple ideas for a potential spin-off. One concept revolves around Doug Stamper, the political aide-de-camp played by actor Michael Kelly in the first five seasons of the political drama, with Eric Roth set to write," reports Variety. "At least two" other concepts are being explored, but none have writers attached. Fingers crossed one centers on Frank Underwood's wife, and a political force all her own, Claire Underwood (Robin Wright).
House of Cards, about the political machinations of a group of Machiavellian D.C. insiders, was Netflix's first successful original series. It premiered in 2013 to rave reviews and has since won a stack of Emmys, and a Golden Globe apiece for Wright and Spacey. It's based off of a British mini-series and novel of the same name.
The reported final season of House of Cards will premiere on Netflix in 2018.
Related: House of Cards' Sixth Season Will Be Its Last
See What's Trending in W Video:
From Melania Trump to Jacqueline Kennedy, a History of First Ladies' Inauguration Day Style
First Lady Mamie Eisenhower, 1957

Getty Images