Eight House of Cards Employees Have Accused Kevin Spacey of Sexual Misconduct
The actor has also reportedly been dropped by his publicist and agency.
---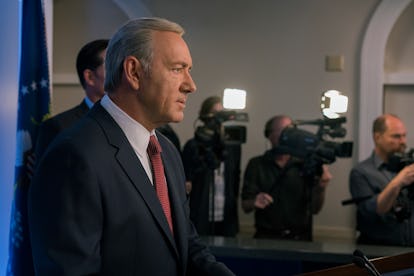 David Giesbrecht / Netflix
Kevin Spacey now stands accused of sexual misconduct by eight House of Cards employees, who say the actor created a "toxic" work environment through a pattern of "predatory" behavior.
Spacey's accusers include both current and former employees of the show who anonymously, for fear of reprisal, described alleged incidents of sexual assault and harassment to CNN Thursday night. One former production assistant alleges that the actor sexually assaulted him during one of the early seasons, according to what he told CNN. He alleges Spacey put his hands down the assistant's pants without his consent while they were driving back to the set, and alluded to further actions he said he could not describe for fear of identification.
"I was in a state of shock," he said. "He was a man in a very powerful position on the show and I was someone very low on the totem pole and on the food chain there." The other employees said such alleged misconduct was routine, saying the actor preferred to target young, male staffers with crude comments and nonconsensual touching. All eight described his behavior as "predatory," CNN reported.
Shortly after the CNN story broke, Vulture reported the actor and producer had been dropped by both his publicist and agency. Earlier that day, Vulture published an interview with an unnamed man who claimed he'd been in an extended sexual relationship with Spacey at the age of 14. The relationship ended with an attempted rape, the man alleged. He said he would call Spacey "a pedophile and a sexual predator" "to his face."
UK police are also now investigating claims that back in 2008, while Spacey was artistic director of the Old Vic theater, he assaulted a 23-year-old.
These allegations come after actor Anthony Rapp accused Spacey of making a sexual advance toward him when he was 14. After BuzzFeed published the story, Spacey tweeted a widely derided apology to Rapp, wherein he claimed not to remember the alleged incident and blamed any inappropriate behavior on alcohol before coming out as gay.
Production on House of Cards has been suspended indefinitely in light of the allegations. Previously, Netflix had announced the show's upcoming sixth season would be its last. Meanwhile, Spacey announced that , like Harvey Weinstein, he would be seeking treatment.
According to reports, Spacey has now also been dumped by both his agency CAA and publicist.
Related: Kevin Spacey Accused of Sexual Assault by Another Victim Who Was Underaged
See What's Trending in W Video: