Scarlett Johansson Took Down Ivanka Trump on Saturday Night Live
Her popular—and largely unflattering—impression returned.
---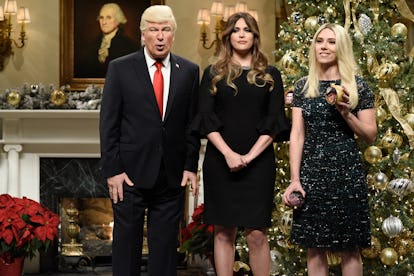 Photo by: Will Heath/NBC/NBCU Photo Bank via Getty Images
The Saturday, December 16 episode of Saturday Night Live was hosted by comedian and Jumanji star Kevin Hart, while the musical guest was Foo Fighters, but it was Scarlett Johansson and her dead-eyed Ivanka Trump impression in the cold open that just about made the show.
Johansson debuted her ability to channel Ivanka's strangely inhuman poise last season and returned last night in the first sketch of the episode, which found the Trump family (Alec Baldwin as Donald, Cecily Strong as Melania) decorating the White House Christmas tree with ornaments bearing the faces of those who had wronged and/or disappointed them during the president's almost-a-year in office. The ever-stiff Ivanka brings an ornament with defeated congressional candidate and accused child-dater Roy Moore's face on it, plus a little angry ball that represents Steve Bannon (his giant face wouldn't fit on a normal ornament). Jared couldn't make it; he's busy packing a go bag for when the FBI show up. It's a good impression; Johansson's first daughter never seems flustered or even all that interested, and she's always talking out of the side of her mouth.
Later, her brothers Don Jr. (Mikey Day) and the idiotic Eric (Alex Moffat) show up, Eric with a macaroni-based art project made with, unfortunately, cooked macaroni. Something about the way Don Jr. talks to Eric gets me every time. He's so patient! And I can't help but think that the real Ivanka is slightly proud that while her siblings are played by the normal cast, she gets an Avenger.
Trump's staff appear as well, with Kate McKinnon pulling double duty as Kellyanne Conway (for Christmas she wants…out) and Jeff Sessions, cleverly disguised as an Elf on the Shelf and promising, all too troublingly, that Robert Mueller will be the next man fired by Trump. Sarah Huckabee Sanders (Aidy Bryant) gets in on the holiday fun, along with Mike pence (Beck Bennet) and the recently ousted Omarosa (Leslie Jones) begging to be let back into the oval.
Check out the full sketch here:
And sure,, it probably wasn't just for fun or the prospect of skewering the First Daughter that made ScarJo agree to shoot this cameo. She's also dating Weekend Update anchor Colin Jost.
Related: Chance The Rapper Begged Obama To Come Back On Saturday Night Live with a Slow Jam
How Artists Today Are Mocking Donald Trump
Peter Saul, Quack-Quack, Trump, 2017.

Mary Boone Gallery
Peter Saul, Donald Trump in Florida, 2017.

Mary Boone Gallery
Jim Shaw, Trump Distortion #4, 2017.

Metro Pictures
Jim Shaw, Trump Distortion #1, 2017.

Metro Pictures
Jim Shaw, Trump Distortion #2, 2017.

Metro Pictures
Jim Shaw, Trump Distortion #3, 2017.

Metro Pictures
Jim Shaw, Small Trump Chaos I, 2017.

Metro Pictures
Jim Shaw, Large Trump Chaos I, 2017.

Metro Pictures
Nina Chanel Abney, COP, 2017.

Mary Boone Gallery and Jack Shainman
Nina Chanel Abney, White River Fish Kill, 2017.

Mary Boone Gallery and Jack Shainman
Mathieu Malouf, Donald, 2017.

Greene Naftali, New York. Courtesy the artist and Greene Naftali, New York
Mathieu Malouf, installation view of "Toxic Masculinity Fallout Shelter," 2017.

Greene Naftali, New York. Courtesy the artist and Greene Naftali, New York. Photo by Martha Fleming-Ives
Mathieu Malouf, installation view of "Toxic Masculinity Fallout Shelter," 2017.

Greene Naftali, New York. Courtesy the artist and Greene Naftali, New York. Photo by Martha Fleming-Ives