Chance The Rapper Begged Obama To Come Back On Saturday Night Live with a Slow Jam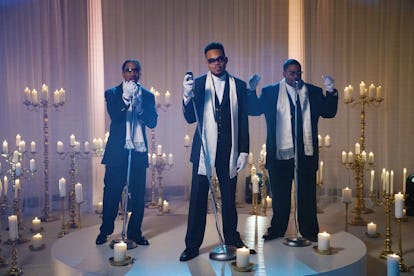 Photo by: Rosalind O'Connor/NBC/NBCU Photo Bank via Getty Images
Last night on Saturday Night Live, the cast and host Chance The Rapper gave thanks for the many blessings in their lives, but also mourned for a relationship they may have let go of too soon: the presidency of Barack Obama. In a Boyz II Men-style parody of 90s R&B breakup slow jams, De-Von-Tré (Kenan Thompson, Chris Redd and Chance) beg the former commander-in-chief for another chance. This time we won't take you for granted, baby, this time we'll make it last forever. Life without you is…terrifying and bad! "I know it's not allowed/ we want you back somehow" they crooned, lamenting, "we didn't know just what we had/ now things are looking bad/ like really bad/ like world war bad/ like nuclear bad."
The men of De-Von-Tré acknowledged that yes, Obama seems to be doing well post-White House, jet-setting with his wife and dropping Malia off at Harvard and, sure, there are other Democrats, but there's no one like you, Barack. "I'm in hell/ dreaming about you and Michelle!" Same.
Eventually, constitutional scholar Kenan Thompson explains that under pretty much no circumstances can our previous president return to his post…nor can we afford his speaking fee. Ah, well. Michelle 2020?
Chance's hosting gig (with musical guest Eminem) is the last of the three announced episodes for November — the staff is headed out on holiday — but December should be off to a strong start with Lady Bird star Saoirse Ronan hosting with musical guest U2.
Related: Tiffany Haddish Wore Her Girls Trip Premiere Dress For Her SNL Monologue
Michelle Obama Has a Long History of Supporting Emerging Fashion Designers, from Teija to Jason Wu