Tiffany Haddish Wore Her Girls Trip Premiere Dress For Her SNL Monologue
"Real talk: you might see this dress in two sketches tonight."
---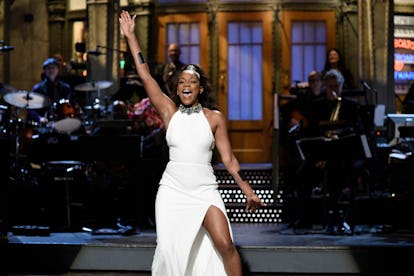 Photo by: Will Heath/NBC/NBCU Photo Bank via Getty Images
Tiffany Haddish, who last night became the first black female comedian to ever host Saturday Night Live, paid for her white Alexander McQueen dress herself, so you better believe she is getting some use out of it. As she explained in her very funny monologue, the $4,000 gown is more than her mortgage, so after she bought it for the Girls Trip premiere, she decided to wear it as much as possible, hence its appearance on the SNL stage. And if you invite her to a wedding, a Bar Mitzvah, or even just a casual Sunday brunch, you better believe she is going to be wearing her white dress.
"I feel like I should be able to wear what I want, when I want, however many times I want, as long as I Febreze it."
Kevin Hart may call her out for re-using outfits and publicists may insist it's taboo, but when you look that good in a dress that pricey, you wear it more than once. In fact, you wear it as often as possible.
And for proof, here she is at the premiere of Girls Trip (which also starred Queen Latifah, Jada Pinkett Smith and Regina Hall) this past July, wearing that white dress:
And she wasn't lying. The host also made a surprise appearance during the show's "Weekend Update" segment, showing up just to walk behind anchors Michael Che and Colin Jost in the white dress once again. Hey, it's a really nice dress.
Of course, the breakout star of the summer wasn't just there to talk about fashion. Her monologue also contained some sage clothing-based advice for avoiding allegations of sexual harassment. "Look here, okay guys? Fellas, I got a tip for y'all. I like to call this Tiffany's tips. It's a Tiff Tip.listen fellas, listen. Okay? If you got your thing-thing out, and she got all her clothes on, you're wrong. You're in the wrong! "
Related: Girl, Please: Tiffany Haddish on Girls Trip, the Bill Cosby Nonsense and Taking Revenge on Ex-Boyfriends
21 Over-The-Top Holiday Gift Ideas For Everyone On Your List