Taraji P. Henson, Issa Rae, and Ava DuVernay Were Just As Excited to See Girls Trip As the Rest of Us
How celebrities are responding to the weekend's big hit, the new comedy Girls Trip with Queen Latifah, Jada Pinkett Smith, Tiffany Haddish, and Regina Hall.
---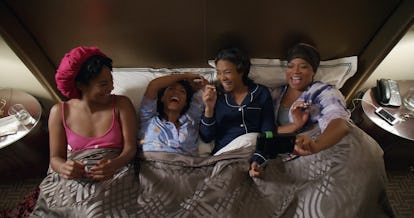 Universal Pictures
The big story at the box office over the weekend was the new comedy Girls Trip, which made $30 million on a budget of $19 million; compare that to Valerian, which opened to $17 million on a budget of $150. Audiences responded by awarding the film a rare "A+" CinemaScore, which suggests the film has legs beyond the summer. But they weren't alone.
Directed by Malcolm D. Lee, the film, which follows four friends—Queen Latifah, Jada Pinkett Smith, Tiffany Haddish, and Regina Hall on a pilgrimage to the annual Essence Festival— opened Friday to fawning reviews from critics and audiences alike—including the support of peers of the cast and filmmakers, like actress Taraji P. Henson, director Ava DuVernay, and one-time Destiny's Child member Letoya Luckett. Rapper Remy Ma hosted an early screening of the film last week, while actress Zoe Kazan appeared on Late Night with Seth Meyers the same night as Latifah, briefly crossing paths with the older actress while she supported her own film, The Big Sick.
Henson made a girls' night of Girls Trip, while DuVernay extolled its cast—and underlined its significance in a film industry in which people of color, and women in particular, are still vastly underrepresented.
Though Girls Trip was contending with Harry Styles's acting debut in Dunkirk, which also opened Friday, the film's box office breaks this summer's R-rated comedy curse, but more importantly, proves the power of diversity,](http://www.hollywoodreporter.com/news/girls-trip-box-office-breaks-r-rated-comedy-curse-proves-power-diversity-1023740)" proclaimed the Hollywood Reporter; in addition to its cast, which comprised actors of color, the magazine added, Girls Trip's audience was just as diverse.
"It really is time people realize that good content is good content, and an audience is an audience. Hidden Figures didn't get to its number only on an African-American female audience. Get Out didn't get to its number only on an African-American horror audience," producer Will Packer said of Girls Trip in a separate interview with the Hollywood Reporter. "Both of those films were good films, and you had audiences who were not at all held back by the fact that African-Americans were the lead roles. It is starting to change so that we're not pigeonholed by our casting."
Some of Hollywood's reaction to the film also circled around this premise—that despite the successes of films like Hidden Figures and Get Out, which have proven audience desires for more than a white man in spandex, a comedy like Girls Trip, fronted by four women of color, is still all too rare. But it's not just about representation: Stars like Issa Rae and Kevin Hart also didn't hesitate to highlight how funny the film is, too—perhaps a prerequisite of a successful comedy.
They're not the only ones getting behind the movie. See a few more of the best Hollywood reactions to Girls Trip, below.
Taraji P. Henson gets down to "I Will Survive"—with a few personal embellishments: