Scarlett Johansson and Colin Jost Are Officially a Red Carpet Couple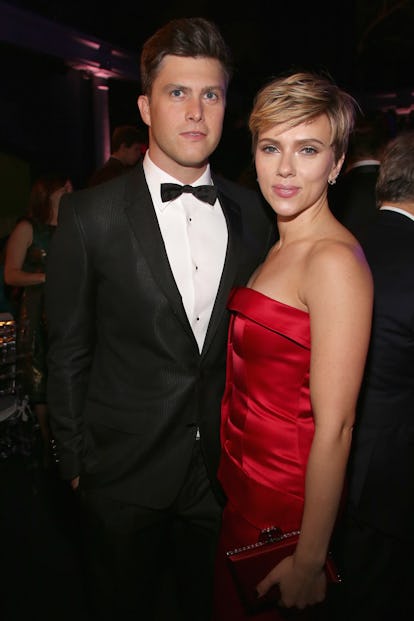 Sylvain Gaboury/Patrick McMullan/Getty Images
Scarlett Johansson and Colin Jost have hit a major milestone in the world of celebrity relationships. After several months of low-key dating, the two stars appeared and were photographed together inside the American Museum of Natural History Gala in New York City on Thursday night, although they walked the red carpet separately, according to People.
The pair has been rumored to been an item since this spring, when they hung out at a Saturday Night Live afterparty, but have kept their relationship under wraps ever since. However, the "Weekend Update" host did open up about his new romance at the Primetime Emmys in September. "She's pretty cool … it's hard to have a lot of complaints, she's pretty awesome. I'm very happy. I feel very lucky," he told Entertainment Tonight of Johansson, who did not attend the award show.
Johansson is recently divorced, having just finalized the end of her three-year marriage to Romain Dauriac, with whom she shares a daughter, in September. The Avengers actress was also previously married to Ryan Reynolds from 2008 to 2011. Until 2016, Jost was reportedly in a long-term relationship with Parks and Recreation actress Rashida Jones.
Colin Jost and Scarlett Johansson aren't the only recent SNL–Hollywood power couple. Emma Stone has also been romantically linked to Dave McCary, a writer on the long-running sketch show, while Ben Affleck and SNL producer Lindsay Shookus have been together since July.
Johansson last hosted SNL in March, appearing in plenty of sketches, including a parody perfume ad in which she played Ivanka Trump and hawked a scent called "Complicit." And with Avengers: Infinity War to promote next May, perhaps the A-lister will return to host the show once again and become one of the many Hollywood stars to count their significant others as a co-star.
Related: Emma Stone Might Be the Latest Star Dating Someone From SNL
Exclusive: See Scarlett Johansson And More Show Off Their Underwear For Araks
Larissa Hoffman's take on underwear as part of Araks's 'Lingerie on Film.'
Larissa Hoffman's take on underwear as part of Araks's 'Lingerie on Film.'
Scarlett Johansson's take on underwear as part of Araks's 'Lingerie on Film.'
Scarlett Johansson's take on underwear as part of Araks's 'Lingerie on Film.'
Ryan Roche's take on underwear as part of Araks's 'Lingerie on Film.'
Nordstrom's Olivia Kim's take on underwear as part of Araks's 'Lingerie on Film.'
Nathalie Agussol's take on underwear as part of Araks's 'Lingerie on Film.'
Jewelry designer Sonia Boyajian's take on underwear as part of Araks's 'Lingerie on Film.'
Artist Tanya Ling's take on underwear as part of Araks's 'Lingerie on Film.'
Wellness guru Daphne Javitch's take on underwear as part of Araks's 'Lingerie on Film.'
Editor Samira Nasr's take on underwear as part of Araks's 'Lingerie on Film.'
Designer Brianna Lance's take on underwear as part of Araks's 'Lingerie on Film.'
Lexie Smith's take on underwear as part of Araks's 'Lingerie on Film.'
Ryan Roche's take on underwear as part of Araks's 'Lingerie on Film.'