Scarlett Johansson Says Ivanka Trump Isn't Just "Complicit," She's "Cowardly"
Scarlett Johansson and Ivanka Trump are in a bit of a public feud after the actress played the first daughter on Saturday Night Live.
---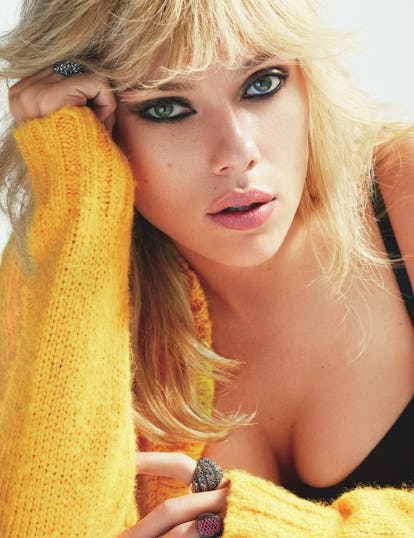 Mert Alas and Marcus Piggott
Feuding with a person who has portrayed you on Saturday Night Live: It's a Trump family tradition. So of course now Ivanka Trump and Scarlett Johansson are in something of a public war of words.
The comedy show had mostly treaded lightly when it came to the first daughter, reserving its most critical satire for Donald Trump himself and some of his closest non-family advisers (Kellyanne Conway, in particular). When Johansson stopped by to host last month, though, the show took full advantage of the pair's casual resemblance with a hard hitting"Complicit" perfume ad spoof.
In an interview with CBS News' Gayle King earlier this week, Trump was asked to respond to claims that she is, indeed, complicit.
''If being complicit is wanting to be a force for good and to make a positive impact, then I'm complicit,'' Trump replied, revealing maybe the word complicit wasn't included on the list of her Chapin School vocabulary words. Though, she also added that she sometimes disagreed with her father, and wasn't afraid to criticize him. She just preferred to keep all of that behind closed doors.
Though, Trump of course didn't address Johansson by name. Johansson however didn't pull punches when talking about Trump today at Tina Brown's Women in the World conference in New York City.
Indeed, the actress and Women's March on Washington attendee was asked specifically about Trump's reaction to the sketch and claims that she is "complicit." Johansson was not impressed with the interview.
While Ivanka Trump has tried to position herself as an advocate for women in the White House, Johansson finds her performance so far wanting and was disappointed she wasn't willing to publicly disagree with her father.
"It's such an old-fashioned concept," Johansson said. "Powerful women often get concerned with this idea that they're going to be seen in this unforgiving light. Screw that. It's so old-fashioned…it's so uninspired and actually really cowardly. And I was so disappointed by that interview she gave yesterday."
"She has an opportunity to really make a big impact just by being vocal," she continued. "I've met her several times in the past, and she's a very well spoken, smart, intelligent woman…the whole situation baffles me."
Related: Ivanka Trump Jewelry Pivots From $10,000-Plus Items to Pieces Under $100
Scarlett Johansson's Come-to-Jesus Moment as a 7-Year-Old Kid: