Avengers: Infinity War Trailer Debuts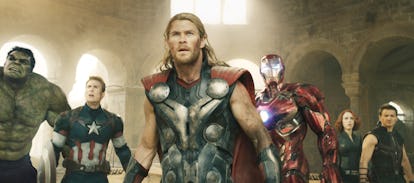 Walt Disney Co./Courtesy Everett Collection
The trailer for Avengers: Infinity War starts with a Samuel L. Jackson voiceover, a crying Robert Downey Jr, and a shirtless and confused Mark Ruffalo, and the celebrities only keep coming from there. As Marvel's biggest team-up movie ever, it only makes sense that it may also be one of the most star-studded trailers of all time. Cast members like Gwyneth Paltrow, Benicio Del Toro, and Tess Thompson don't even make the cut.
The trailer, which dropped Wednesday morning, shows dozens of your favorite celebs playing superheroes and teaming up in various mismatched conglomerations in a series of battle scenes: they fight in a forest, in the streets, in the sky, and, most impressive of all, in a huge open battlefield, with hundreds of characters viciously charging at each other across rolling hills. Of course, the world's favorite extended family of heroes (sorry, Justice League) are also fighting their own personal battles. In addition to a crying Iron Man, Elizabeth Olsen's Scarlet Witch and Paul Bettany's Vision look worried as they stare out windows and touch each other's faces; and Chris Evans's Captain America, apparently, has given up on his clean-shaven image and — gasp — grown a beard.
Elsewhere in the trailer, Chris Hemsworth's confused Thor finds himself on the Guardians of the Galaxy spaceship; Tom Holland's Spider-Man's spidey senses tingle on the school bus before he notices an ominous doughnut-shaped ship floating over the city and then dons the high-tech, Iron Man-esque suit that he received from Tony Stark himself at the end of Spider-Man: Homecoming; Tom Hiddleston's Loki dramatically holds up an Infinity Stone; and Sebastian Stan's Bucky Barnes, who can hopefully stay on the good guys' side for the duration of this film, appears to fight alongside Chadwick Boseman's Black Panther, Danai Gurira's Okoye, and the rest of the Dora Milaje team of bodyguards that we will undoubtedly meet when Black Panther arrives in February.
The only major Marvel character conspicuously absent from the trailer is Captain Marvel, who already made her debut at Comic-Con 2017 and will be played by Brie Larson in her own standalone movie in 2019. It would be nice to meet her character before then, though — say, in an upcoming Avengers movie? Of course, the thing is rather jam packed as it is.
Related: Pom Klementieff Is Marvel's Newest Avenger—And Hollywood's Next Big Star